Firstory, the leading podcast hosting company in East Asia, launched Asia's first Dynamic Ad Insertion tool for podcasting in May. This feature has empowered thousands of creators in monetizing their voice.
In this industry figure, we take a look and examine how Taiwanese and Asia's podcasting market has performed in the first half of 2022.
Highlights in this article:
Podcast Downloads and Audience Growth
In our journey to empower creators to monetize their content, we discover two key factors in play for success: a fan base willing to support them, and a listener base to which brands are willing to allocate budget.
We take a look at podcast downloads to get a glance at the entire podcasting industry's growth and market trajectory. 
The number of podcast downloads represents the market's demand for podcast content. From the steady rise, we learned that the number of people tuning to podcasts keeps growing. From July 2021 to June 2022, the number of podcast downloads grew by 216 % based on month to month figures.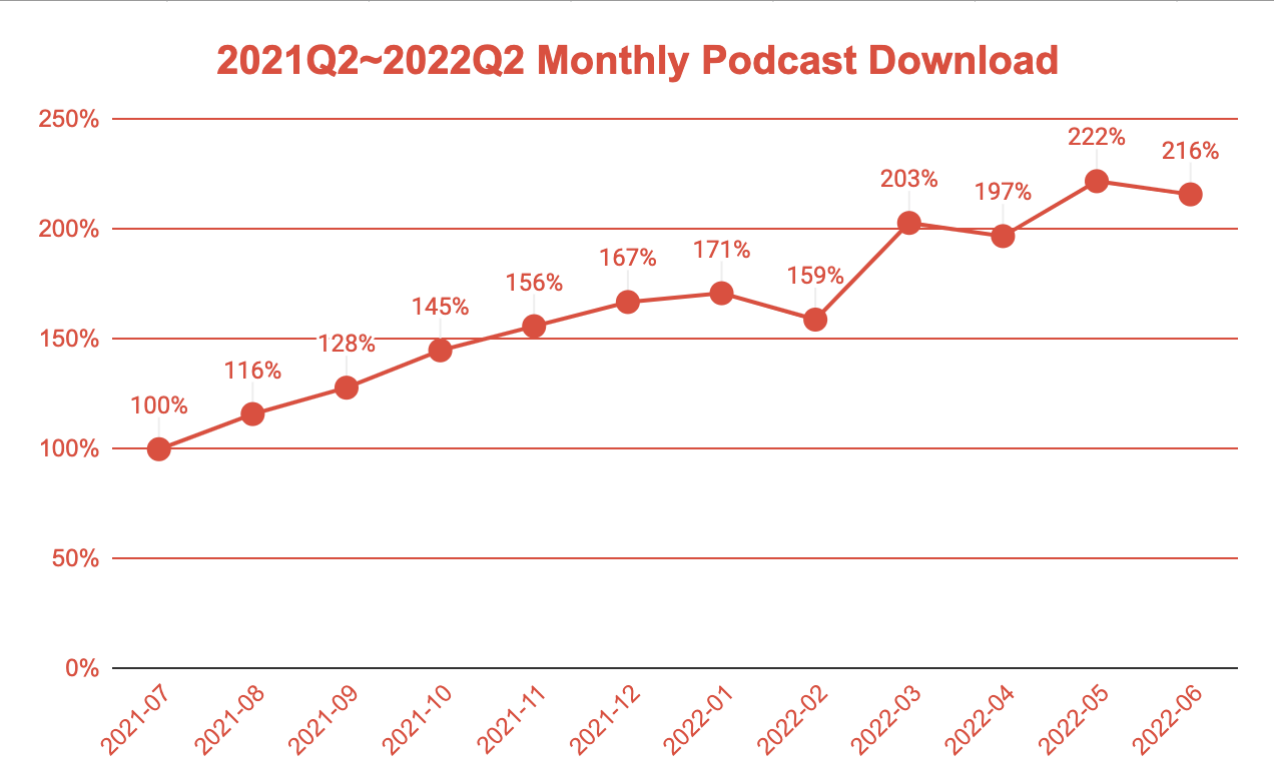 Back to normal after rapid growth period
We take a look back at the quarterly download data to gain insight on how the industry has grown over time. After a few periods of "tremendous" growth, the first half of 2022 has returned to a "normal" growth rate of about 14% each quarter.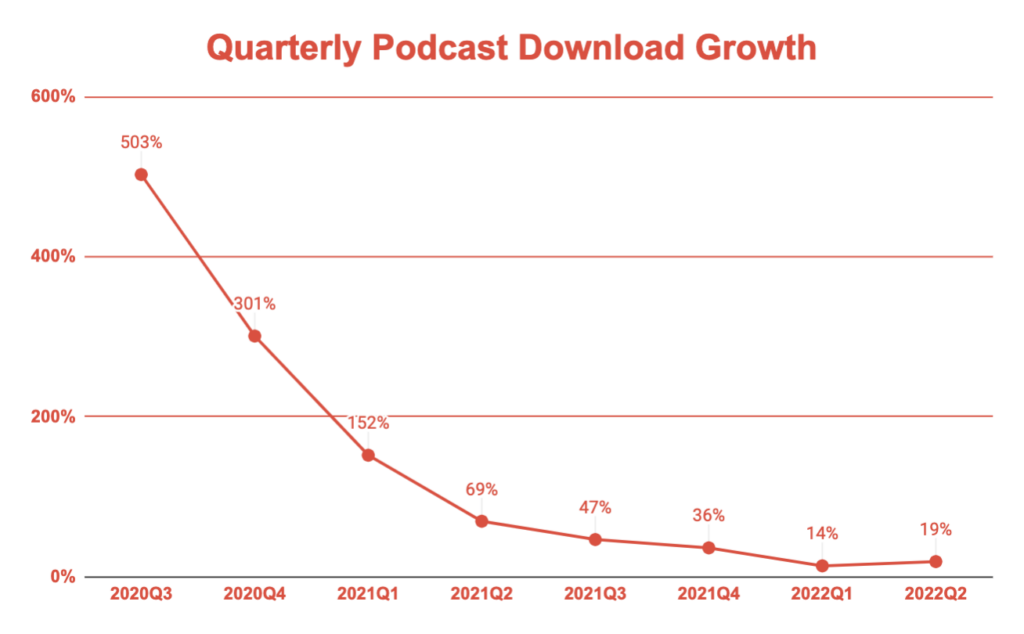 Trusted Global Service with Localized Language Assistance.
We looked at the percentages for the podcasters area in Firstory's database. Since we started offering services in English, Japanese, and Indonesian last year, global creators make up 10% of our total users. Most come from the US, MY, and JP.
Six Popular Categories Combined Make Up Over 70% Downloads.
To get a better understanding of the market, we look at the total number of downloads across all podcast genres (21 genres). According to our results, News podcasts have been the most popular. Accounting for 20% of all downloads and still growing.
The next popular single categories are Education, Kid & Family, Social & Culture, Comedy, and Business. Including News, these 6 most popular categories make for 73.5% of all downloads.
There was a new genre called "Kid & Family", which saw a spike in popularity during the pandemic. Until February 2021, the Kid & Family podcast was only in fifth place, but by February 2022 it quickly rose to second place and continued to attract new listeners after that.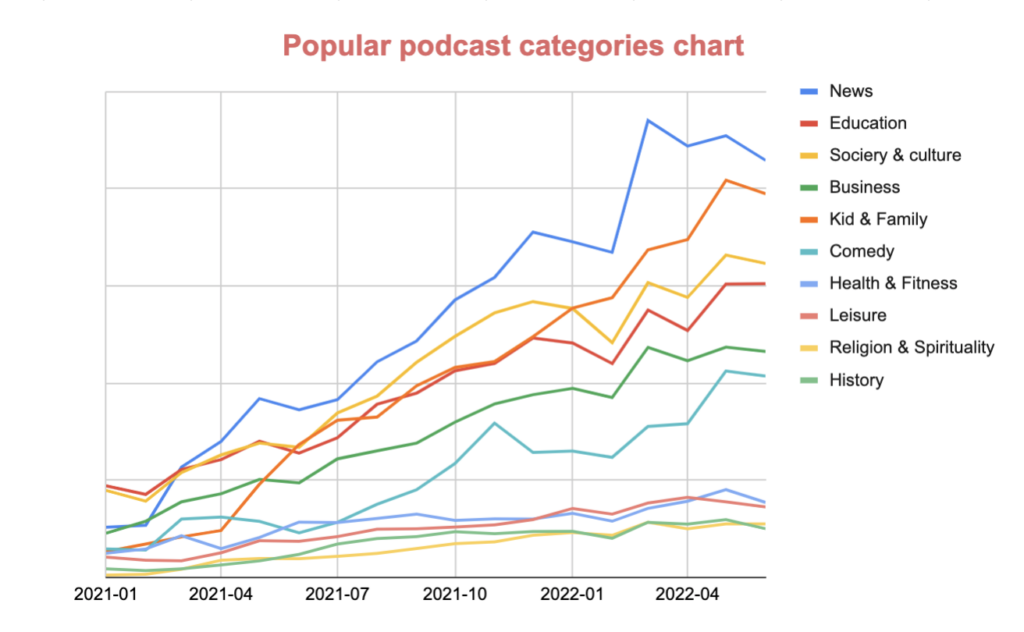 Podcast Listener Statistics (Age and Gender)
Over the past year, our data shows that demographic distribution has stabilized, while the audience pool has risen by 192.9%. Women in the age range of 28 to 34 make up the bulk of the audience, followed by women in the age range of 35 to 44. The female-to-male ratio is 6:4.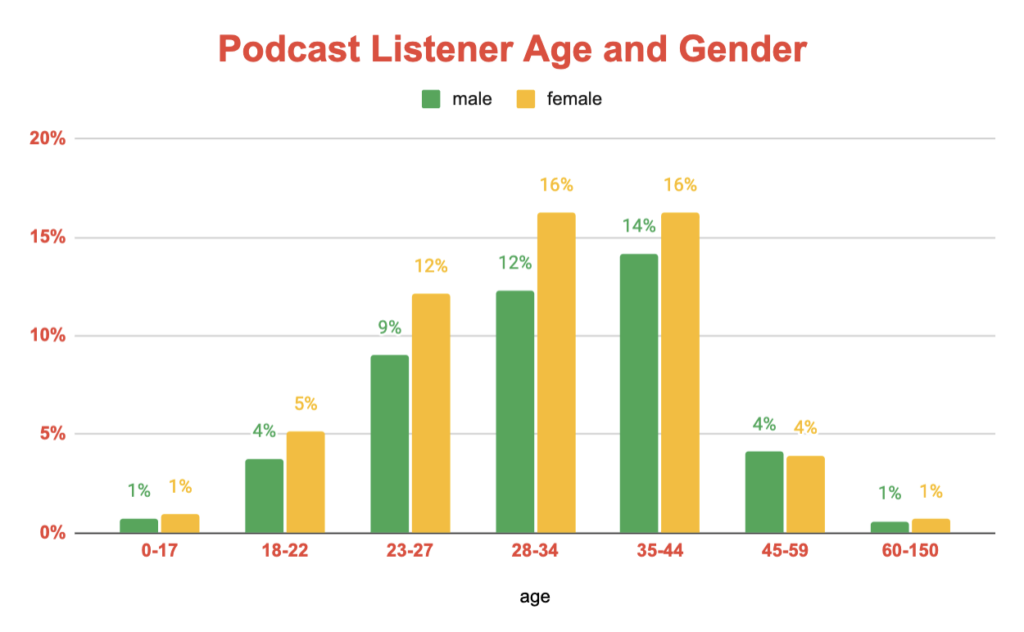 Podcast Donation and Subscription Revenue Growth
Firstory monetization feature offers podcasters both one-time donations and ongoing subscriptions. According to our data, creator's earnings increased by a whopping 210% from the previous year (June 2021). We honor a number of outstanding podcasts that received excellent growth on their one-time donation, including "Morning Taiwan Global News (全球串連早安新聞)," "Storybook of Detective Pig (豬探長故事集)," "Don't Listen While Running (跑步不要聽)," and "Paonorama | 柏覽會離題"
We take a look at how one-time donations and recurring subscriptions contribute to creator's total revenue. Since our integrated payment feature launched, income generated from recurring subscription for creators has increased from 23% to 47% of their total revenue. 
For this reason, Firstory continues to work hard to provide robust revenue options that are accessible to all podcasters around the world. Firstory x Spotify will provide a gated content feature in the fall of 2022, making it easier for podcasters to provide and offer upgrade to listeners for paid subscription plan.
Dynamic Ad Insertion Boosts the Economy of Asian Podcasters
Earlier this May, Firstory launched its Dynamic Ad Insertion feature. In partnership with Asia's top music streaming service KKBOX as our agency, we successfully offer robust podcast advertising services for brands and creators to work together. 
Within the first two months of the launch, the campaigns have racked up hundreds of millions of impressions for brands and generated millions of dollars in ad revenue for creators. Categories such as News, Business, Society & Culture, Children & Families, Education, as well as Health & Fitness, drew the most ad campaigns from brands.