There are plenty of room for improvement for every podcaster to have a better podcasting experience.
From generating ideas to turning that into a podcast script and recording, you're always running out of time in the effort of producing great content. But you might find it difficult to gather and hype up your podcast audience to match your powerful podcast. What do we mean by this? We mean podcast promotion.
You are not alone! We recently conducted a podcaster survey last February 2022. After looking through 148 podcasters who have responded to our survey, we explore the top podcasting pain points among podcasters. Let's see if we've mentioned YOUR greatest pain point!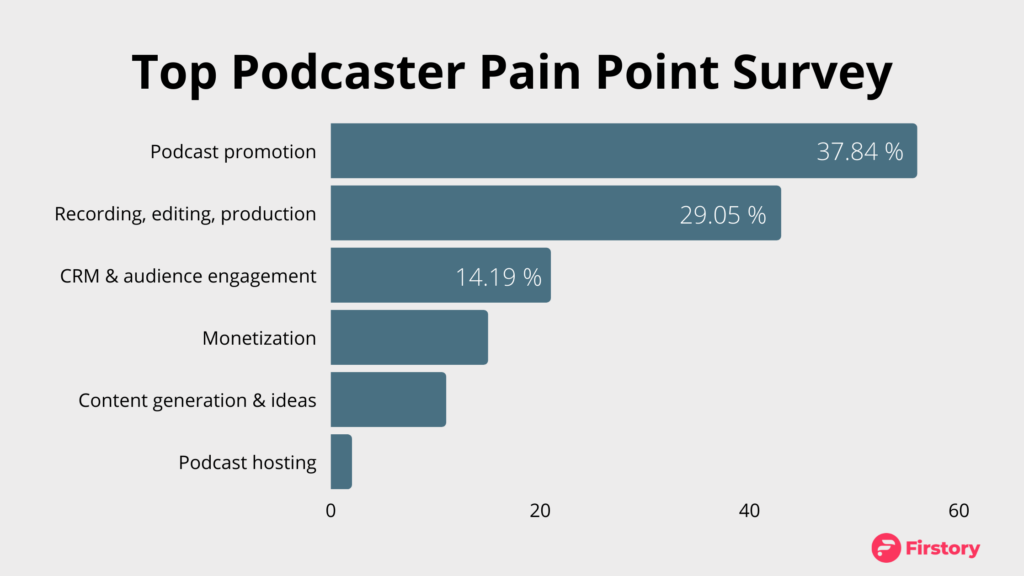 Promotion is the greatest pain point of podcasters
According to our podcaster survey, the top 3 pain points in podcasting are:
Podcast promotion process (37.84%)

Recording, editing, and production process (29.05%)

CRM or audience engagement & integration (14.19%)
From our study, 37.84% of 148 podcaster respondents found that promotion was their greatest struggle. It seems that there is a lack of information and understanding when it comes to how podcasters can promote their podcasts. 
Second in line, 29.05% of podcasters struggled with the recording, editing, and production process. On the other hand, 14.19% struggled with connecting and interacting with their audiences. The remaining 19% of 148 respondents struggled with content generation and ideas, podcast monetization, and podcast hosting services.
In order to promote effectively, podcasters needs to market their shows to the right audience. They need to identify the people would be most interested in listening to their podcast and get them onboard first before targeting other audiences.
How Important are Podcast Promotion Strategies in 2022?  When you promote your podcast, you're not just promoting to your prospective listeners and fans; you're also displaying your show in front of potential brands, sponsors, and advertisers.
How to overcome podcast promotion challenges
Without podcast promotion, it is nearly impossible for anybody to organically come across and find your show. That's why promotion became the greatest podcaster pain point.
So how do you get listeners? You need to promote your show. Sounds simple, but is it?
One of the biggest challenges faced by podcasters is getting their podcasts rank high on search engines and podcast directories like Spotify and iTunes (or Apple Podcasts). By making sure that you are on every podcast directory, you can leverage a more diverse audience population from the very beginning.
Creating a right direction for your show is only half the battle. You need to stand up for your podcast and shamelessly share your craft to the world. Don't restrict yourself and simply hide behind your voice recorings. As cliché as this sounds, developing your social media page (e.g. Instagram, Twitter, even Tiktok) is an important factor to podcast success. DO whatever it takes to reach more listeners.
14 podcast marketing and promotion strategies to try
Need some ideas or tried-and-tested methods on how to market and promote your podcast? We've listed 14 podcast marketing and promotion strategies you can try out. 3 out of 14 strategies include:
Maximizing your back catalog
Network and podcaster communities you can join
SEO optimization for your podcast
The tools to help you during podcast promotion
From the survey, we infer that despite an increase in awareness, promotion is still a huge challenge with nearly 40% of respondents admitting that they are not satisfied with the amount of promotion exposure their podcast gets.
You should take promotion seriously to make it in the podcast industry. That being said, there are many ways to promote your podcast. For example, creating visual materials and sharing them on social media (plus other channels) will attract more attention for your posts.
Additionally, you can learn how to optimize your site for search engines to pick up on. You can do this with the right choice of keywords and by building your personal branding & SEO strategy. Keep optimizing your social media medium strategy with using FLink. Podcasters who have used this tool swear by it, and it has helped "Hey! I am Here" podcast grow their downloads by 6 times in just 1 month.
Although podcast promotion is the voted number 1 pain pointed in podcasting, leveraging the right tools and strategies can help you through this challenge. You'll be surprised to find that your voice and determination are extremely powerful.
This survey takes Reddit podcasters as our sample population. This online survey was conducted by Firstory through the means of a Reddit poll which ran for 7 days in February 2022. Respondents on the r/podcasting subreddit were given pre-prepared options and were encouraged to add to these options. During this week, 148 podcasters responded and participated in the study.