Getting your voice on mega streaming platforms like Spotify is no longer a difficult, exclusive process. You and I can now both have the opportunity to make it big in the creator economy by making content that appeals to an audience. 
You don't have to be a "famous person" to get your podcast on Spotify. The opportunities are limitless, and the best part is: You don't even have to invest a single dime. 
If it works out, you can make it big. If it doesn't work out, you don't lose anything.
Why every podcaster has to get on Spotify
Despite the numerous controversies associated with Spotify, it is undoubtedly the current top global streaming service. Launched in 2018, Spotify has accumulated over 3.6million podcast titles in its collection, with 406 million users globally.
Although the large collection of podcasts increases competition, the even larger pool of users is a huge opportunity and value you shouldn't miss out on. 
Don't put your podcast only on Spotify, though. You'd want to make sure you're on every podcast directory. Not only does this increase your podcast visibility, searchability, and SEO. This also makes sure that you're tapping to every population and group of podcast listeners.
An easy way to get on every podcast directory is through a podcast hosting platform such as Firstory, Buzzsprout, Anchor, Transistor, and Captivate, just to name a few. Through podcast hosting services, you can get your show on every streaming service with just a few clicks and one upload.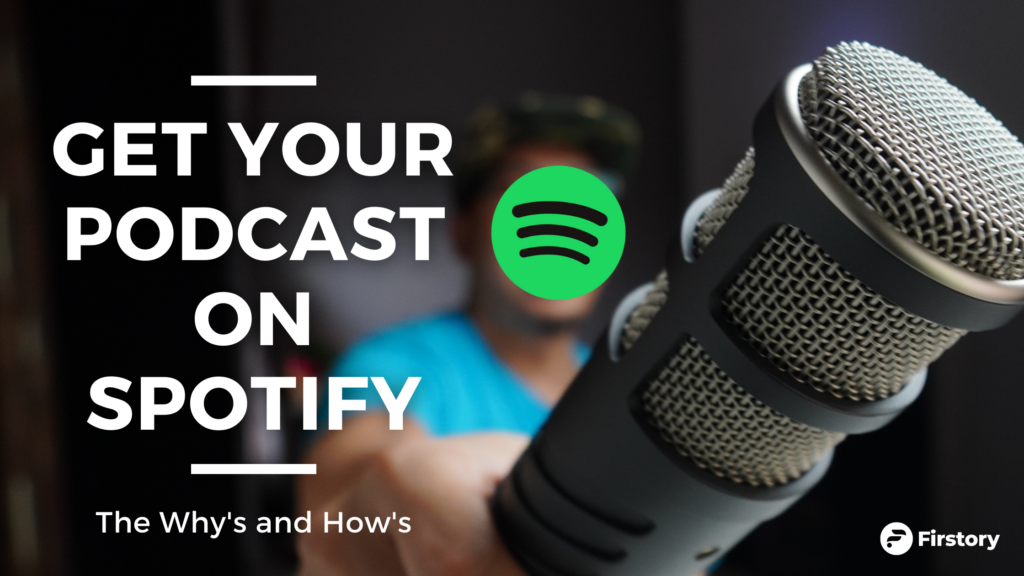 How to get your podcast onto Spotify
Generally, there are two ways to get your podcast onto Spotify. The first way is to submit automatically through a podcast hosting platform. Most podcast hosting platforms are integrated with this function.
The second way is to submit your show manually (yourself) through Spotify for Podcasters.
Method 1: Automatic one-click submission
If you're hosting your podcast on a hosting platform, chances are, this platform supports one-click automatic submission. This is the easiest, most convenient way to get your show on Spotify. 
We'll show you the process on how it's done on Firstory, so you get an idea just HOW EASY it can be! This may or may not be the same process for other platforms:
Create your account on Firstory, fill in the podcast information, and post your first episode
Go to the Distribution page
Click "Submit"
And that's it! Firstory will send you an email once Spotify and other platforms have approved your podcast.
Optional Step: Claim your podcast.
When Firstory submits your podcast for you, YOU are still the rightful owner of the podcast. We don't claim ownership over YOUR content (we can't guarantee the same for all other platforms though!)
During automatic submission, there's a high likelihood that your podcast hosting platform submitted the podcast for you under a their system mail address instead of your personal email.
We encourage you to claim your podcast afterwards on Spotify for Podcasters. Doing so can also give you access to more Spotify data metrics. Check Method 2 below on how to claim your podcast.
If you don't claim your podcast, your podcast will still be on Spotify, and you'll still be able to upload new episodes through your hosting platform. However, claiming your show provides you access to Spotify data analytics, which can be handy given that most listeners are on Spotify.
If you already have an existing podcast and haven't submitted to Spotify, you can follow method 2 below.
Method 2: Upload to Spotify manually
Spotify doesn't hosts podcasts, so you must have an RSS feed in order to get your show on the streaming service. If your hosting platform does not support automatic submission, you can always submit your podcast onto Spotify by yourself:
Make sure your personal email address is shown in your RSS feed (some podcast hosting platforms provide users with the option to keep this hidden)
Copy your RSS address after making sure that your email is shown
Go to Spotify for Podcasters and register with the same email in your RSS
Choose to "Add or claim your podcast" from your dashboard
Paste your RSS
Enter the code from the verification email
Fill in your podcast information & click SUBMIT
That's it!
Benefits of creating a podcast, especially on Spotify
Starting off and becoming a creator in 2022 no longer requires large investment. You can be an influencer, KOL, and internet-famous without an agent, large capital investment, and connections. That's the beauty of today's technological advancements. Being on Spotify is giving yourself the opportunity to be seen by a large pool of audience.
However, certain effort would be needed, if you want to make it in the extremely-competitive creator economy. More often than not, content and creations start off as passion projects: That's how people are able to keep up with the creativity requirements, posting schedule, interaction, and energy required to consistently produce quality content.
How podcasters make money
Podcasters can make money through any one or more of the following:
Donations from fans (e.g. Ko-Fi)
Open subscription and member-only premium content
Affiliate marketing with platforms and brands
Advertising and sponsorships
Producing and selling merchandise
Coaching and consulting
Online courses
Being on Spotify doesn't get you money. But what you do with this visibility, how good your content is, how well you connect with audience, and how effective your promotion strategies are DO.
Submit your podcast to Spotify for free using Firstory
If you don't have a podcast hosting platform yet or are open to switching out, you're welcome to try out and submit your podcast on Spotify for free.
We also get you to other top ranking directories including:
Apple Podcasts
Google Podcasts
KKBOX
Pocket Casts
Player FM
Stitcher
Podcast Addict
Firstory
Radio Public
SoundOn
Castbox