What is podcast promotion and podcast marketing? How do they differ?
Usually interchangeable, podcast promotion and podcast marketing both refer to telling others and spreading information about your show, making it discoverable by podcast listeners, and growing a larger podcast audience. However, if we are to look at things in detail:
Promoting your podcast is simply putting your show out there, plugging your show to others, and disseminating information. 
On the other hand, podcast marketing takes care of overall branding and podcast image. It focuses on both short-term and long-term effectivity. Podcast marketing converts internet citizens into listeners, listeners to supporters, and supporters into clients/ customers.
The 3 most important parts of any podcast
These 3 pillars can make or break any podcast, and no amount of podcast marketing and promotion can save your show when you don't have these 3 basic ingredients to your show:
Quality content
Quality listening experience
Time
Quality content. You can have the best editing, audio quality, and marketing strategies; but if your podcast content is non-value adding, people aren't going to listen.
Quality listening experience. You can have the best content, but if listening to your show becomes a pain to the ears (e.g. Painful noises, sudden loud screams, annoying background sounds, etc), people are still not going to listen.
Time. You can have awesome podcast content, great sound quality, perfect editing, and a very good marketing campaign going, but if you don't have the time to nurture your show and produce new episodes, it's not going to work out.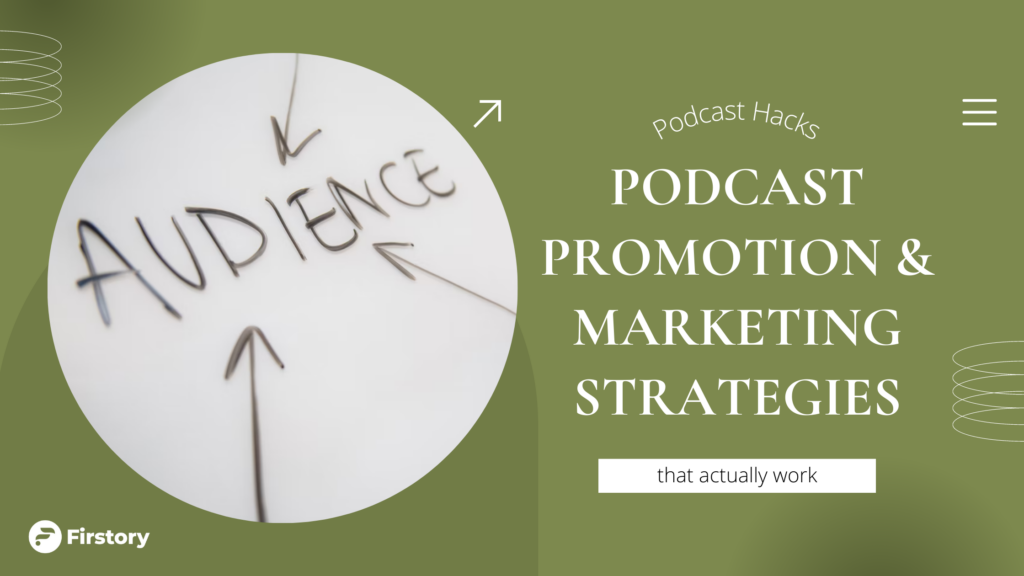 14 Podcast Marketing and Promotion Tips That Work in 2022
1. Submit to aggregators and directories
When you submit your show to all available aggregators and directories, you're giving yourself better visibility and discoverability across multiple platforms and search engines. It also exposes you to new pools of audiences. 
The current most popular podcast directory is Spotify and Apple Podcasts. Submitting your show to these platforms are completely free and easy. Simply submit your RSS feed, follow through some instructions, and you're all set. Many platforms also offer some data and analytics for your show, which can be helpful, especially if your hosting service doesn't have robust analytics tools.
💡💯 Tip:
Many podcast hosting platforms offer one-click distribution, manual distribution, and aggregators. Make sure to claim your podcast after submitting through one-click distribution!
Check out our top 10 podcast hosting platforms picks and choose the one that meets your needs the best.
2. Include CTAs to encourage listener reviews, sharing, feedback, and subscription
Prompt your listeners to share, leave their reviews, and subscribe to your podcast at the beginning and end of your episodes. Keep it as short and as less pushy as possibly. Be sincere and genuine to avoid invoking negative reactions from audiences. 
3. Publish at the right times.
You can often view your audience listening times from your podcast data analytics. Find the most optimal time to post your podcast and social media publications about your latest episode. Some trial and error may be worth the try to see how it affects your podcast performance.
 Tip:
Anchor doesn't show data on audience listening times; but Firstory does! (Yes, it's free)
4. Maximize your archive shows and back cataglog
Refer to your back cataglog, whenever appropriate. Here's an example: "Check out episode 3 where we talk more about how to _____." 
Instead of making your audience guess which of your other episodes also offer good content, provide them the leads by associating related episodes.
Whenever you do this, it keeps your listeners on the wire on other episodes that may interest them. If you have caught their attention, they are likely to go check out these other episodes; and if they like that, the cycle continues. The more they like your show from relevant show, the more likely they are to stick around for your future episodes.
 Tip:
Our survey shows that 48% of all downloads come from archive shows. Dynamic Audio Insertion lets you refurbish and maximize these old episodes.
5. Network actively… with everyone
Interact, collaborate, and do cross-promotions with other podcasters, creators, and guests. You can create the marketing kit for them to conveniently tell others about your show!
Best communities you can use to network with others include:
6. Promote using social media, plus YouTube
Everyone's on social media. From the podcasting communities in number 5 alone, you know that a great deal of podcasters and podcast listeners are on social media. Get that Facebook, Twitter, Instagram, Reddit, etc. accounts up and running, because you're going to start using them to market your podcast.
YouTube is a huge platform filled with content creators and content consumers. If you can make video podcasts or other types of content that might work, going on YouTube can be a powerful tool and booster for your show. In some instances, it may even prove to be more profitable and successful than your audio podcast. 
7. Tease your audience
Posting teasers before you upload your episode can be a great way to build up hype and excitement for your show; but the timing has to be right as well. Make sure you're not posting waaaay too early, because that's going to do more harm than good by killing the hype. 
Teasers can be in the form of audiograms, which is handy especially on Instagram. You can also quote some parts of your guests' interview responses or give a little sneak peek on a controversy you're about to address in your show. If you're using someone's lines and quotes as a promotion tool, you may want to ask for their permission first though!
8. Add value
Make sure you're contributing to both the podcast creator and podcast listener worlds and communities. In terms of providing value to listeners, that's as simple as providing quality content. As a podcaster, you should be a value-adding asset to your other podcaster peers. That means being willing to help them out, as it is with give-and-take.
If someone needs advice or recommendations in the podcast communities, be willing to extend a helping hand and share your podcast wisdom or experiences. 
9. Be generous and run giveaways on social media
Actively and generously run giveaways on social media. To keep it at low investments, you may want to approach smaller, local businesses as your initial sponsors. Provide them the benefits of sponsoring your show; this will convince businesses to weigh in their options instead of outright rejection.
When running giveaways, make sure to make participants do something that would benefit your show's visibility and SEO, such as: Sharing, reposting, using certain hashtags, tagging their friends, etc.
10. Optimize your webpage for SEO
SEO, Search Engine Optimization, is basically how well you rank when people search for keywords related to your show. When people search for "funny humor podcast," will your comedy podcast come out on their search results? Lucky for you, you can optimize your webpage to help yourself rank higher.
 Tip:
Every podcast hosted on Firstory gets an auto-generated free podcast website. It comes with tags, playlists, comments, voicemail, and more to help optimize your podcast SEO!
11. Include email links
When you send out emails, you may want to include an all-in-one link to your podcast, social media, business, and other stuff in the email signature. This gives people the chance to reach you on all these channels.
 Tip:
Linktree is a popular choice among social media influencers and other creators; but did you know that Firstory's FLink is an all-in-one link specially made for podcasters? The links are auto-generated and auto-updated for you, so you can easily promote your show fast, accurately, and error-free!
12. Create an email newsletter list and a podcast membership
A podcast membership is a good way to produce content while generating a stable, consistent source of income. The best part is, it's completely free and easy to start your very own membership podcast. Once you have members, you can generate a mailing list and promote your show that way.
13. Invest in influencer marketing
Everything we have discussed so far in this article are free, organic ways to market and promote your podcast. Influencer marketing, however, often involves some monetary costs and investments. However, if it serves well for your niche, you may want to consider reaching out to some influencers who can drive audiences to your podcast.
14. Advertisements and AdWords
Another paid option would be to boost your show's position by purchasing ads. You can do this on the app or directory of your choice, wherein you'll be placed on top of your category list in most cases. In other cases, you'll be put under the popular or trending pages and categories, all depending on the app you're purchasing from.
You can also consider purchasing AdWords from Google. When people search for the key topics on your podcast and your ads are clicked on, visitors will be redirected to your podcast website. In simple terms, you'd be purchasing the spot in order to be visible to people who are already looking for the type of content you produce. 
Finding the right strategy
Not all strategies in this list are going to work for everyone and on all shows. Some may not even be a good fit, considering the nature and style of your show. Sometimes, it takes a good amount of trial and error to find the perfect fit of strategies that would work for your show best. 
Podcast hosting made for podcast promotion
Firstory is packed with promotion and audience engagement tools that aim to boost your podcast visibility. All you have to do is learn how to use them properly.