Most podcast hosting sites parade around offering monetization as one of their value-adding features, but how many of these platforms can actually monetize a podcast worldwide? Most podcast hosting platforms offer ad monetization that work exclusively within the US region, and if it works outside of the country, it's no good due to the lack of advertising partners, etc.
However, we believe that pushing the podcasting industry forward means accelerating worldwide. Many other countries outside the region such as South Korea, India, Indonesia, the Philippines, and Mainland China for instance, have been experiencing phenomenal podcast growth in podcast listeners.

Many podcast ad monetization options are exclusive to the US
For a company with Anchor FM's scale and reach, you'd think that Anchor would have a more inclusive monetization. However, we are disappointed to find that Ads by Anchor, which uses automated ads to help podcasters generate ad revenue, is only available in the US. It is currently not available outside of the country.

Podcast Subscription is a Spotify feature that can be set up from multiple podcast hosting sites with the API. You can set this up through Anchor, but you can also set this up from Firstory.
However, Spotify's list of countries to date only includes: USA, Canada, Austria, Belgium, Bulgaria, Cyprus, Czech Republic, Denmark, Estonia, Finland, France, Germany, Greece, Ireland, Italy, Latvia, Lithuania, Luxembourg, Malta, Netherlands, Norway, Poland, Portugal, Romania, Slovakia, Slovenia, Spain, Sweden, Switzerland, the United Kingdom, Australia, Hong Kong, New Zealand, and Singapore.
Other hosting platforms such as Captivate FM parade monetization solutions by giving you spaces to put in your monetization, donation, and affiliate links from 3rd party sites like Patreon. Buzzsprout has this "Show Support Link" feature too.
5 ways to monetize a podcast outside of the US
1. Join an advertisement network
If your podcast hosting platform does not have an advertisement network, you can join an external advertisement network like Podcorn, Podmetrics/ Podcast Network Asia, or Libsyn Advertisecast. Although some podcast networks require a minimum amount of listenership before joining, the above welcomes podcasters of all sizes to join.
Through these platforms, brands (businesses) are able to connect with podcasters better, and vice versa. If you're from Indonesia or the Philippines, Podmetrics would be perfect for you. Philippine users get to payout via direct bank transfer, and Indonesian podcasters can use PayPal to withdraw to their bank accounts. 
2. Connect through a 3rd party monetization platform
If you have a strong listener base, you can consider opening up a Patreon, KoFi, or PayPal account to receive donations from listeners. After that, connect your donation link to your podcast hosting platform, podcast description, show notes, and FLink (or Linktree).
3. Create a podcast membership (ex. Memberful)
Podcast memberships are a great way to build your own community of listeners and supporters. However, it is important to keep in mind that building a community is no easy task. Consistency, engagement, relevance, members, and platform are all contributing factors to a successful podcast membership.
4. Join an affiliate program
Affiliate programs is a form of passive income that many platform companies (such as Firstory) have. As an affiliate, you'll receive an exclusive link that you can use to help promote the company. When you generate conversion for the company through your link (the receiver signs up and pays for the service), you get to earn a certain percentage % as commission income.
Each platform provides different benefits. At Firstory, we run our affiliate program on Rewardful, an independent and leading affiliate system. This way, we ensure utmost transparency and fairness. Check out Firstory's affiliate program here >> Earn 25% commission income for every paying user
5. Spotify paid episodes (or other podcast subscriptions)
Last 2021, Spotify released their subscriber-only podcast feature, allowing podcasters to put up a paywall on Spotify for paid episodes. This initially launched as a US-only feature, but Spotify has been expanding its scope to other countries as well. 
How to set up paid episodes on Spotify?
Partnering podcast hosting platforms are able to integrate this feature into the platform. This means you do not need to be on Anchor to put up paid episodes on Spotify. Fortunately, Firstory is one of the Spotify partners with this integration.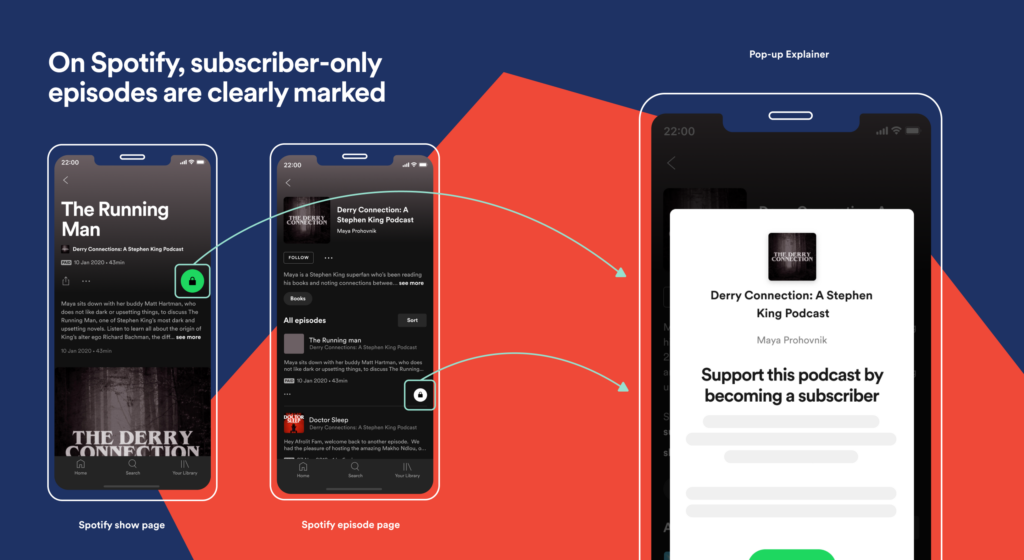 What to look into and prepare when monetizing your podcast
In most cases, you'd have to at least have a bank account or debit card, tax ID number, and national ID (or any other valid ID's if your country doesn't have a national ID). 
When you cash out, withdraw, or process payout, you have to make sure that the system supports your region and payment method. For instance, most platforms providing support to most regions use PayPal to process payments. Make sure that you're able to withdraw funds from PayPal.
After knowing the payment gateway used, you have to know:
The minimum amount required for withdrawal
Percentage of commission/ withheld taxes from earnings
Payout options (i.e. Bank transfer, ATM withdrawal through debit card, cryptocurrency, etc.)
Days needed for processing and withdrawal
Paperwork and documents needed to process payments
Foreign currency handling and exchange rate bases
Security & privacy policies/ regulations
Other terms & conditions
Monetize your podcast with Firstory hosting
Firstory makes monetization accessible for podcasters outside of the US, especially in Asia, which is a powerhouse that's often overlooked by major podcast hosting providers. 
Read about podcast creators who have successfully monetized on Firstory: