Reaching a Wider Audience for Your Podcast
Getting into China 's podcast market can be beneficial for all types of creators, especially those specializing in English language learning. One of our users, Kimberly from Accented Podcast, joined Firstory a year ago with hopes of reaching a wider audience. As an English teacher, Chinese speakers are one of the greatest primary audience for Kimberly.
Other non-English-teaching content should also venture into the Chinese market. For example, fitness icon Pamela Reif broke into the Mainland Chinese market through Chinese social media Xiaohongshu where she has gained 7.9 Million followers and Weibo where she has 1.8 Million followers.
Although most Chinese cannot be considered fluent (or even conversational) with the English language, the population is down to consume quality content from foreign nations. Needless to say, Chinese podcasts should also venture into the Mainland Chinese market.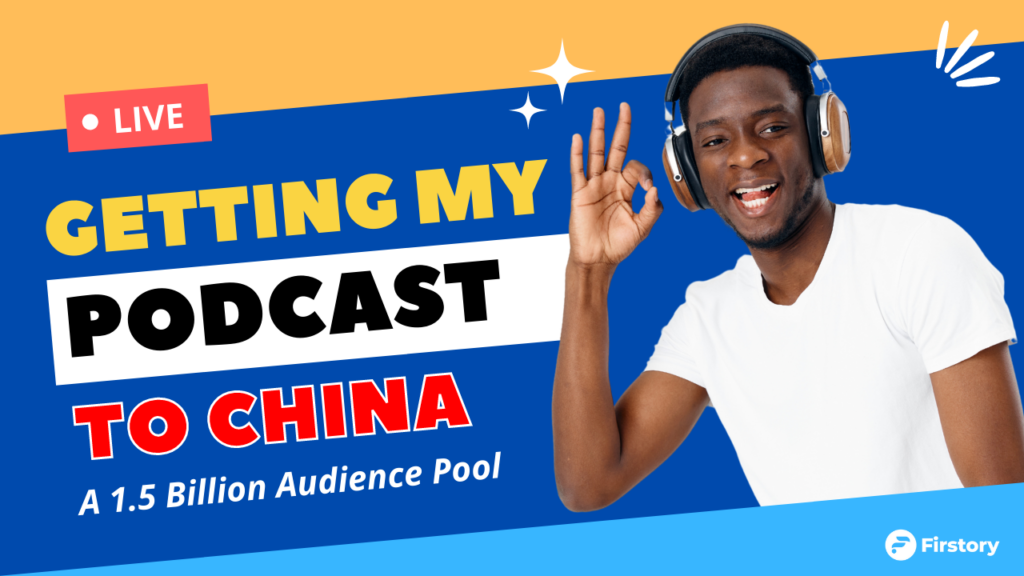 How to Get My Podcast to China
Is it possible to get my podcast to China? Yes, it's definitely possible, and it can open up a whole new market for you. However, you can't use a regular podcast hosting platform (e.g. Buzzsprout, Podbean, Captivate, Spreaker, etc.) to distribute your show to Mainland China due to the strict regulations and screening process. Your best way to go about it is to open up a separate podcast through China's local podcast hosting platform to get into China.
Won't this double my podcast on platforms I'm already on like Spotify and Apple Podcasts? Nope! Because you won't be distributing to these platforms anyway. When starting  up your podcast on China's platform, you'll be distributing solely to that platform. In a way, it's like managing 2 separate podcasts. This way, you don't have to worry about your main podcast as well, if anything happens to your podcast in China.
Here's what you need to do:
Read about the different Chinese hosting and media platforms (we'll cover this below)
Prepare the necessary documents (usually your passport) and submit
Wait for review process to be approved before starting!
Podcast Hosting Platforms to Get into China
Ximalaya is China's largest platform with over 450 Million mobile users and 80 Million monthly active users. They accept both professional and user-generated content; and is the most popular platform for podcasts. Nearly 40% of users are under 24, where 19.5% are students and 21% white-collar workers. This makes it perfect for English-learning podcasts to get onto. 
To register as a foreigner, sign up as an individual, prepare a copy of your passport, and be prepared to have your picture taken. The account set up is Free.
Qingting is another major Chinese platform in the online radio industry. They have 300 Million users and mostly consists of professionally-produced content. The platform has also teamed up with KOLs and local radio stations to produce high-quality podcasts compared to other platforms. Moreover, Qingting podcasts are live, so you won't be able to upload pre-recorded content, which may not be optimal if you plan to reupload content from your OG podcast. 
As a foreigner, you'll be signing up as an individual. Prepare a copy of your passport and be prepared to have your picture taken. Account set up is Free.
Lizhi is by far the most unique platform, targeting young independent podcasters. With a tagline of "Everybody can be a podcaster," everyone can use their app to record and edit a podcast. Content spans from daily life, love, art, politics, etc. It's a very young platform that supports pre-recorded podcasts. So, it's not like Qingting where you can go live. 
All you need is a Chinese phone number to sign up. You'll be sent a verification code through SMS; account set up is Free. 
Our Verdict
Other smaller platforms include Koala FM, Duoting FM, and Douban FM. However, to get your English podcast into Mainland China, we recommend using Ximalaya for its large market share and Lizhi FM for its independent podcaster support & young audience. 
Getting My Podcast to Taiwan and Hong Kong
Getting into Mainland China and Greater China (Taiwan & Hong Kong) are two completely different methods. Citizens in both these countries have access to Spotify, Apple Podcasts, etc., so your podcast will be able to reach these geographical areas.
However, the leading podcast players in Taiwan is not Spotify nor Apple. It's KKBOX and SoundOn, which are local Taiwanese platforms widely used throughout East and Southeast Asian regions. Think of KKBOX as the Spotify of Taiwan. By distributing your podcast to these platforms, you'll be able to get reach these audiences better.
By using Firstory podcast hosting, you'll be able to automatically distribute your podcast to KKBOX and Spotify, while ALSO distributing to top platforms such as Spotify, Apple Podcasts, Google Podcast, etc. This means you can reach a real worldwide audience, including Chinese audiences.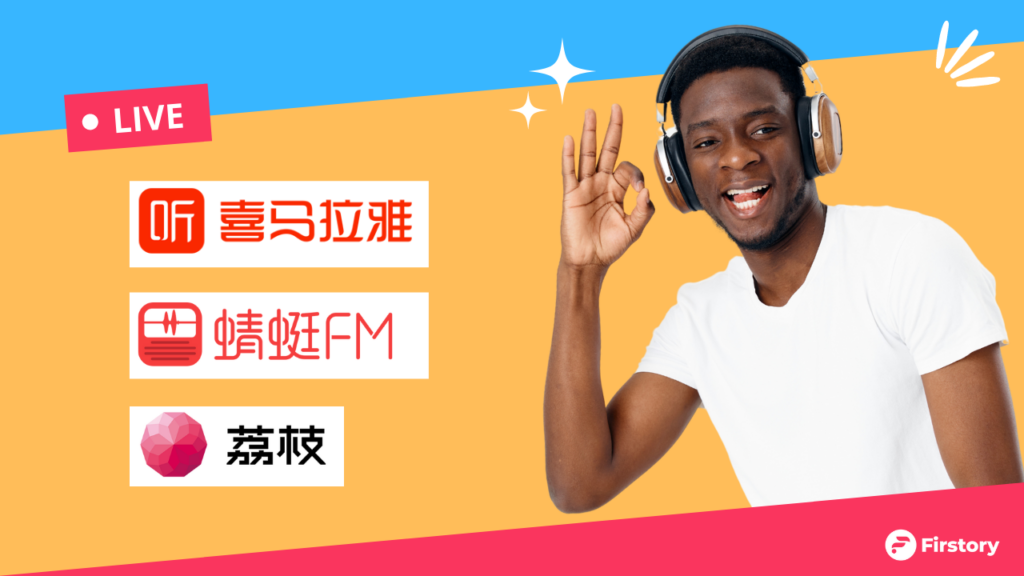 The Mainland Chinese Market: High Population, Low Competiton
Mainland China has a population of nearly 1.5 Billion people, accounting for 18.5% of the world's total population. That's a mighty large market over here, and the Chinese podcast industry grew along with Covid-19 and quarantine measures in the country.
With strict regulations governing Mainland Chinese media, it is difficult to enter the market, even for local residents. Many have tried and failed to pass the review process. Because of this, some content creators (even celebrities) no longer consider entering the Mainland Chinese market, making it a low-competition landscape for your podcast.
Be mindful about sensitive topics, especially on politics and religion, as these high-controversy themes have a higher chance of failing the review process.
The Greater China Market vs Mainland China Market
Outside of Mainland China, other Chinese-speaking countries include Taiwan and Hong Kong. With a population of 23.6 Million and 7.5 Million, respectively, these two combined make only about 2% of China's entire population. However, this does not discount the fact that both countries could also be good markets to get into.
Compared to mainland China, these 2 territories have lower entry barriers with free media and no media censorship. The ease of entry, coupled with the duo's higher exposure to English communities, make it an attractive gateway for foreign content creators.
Start your podcasting journey with Firstory
Reach all corners of the world and easily distribute your show to Greater China without dealing with language barriers! Firstory distributes to 15+ podcast players including:
Spotify
Apple Podcasts
KKBOX
SoundOn
Google Podcasts
& 10+ more!