If you are serious with starting a podcast or have already been podcasting for some time, you'd know for sure why podcast hosting platforms are important. Podcast hosting websites, simply put, help store, distribute, and update your audio files on podcast directories such as Spotify, Apple Podcasts, Google Podcast, etc.
Choosing the best podcast hosting site is a big decision to make because although switching between platforms nowadays is easy, some of the data and platform-exclusive functionalities may be non-transferrable. Although you will NOT be losing subscribers from moving hosting sites, you may lose some important data.
For example, because automatic hosting platform data transfer is not yet a thing when moving from one podcast hosting to another, some hosting platforms allow podcasters to manually input stats from their previous hosting services, while others don't.
To help you make the best podcast hosting decision for your show, we've gone through and reviewed the best podcast hosting sites to use in 2022. Including both paid and free (including freemium) options available for your best judgement! 
What Makes a Great Podcast Hosting Provider?
Choosing the right podcast hosting platform for you is one of the most important parts of your podcasting journey. The basic fundamental function of a podcast hosting service is to store your audio files for your audience to download and listen; but the best podcast hosting platforms should offer more value than just that.
The best podcast hosting provide robust data and analytics reports on your podcast performance, listener information, and other trends or trajectories. They distribute your show to various platforms, provide tools to reach more audiences, have social sharing options, promotion and marketing tools, as well as live support.
Optimally, the top hosting sites also have dynamic insertion tools that allow podcasters to easily insert ads (including CTA cards) into podcast episodes. This empowers podcast creators to monetize their contest easily. 
In this article, we did our best to choose the top 10 best podcast hosting options, so that you can save time and focus on the creation.
What are the Best Podcast Hosting Sites?
Here are our top picks on the best podcast hosting services to use in 2022: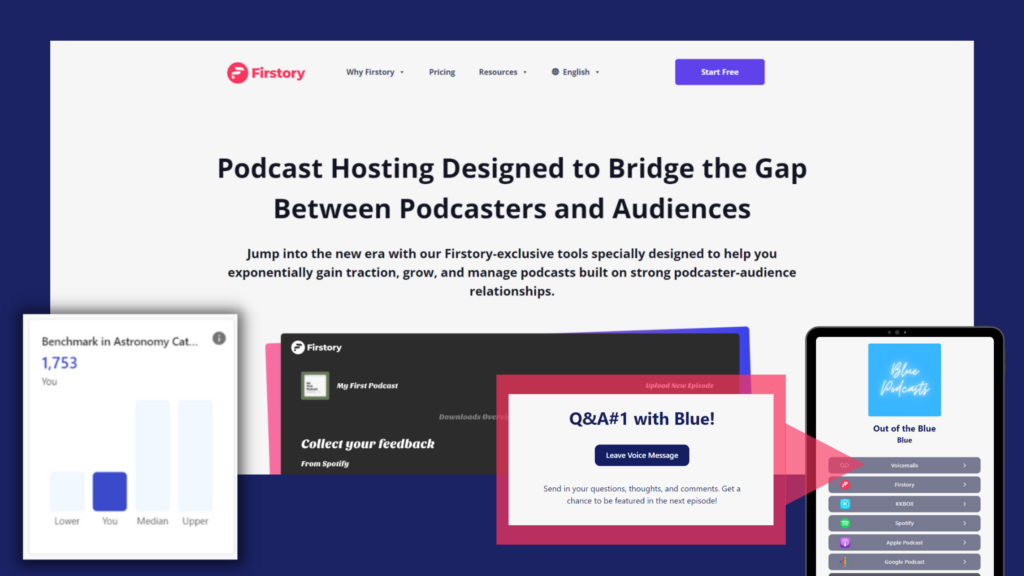 With a 380% growth in 2021, Firstory is one of the fastest-growing podcast hosting sites to ever enter the playing field. It's the most flexible platform that listens to users' unique needs in creating the best podcast solutions (you can ask our users: We're not saying this out of personal bias).
The company was formed by a team of podcasters in 2018 and are trusted by over 10,000 users worldwide in just 2 to 3 years of operations. Plus, they're the only platform among the main competitors that offers a free-forever plan that provides unlimited storage, downloads, and bandwidth for free.
Committed to developing innovative solutions for growing podcasts, the platform is packed with unique engagement tools designed to improve the overall podcasting experience. If you're serious about podcasting, you can upgrade your plan to unlock special features such as customizable color schemes, link thumbnails, episode-level FLink (for precision marketing), and overall benchmarking analytics.
It also has a Discord community where podcasters are encouraged to get involved in the development of new features, which doubles as an instant customer support chat room for concerns regarding the platform.
Key Features
Pricing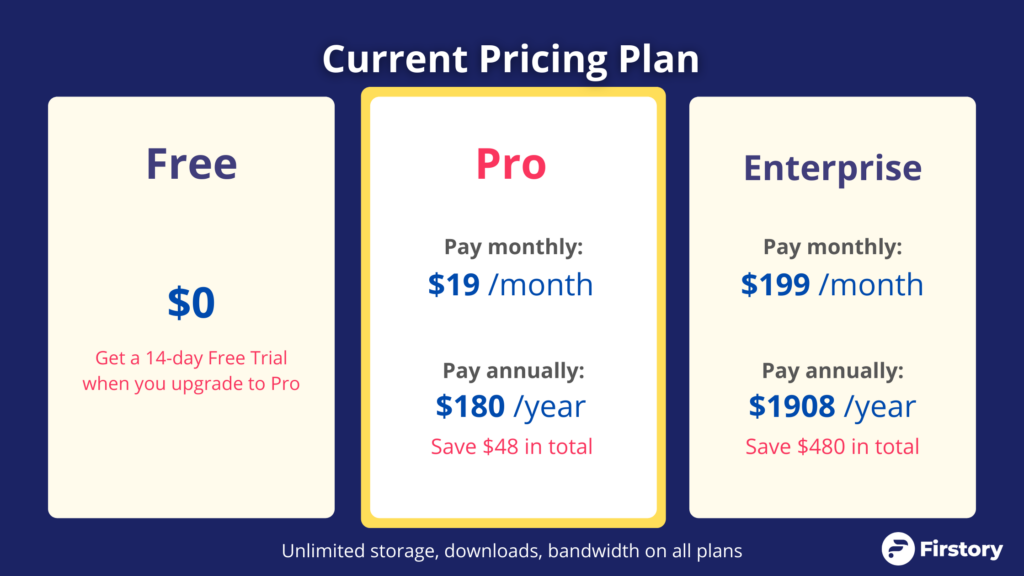 All plans come with the essential tools of a good hosting provider, plus some more. Paid yearly, you can save $48 in total for the Pro Plan.
The Pro and Enterprise Plans both come with 14-day free trial periods, as well as advanced benchmarking metrics, promotional tools, and customization capabilities.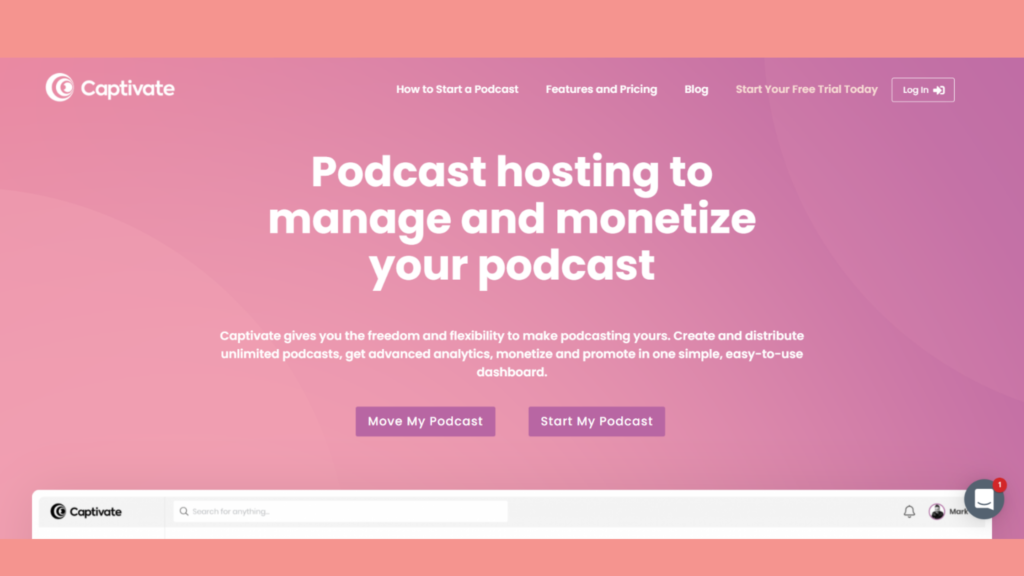 Captivate Growth Labs is a Captivate-exclusive feature that helps podcast creators learn about podcast marketing, SEO, getting sponsors, and getting listeners. They've also got a community where podcasters can learn together and give each other feedback, making it the best hosting for podcast marketing.
The platform has one of the most straightforward interfaces, which makes it great for beginners who are serious about growing their podcasts with advanced features like private podcasting, batch upload, and unlimited team members under one account.
With their first podcast created way back in 2003, the creator built a team towards making Rebel Base Media and delivered several talks on the podcasting space across different venues. 
Key Features
Captivate Growth Labs, a great learning resource
Podcast website builder gives you some degree of customization
Built-in CTAs you can put into your show
Embeds well on social media and websites
Ability to form an email subscriber list
Pricing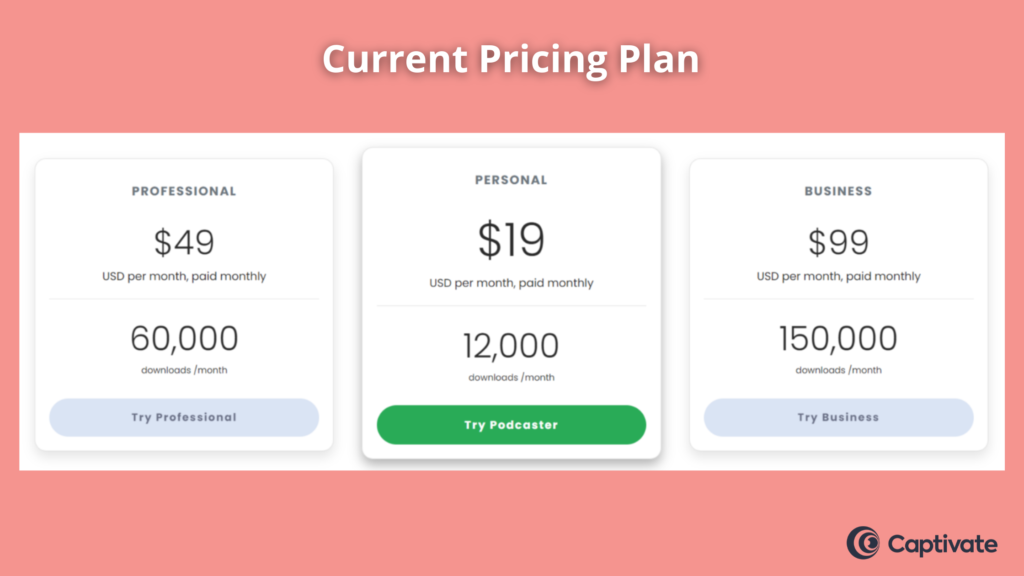 Captivate FM is a paid software, with 3 plans starting at $19/month, paid monthly. The most basic, personal plan includes a 12,000 monthly downloads (bandwidth) limit. 
Podcasters can increase this by upgrading to the $49/month Professional Plan. 
All plans come with a 7-day free trial.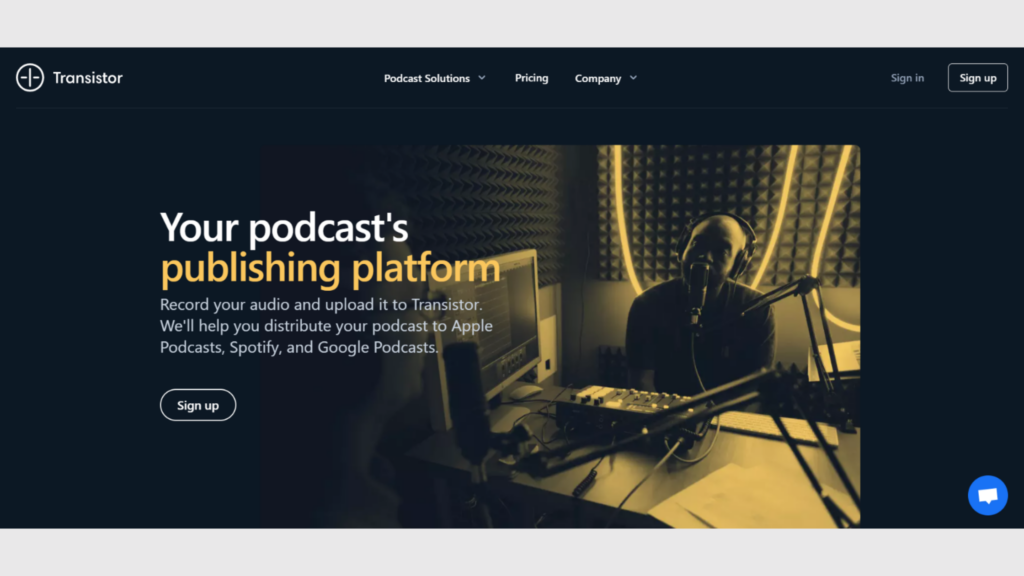 Transistor FM is another popular pick for a modern podcast platform. They have focused on brands and acquiring big names (such as the NHL Golden Knights) to mainly serve those who take podcasting very seriously.
If you're podcast hobbyist or aren't quite sure about podcasting yet, this platform may not be the best for you. However, for a professional podcast platform, their interface is pretty simple and easy to navigate. 
They allow you to create unlimited number of podcasts under a single account, for one flat price. Similar to Captivate FM, Transistor also supports private podcasting. However, instead of the 150 maximum subscribers for Captivate's basic plan, Transistor only allows 50 maximum subscribers for private podcasts. 
Key Features
 Unlimited shows under one account at a single, flat price
One-click submission to podcast directories AND podcast search engines
Very active founding team on social media and community forums
Newsletter integration into podcast website
Upload text transcripts to your podcast website
Pricing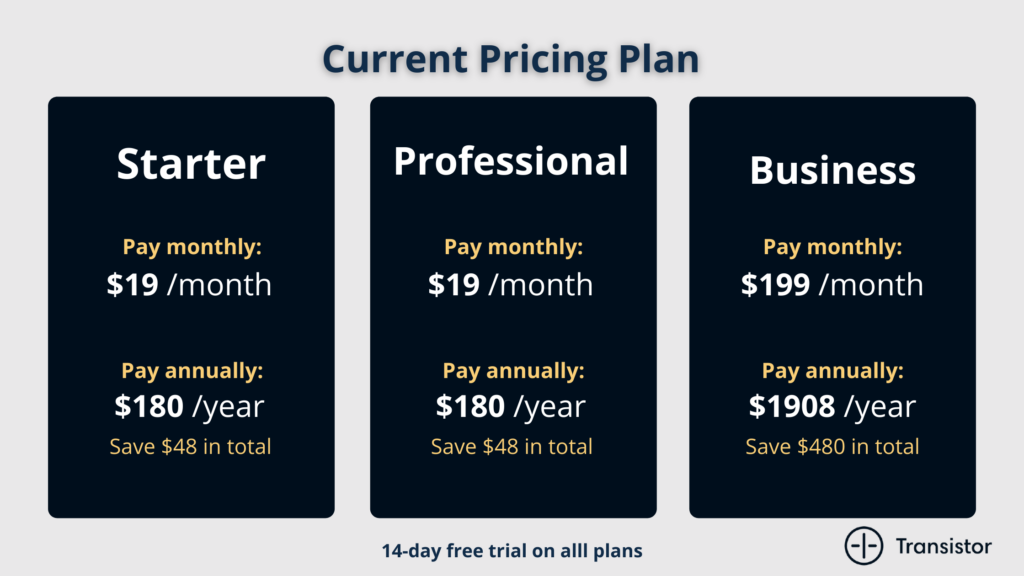 Transistor is another paid platform whose basic Starter pack is priced at $19/month, billed monthly. For this plan, the downloads limit is capped at 15,000 downloads per month. 
Upgrading to the $49 and $99 plans will allow you to increase your downloads cap. Each plan comes with a 14-day free trial period.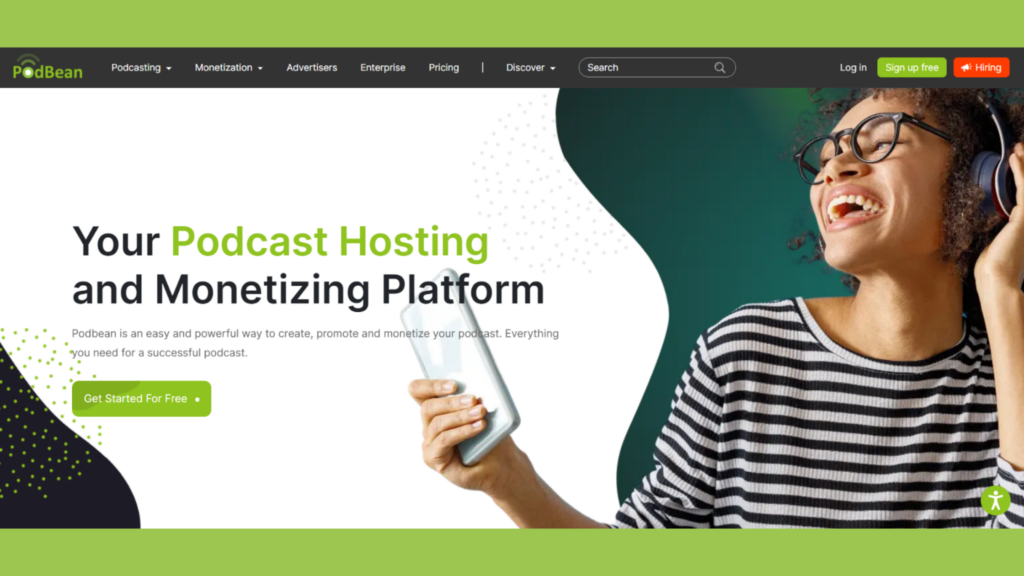 Another pioneering podcast hosting platform, Podbean has been around for over 10 years and is trusted by 600,000 podcasters worldwide. With Podbean, you don't need to worry about designing your own podcast cover art, since the platform comes with a cover art creator. 
The best features of Podbean compared to other hosting platforms is its support for video podcasts (starts at $39/mo.). They also post new episodes on your social media when you connect them to Podbean. You can also livestream a podcast through the Podbean app. Listeners can send in real-time instant messages and call in your show. If you're living in the US, you can also receive USD-convertible virtual gifts from listeners.
The free plan comes with 5 hours of TOTAL storage space and 100GB monthly bandwidth limit. Every file is also subject to a 100MB size limit. Multiple podcasts, dynamic ad insertion, premium podcasts, and advanced data and statistics, among others, are paid features that you can avail starting $14/mo. 
Serious podcasters would have to upgrade to paid plans in order to have the complete set of tools needed to make a good podcast such as unlimited hosting.
Key Features
Cover art creator
Video podcast generation and Podbean live streaming
Social media auto sharing
Premium podcasts you can sell
Email (Mailchimp) integration
Pricing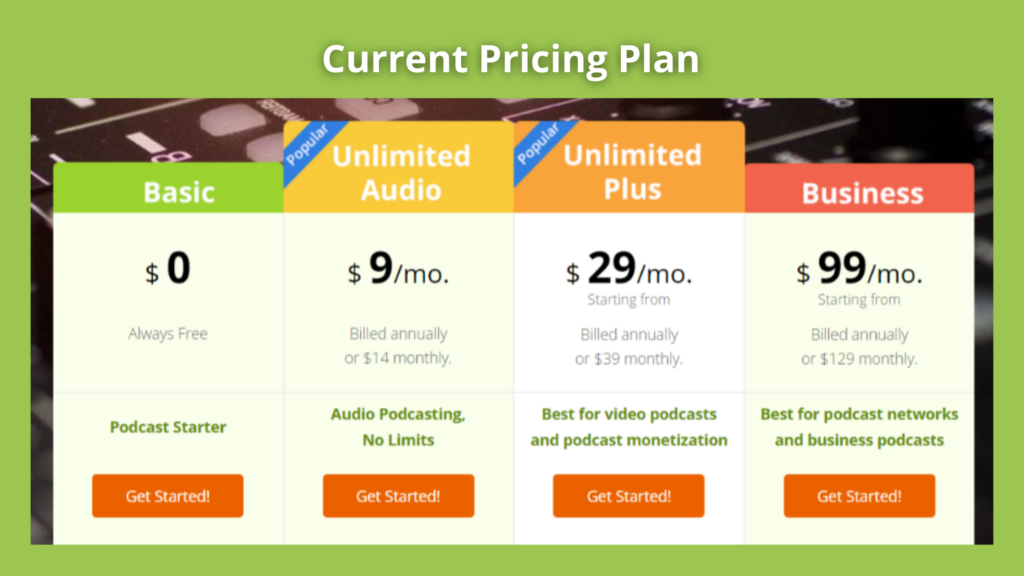 Aside from Podbean's super basic free forever plan that has storage and bandwidth limitations, all other paid plans have unlimited storage and bandwidth. Each plan, however, only comes with one podcast channel and additional charges apply for each additional podcast.
Buzzsprout is one of the most well-known, long-standing podcast hosting service in the market. Being in the business as early as 2009, the platform has gained the trust of over 100,000 podcasters worldwide. Having invested a lot in advertising and partnerships, the platform continues to gain the trust of many podcasters through time.
As a beginner-friendly fremium platform, Buzzsprout is loved by many for its powerful data and analytics. However, the free plan comes with a 2 hour upload limit and 90-day hosting limit. This means your episodes get removed after 90 days. If you're serious about podcasting, you'd eventually have to upgrade to a paid plan for indefinite hosting or switch to another hosting platform.
One super cool feature that Buzzsprout has is the ability to puchase add on services such as "Magic Mastering" and transcription services. This means you can have the option to pick and choose what to avail based on your needs.
Key Features
Magic Mastering audio filter to make you sound perfect
Add on purchase options and trancription services
Unlimited team members, starting from the free forever plan
Affiliate marketing integration in your podcast website
Affordable pricing options
Pricing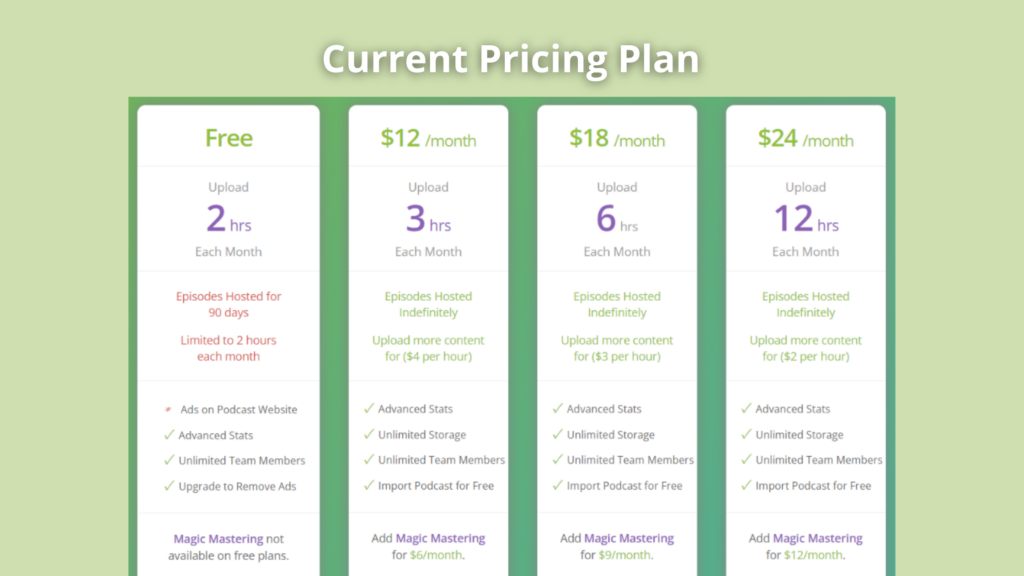 Buzzsprout's free forever plan may have some pretty serious limitations for serious podcasters. On the bright side, Buzzsprout's most affordable paid plan at $12/ month allows indefinite hosting, 3 hours of upload time, along with other core features. 
You can also increase the monthly upload time by upgrading to the $18 and $24 monthly plans.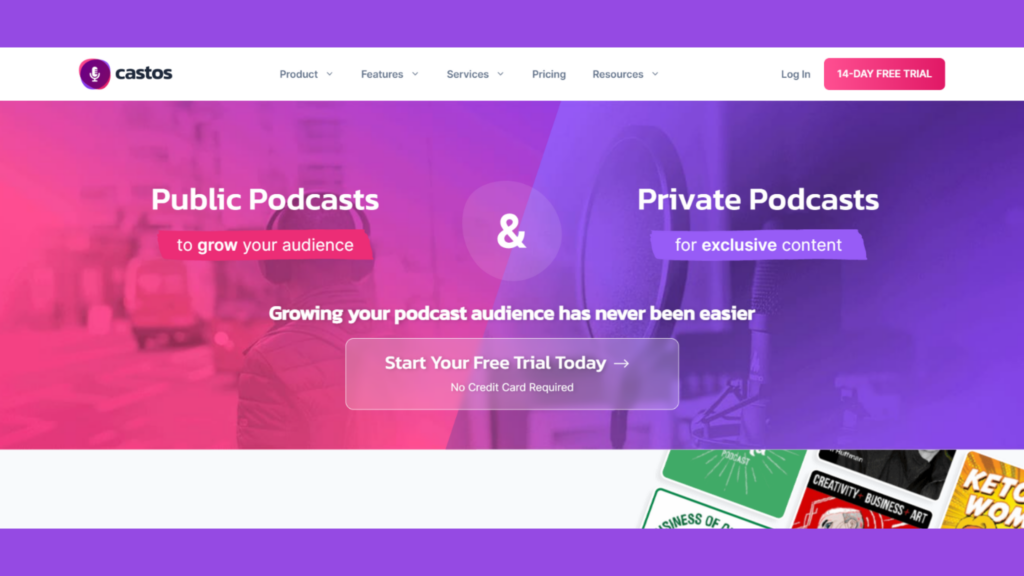 Castos is the perfect podcast hosting platform for WordPress bloggers with its integrated WordPress plugin. You can easily import your show into WordPress and embed your podcast players. Another really cool feature is automated YouTube republishing from the $49/month plan & up.
All Castos pricing plans come with unlimited storage. However, the downloads (bandwidth) per month differs per pricing plan. The starter plan comes with 20,000 monthly downloads limit; upgrade this to the growth and pro plan to get 75,000 downloads and 200,000 monthly downloads limit. This can be further adjusted by subscribing to the Castos Premium customizable plan.
The auto-transcriptions function, charged via a flat fee per audio minute, is another great way for you to enhance searchability by putting transcriptions into your show notes. As add-ons, you can also avail to editing, consultation, setup, and production services.
Key Features
YouTube republishing
WordPress plugin integration
Auto-transcriptions, charged per audio minute
Podcast consultation and audits
Setup, editing, and production services
Pricing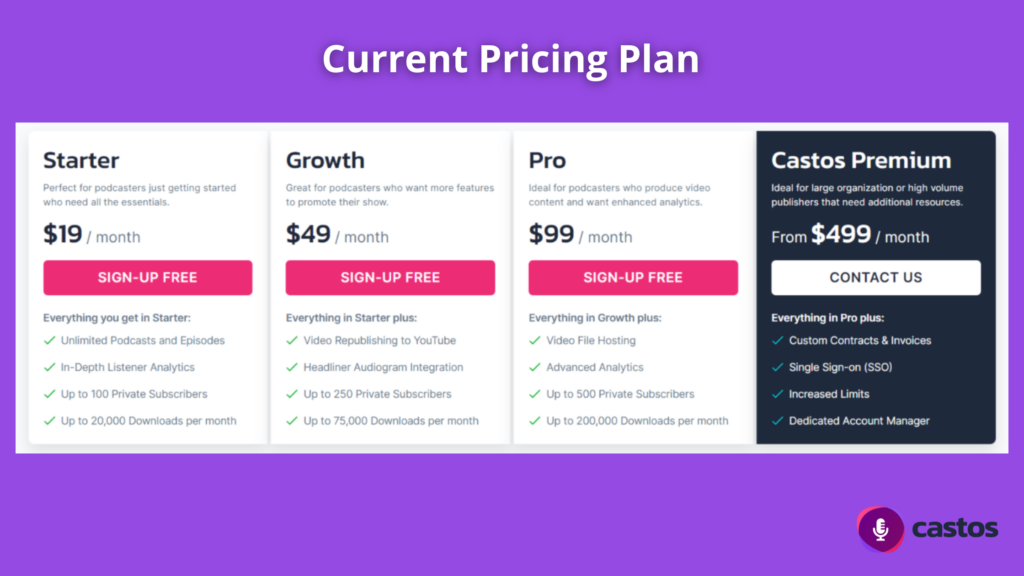 Castos' basic plan prices at $19/month, where you can get unlimited podcasts and episode uploads, but only 20,000 monthly downloads. A big leap from the $19 plan to the $49/month plan unlocks several cool stuff like YouTube republishing and audiograms. 
Other plans include the $199/month Pro Plan and the $499/month Castos Premium Plan.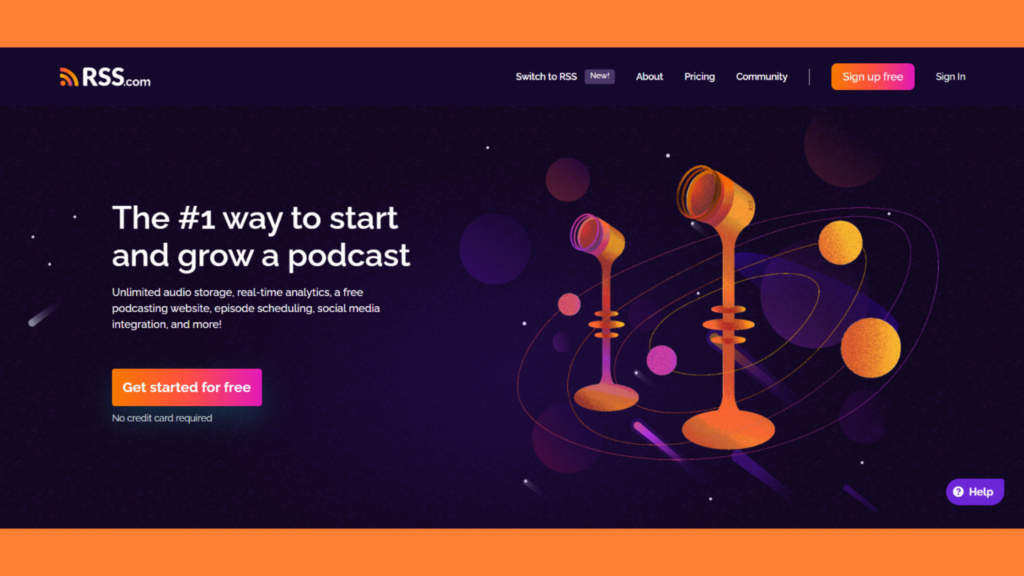 RSS.com is another long-standing podcast hosting platform that provides unlimited storage and hosting for a flat fee. It's unique that this platform provides special, affordable plans for educational and non-profit organization members. 
All the basic functions of a hosting site such as storage, distribution, stats, and podcast website are included in these plans. However, RSS.com does not offer unlimited downloads (bandwidth). The educational plan is limited to a 500GB/month bandwidth limit, while the main paid plan caps at 1TB/month bandwidth. 
Key Features
Unlimited episodes and duration
Negotiable pricing for non-profit organizations
Podcast website to increase searchability
Real-time analytics
Ease of use for absolute beginners
Pricing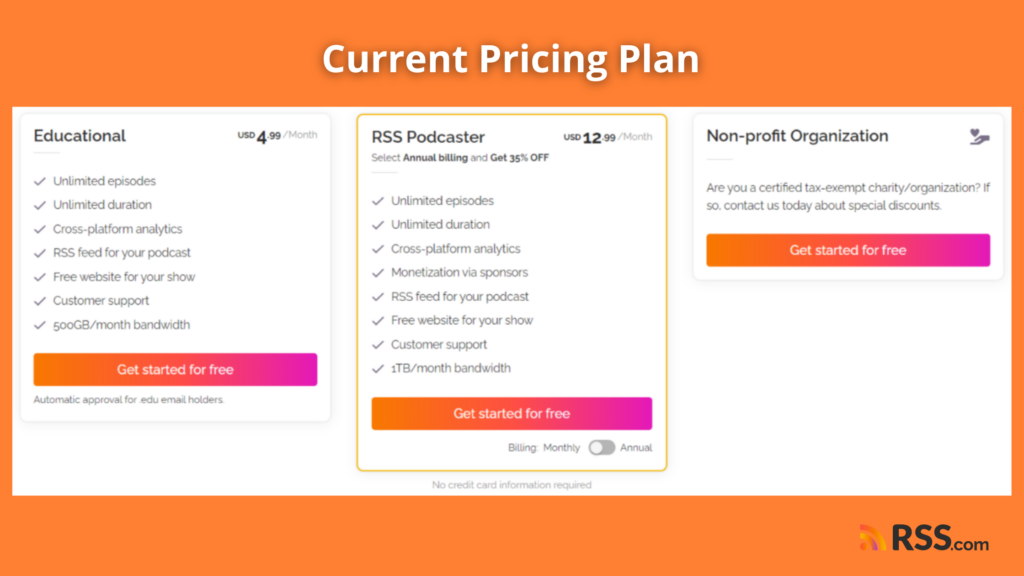 The regular go-to plan offered by RSS.com is priced at $13/month. Members of educational institutions can save a ton with an affordable price of $5/month. Non-profit organizations, on the other hand, can contact the company to acquire more discounts.
Spreaker, as a part of iHeartRadio, is a fantastic choice for radio podcasts and live stream podcasters. At the same time, you'll be able to use it as a regular podcast hosting platform, publishing pre-recorded audio files across various directories.
The platform can also automatically integrate advertisements into your show from the $8/month plan and up, which is great if you want to monetize early; but not the most ideal for listeners. As a freemium hosting, Spreaker's free forever plan has very limited data analytics, comprising of ONLY downloads and listeners (excluding geolocation and devices). 
All plans support multiple podcast channels. You can also unlock paid subscriptions and advanced statistics by upgrading to the $20/month or $50/month plans. 
Anchor is a totally free platform with no paid plan options. It comes with a very simple interface that's easy for any newbie to start with. On the other hand, despite the creation tools and convenient app support, Anchor does not have advanced analytics, promotion tools, and growth tools to help podcasters scale their shows.
The greatest value you can get from Anchor is its large community of users. Known for its 100% free nature, the platform has attracted many new independent creators and hobbyist. If you encounter any issue on the platform and customer service is taking too long, you can be sure that there are loads of other users you can consult with.
Because Anchor is owned by music streaming giant Spotify, the platform does have some unique Spotify integrations such as Spotify Polls and Spotify Q&A. 
Resonate is a professional podcast hosting platform that offers great features such as unlimited storage and downloads, unlimited show users, embedded player analytics, and dynamic ad insertion ($49/month plan). However, Resonate's price point is much higher compared to other hosting sites, with its Basic Plan priced at $25/month and Premium Plan at $49/month.
You can also avail of their other complementary services on podcast production, podcast launching, podcast marketing, video production, and enterprise services, making it the perfect pick for institutions, companies, and brands who wish to launch their own podcast.
We've summarized the 10 best hosting sites according to their best feature, storage limits, download limits, and pricing scheme below.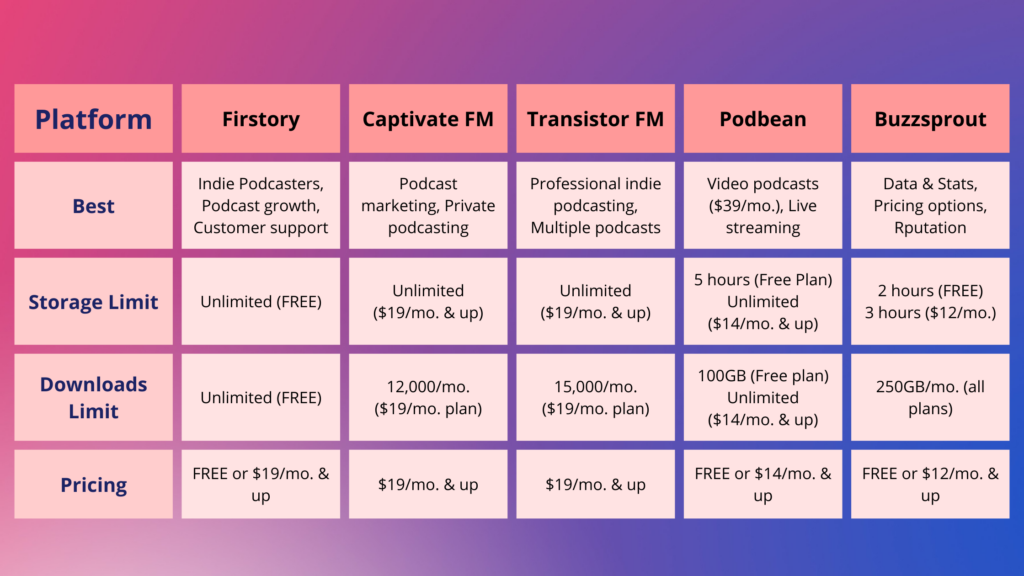 What is the best podcast hosting platform?
Every podcaster is looking for different things and features. 
If you're looking to scale your show and reach a wide range of worldwide audiences, storage and bandwidth would definitely be important for you. In this case, you would want to look into the platforms offering the best deals in storage and bandwidth limits.
Assuming you only want to create a podcast for close friends and family and don't want your show published in all platforms. In this case, you would want to tap into platforms offering private podcasting and compare the deals they offer (such as number of subscribers). 
Other software and equipment you need to start a podcast