FLink helps you promote your podcast efficiently with the least amount of effort and time possible. One common way to leverage this tool is by using it as a bio-link tool on social media.
"How can social media help my podcast grow?" Most people spend a huge amount of time scrolling through Facebook, Twitter, and Instagram from the moment they wake up to when they are about to go to bed. Social media may be one of the easiest and fastest ways to spread information, and that includes advertising your show. Firstory provides tools to help you rank better in search results, but you can further increase your podcast's visibility by leveraging social media. 
Surely, you've seen influencers and various accounts use bio link tools to redirect their followers to their blogs, websites, online stores, videos, and other external pages away from their social media profiles. These tools have grown in popularity over the years and have become the staple for many. Linktree, Lnk.Bio, Linkin.Bio, among others are just some examples. They are similar tools that get these done; but they have their limitations.
You no longer have to copy-paste your podcast links across all directories like this.
This may seem fine for now, given that this person is only on 2 platforms. Now imagine what would happen when your show's on 10 platforms?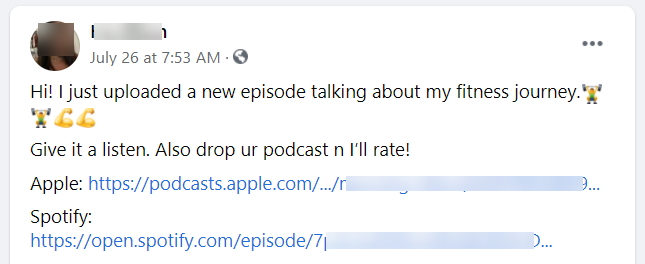 Firstory's FLink, on the other hand, is a universal, multi-link tool specially made for podcasters to efficiently (and fabulously) share their podcasts AND external links. This means you can use this not just for your podcast, but also for other external links you may be used to having in your Linktree or Lnk.Bio profile.
What can I put into my FLink?
Some examples of links you can include (not limited to the following ) are:
Links to the podcast directories you're on (Automatically done for you)
Links to your Firstory Voice Messages Inboxes
Social media links such as Facebook, Instagram, Twitter, LinkedIn, etc.
Your blog site and webpage
Your e-commerce store
Your portfolio
Firstory's Built-In Monetization (Donation) Link
A 3rd Party Monetization Link like Patreon, Ko-Fi, PayPal, Venmo, etc.
Here's a side-by-side comparison of FLink and a real podcast using Linktree: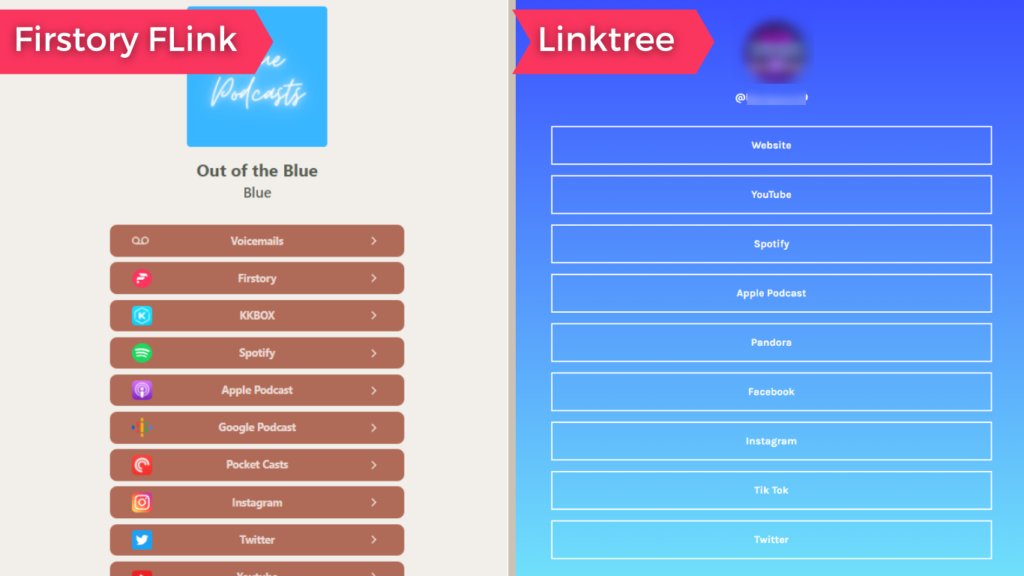 Can you tell the difference? Which one are you more inclined to click, if you were the audience? I leave that up to you to decide.
What FLink features can help promote my podcast?
Major directories support. Portals to your podcast on major platforms like Spotify, Apple Podcasts, Google Podcasts, and Pocket Casts are

automatically

added for you. (We're working on including the rest of the directories as well!)
No more copy-pasting. The links and buttons are automatically generated and self-updating. You no longer need to manually update and place every link.
Supports both episode-level and show-level redirection. This means you can drive your audience

PRECISELY

to whichever episode (or show) you want them to listen to.
FLink Stats and Analytics. You can see your FLink click data right from Firstory Studio, where you can see the number of views and clicks across each link portal.
Unlimited. Your podcast across all main platforms PLUS your social media and other external links you can add!
Monetization Links. You may also choose to include your Firstory Donation Link and 3rd Party Monetization links which your listeners can use to support your podcast!
Embeddable. You can enable iframe to embed your FLink to your website or blog.
Customizable. Firstory Pro users are be able to customize their FLink color schemes and themes.
Private Show. You can even share pre-release/ unreleased episodes with select audience members and stakeholders. Learn more about that here.
Current users enjoy a 20% Conversion Rate by using FLink. (Conversion Rate: The ratio of the total amount of FLink visitors who have proceeded to click into the portals or buttons.).  
Watch a short clip about FLink basics here: (Note: the video shows FLink's old interface. However, the general idea and functionality remains the same).