Starting a podcast or looking to upgrade your podcasting software and equipment this 2022? This article is a complete guide and review of every recording software (including DAW) and equipment you will need to make a great, successful podcast. 
For sure, you can kickstart your podcasting career by simply recording from your phone's built-in microphone and voice recorder. However, if you're looking for more, this one's for you. Better sound quality may necessitate a minimal investment; so we've included both free and paid choices for you to have the best options and make the best possible decisions for your show.
In this article, you will find…
Recording and Production Software
Part of the QUALITY that makes up a good podcast apart from quality content is sound and recording quality. Good recording quality is clean, crisp, and easy on the ears. 
When was the last time you've listened to a podcast, listened to music, or watched a video on YouTube? Notice how you'd switch or turn it off when the sound quality isn't sounding right. Remember the good old radio days when we'd scan for a clear, good radio station, skipping and leaving out static-sounding radio stations?
No matter how good your content is, no one's going to stand listening to it without good audio quality. Of course, you can always record on your phone or hosting platform before editing it on a Digital Audio Workstation (DAW), but it would be much easier to record AND edit the audio file on the same platform.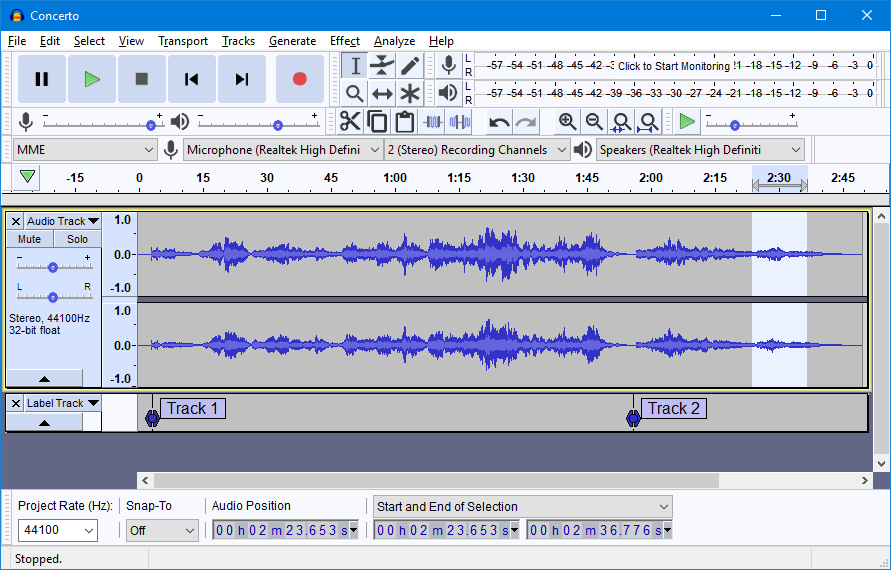 1. Audacity (Free)
Audacity is one of the easiest free-to-use, open source recording and editing software. It supports both single track and multitrack recording, making it an ideal platform for solo podcasters, a pair of podcast hosts, and a group of podcasters recording through external hardware and devices. 
We placed this as our number 1 pick for its accessibility and well-rounded tools that are good enough for beginner podcasts. It is available for download of Windows, macOS, and GNU/Linux. They continue to release new updates every few months, so you can be sure that the developers still continue to support this software.
Apart from recording live audio from the microphone, you can also easily import, edit, cut, and combine sound files. The platform also supports simple noise reduction, amplifying, normalization, pitch, and tempo effects. Exporting supports multiple file formats and multiple file exporting. If you're a sound guru, you'd be glad to know that they also have plugins to support different effects.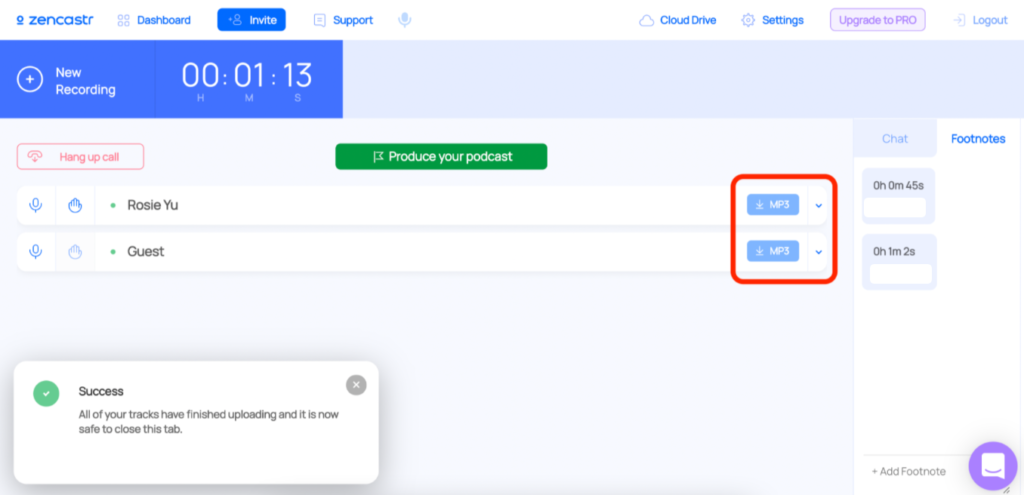 2. Zencastr (Freemium)
Build especially for podcasting, Zencastr has a very complete set of recording functions including a lossless 16-bit 48L WAV audio track per guest (split audio recording) with no time limits. They've also started with video recording and comes with VOIP chats and footnotes. Editing is made easy from their live-editing soundboard, auto postproduction feature, and cloud backup support. You can connect and store your files on Dropbox or Google Drive. 
With the free plan, you can host and have up to 4 guests, have unlimited audio recording, and produce high quality MP3. With their $20/ month professional plan, you can have unlimited 1080p video recordings, 16-bit 48K WAV, live editing soundboard, and unlimited English transcription services in addition to the features in the free plan.
The friendly interface and podcast-specific features got this software on the number 2 spot. You can use it directly on the web without needing to download a software. Guests do not need to register for an account, but all participants must use computers.
3. Adobe Audition (Paid)
Most free software can sufficiently provide the essential and recording tools to produce a decent podcast. However, if you're looking for more advanced and stronger functions and effects, you may wish to invest in a paid software such as Adobe Audition. Apart from the editing and remixing effects you'd typically expect from a great paid software, Adobe Audition also has reparation and restoration capabilities to fix audio files. 
Compatible with both Windows and MacOS, the single app (excluding all other Adobe apps) yearly subscription costs $19.99/ month for students and $20.99/ month for regular individuals. The best part about having an Adobe investment is its compatibility with other Adobe apps. If you've got a YouTube channel, you can also export your Adobe Audition file to Premier Pro and create a video podcast. 
4. GarageBand (Free)
Working on macOS or iOS? Then GarageBand might be the most native, go-to software for you. Solo podcasters can easily plug in their microphones and start recording. If you're a podcasting duo recording on the same computer, make sure to search for "Finder" > "Utilities" > "Audio MDI Setup."  At the bottom left corner, select the "+" sign and choose to "Create Aggregate Device." Next, select the input devices you want to use.
GarageBand is free to use and download for macOS and iOS users. Aside from recording simple audio files, and all the editing functions found on Audacity, you can also create music on the software without needing real instruments. They've also got synths and other great stuff that allows creators to run a "studio" and make their own music.
5. Reaper (Paid)
At first glance, Reaper can be intimidating. But at a one-time license payment of only $60, you can get a highly customizable, solid digital audio workstation. Because of its steep learning curve, we've placed this software at the end of the DAW list. The good news is that there are tons of YouTube tutorials and a pretty strong community to help you get settled and started. 
Reaper offers a 60-day fully functional free trial with no registration and personal detail requirements. Similar to Audacity, this platform's compatible on Windows, macOS, and Linux as well. 
5. Zoom (Free)
The Covid-19 pandemic accelerated the use of web-conferencing software, Zoom being one of the largest beneficiaries. Did you know that Zoom's also a very handy tool for podcast recording? In a world where remote podcasting is becoming more and more common, Zoom is a great, free tool that supports split-audio and combined-audio recording. After recording, Zoom will process your file and store that locally on your computer.
To enable split-audio recording (separate from the video), go to Audio Settings > Recording > Enable "Record a separate audio file for each participant who speaks." You can use both web version or install the software, with the latter being recommended method.
6. Skype (Free)
Isn't Skype a video conferencing platform? Yes, it is; and Skype can also be used for podcasts. In fact, it's a great platform for remote recording, especially if your co-host or guest is located miles away in different states or countries. Simply hit "Start Recording" on the lower left corner of the call interface, and both audio and video screens will start recording after 5 seconds. Use the same button to stop recording; and your mp4 file will be stored in the chat room for 30 days for all participants to download.
Although it's free to use, you need to register for an account and download (plus install) the software to use. To acquire mp3, you'll need to extract the audio from the mp4 file separately. This is one of the reasons why Skype ranked last on our list.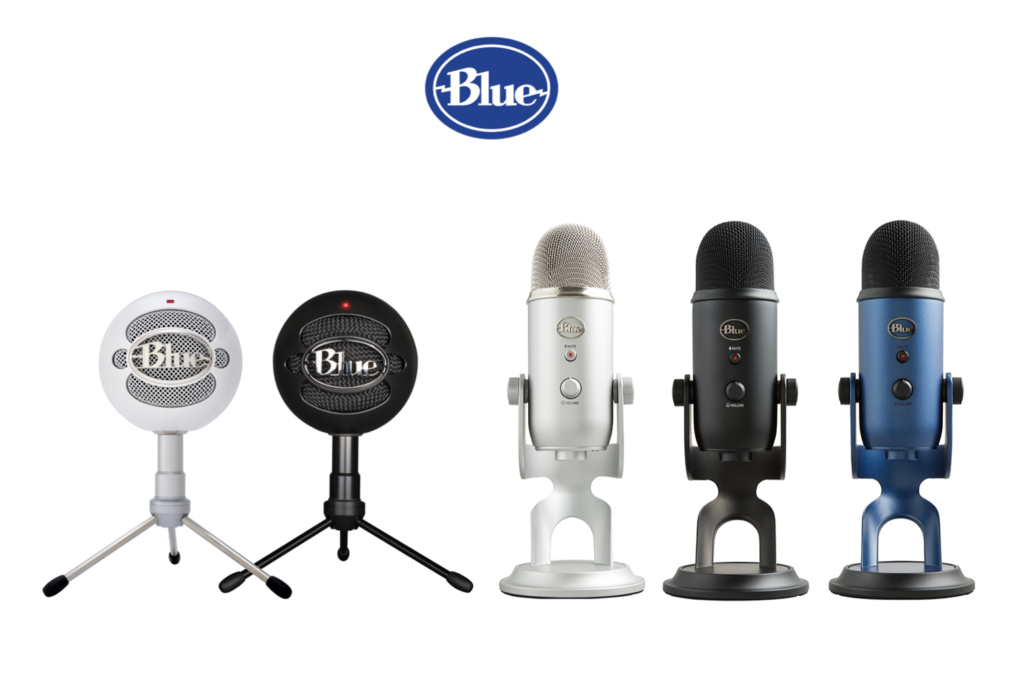 Podcasting Equipment and Devices
Some basic equipment podcasters use include:
Microphones
Recording Devices
Cables, Stands, and Other Accessories.
However, at the end of the day, the type and style of your podcast ultimately determines the equipment you would be needing.
Perfect For: Solo Podcasting
If you are a solo podcaster, we would recommend the $130 Blue Yeti and $70 Blue Snowball series microphones. These USB microphones are very intuitive in design and perfect for beginner podcasters with limited budgets. 
No installation required and compatible with both Windows and MacOS computers. Simply plug it in and start recording!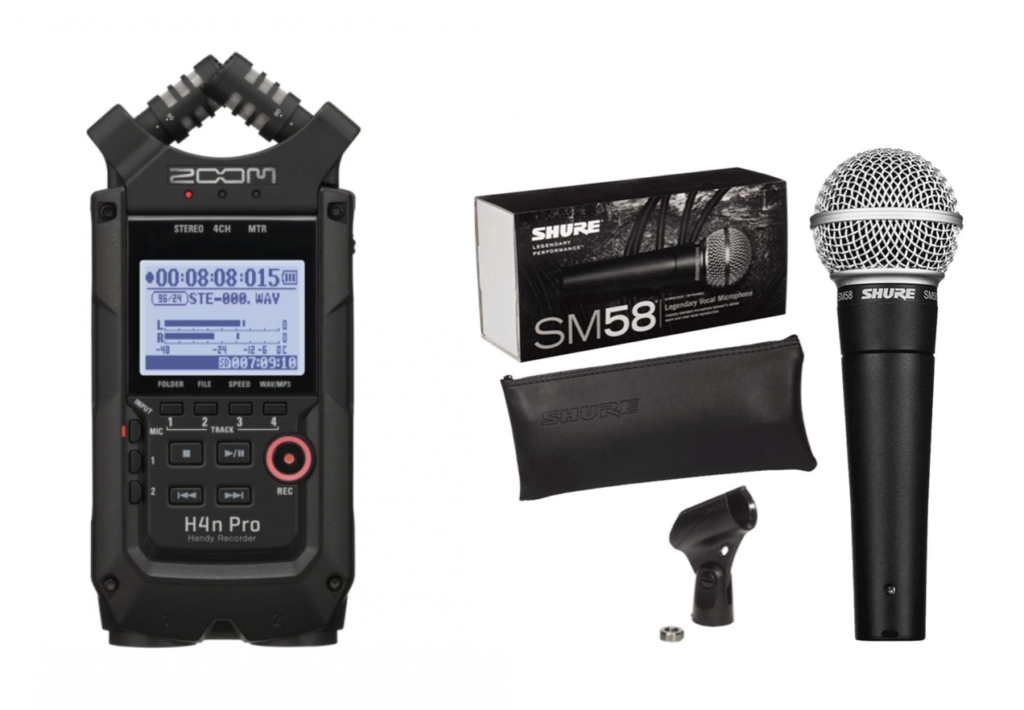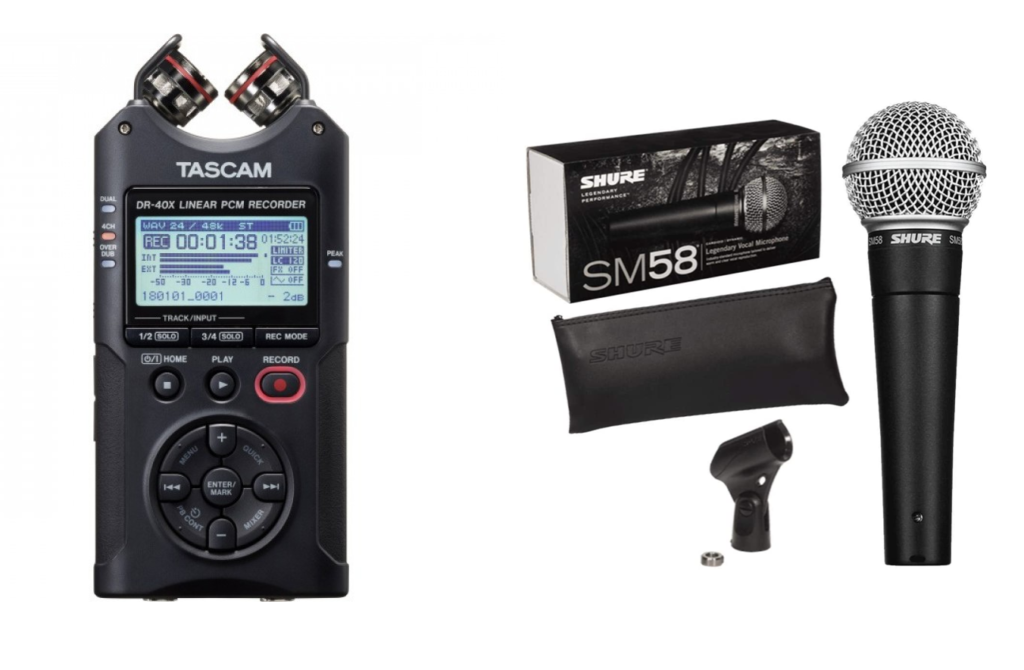 Perfect For: Duo Podcasting (Two Podcast Hosts):
If you're a pair of podcasters expecting to produce talk-show type of podcast eps, we wouldn't recommend USB microphones. One computer is not able to simultaneously record from 2 USB microphones. We recommend having a recording device, coupled with microphones. This way, sub-track and multi-track recording would be made possible, which can facilitate post-production processes and maintain sound quality.
This hand-held recorder (Zoom H4n Pro) is compact, portable, and flexible for both indoor and outdoor recording. It can support 2 external XLR microphones and can be connected to both Windows and MacOS computers when recording.
Similar to the ZoomH4n Pro, TASCAM DR-40x can also be used for both indoor and outdoor recording. It can be connected to 2 external XLR microphones. Simply insert a MicroSD card to start recording!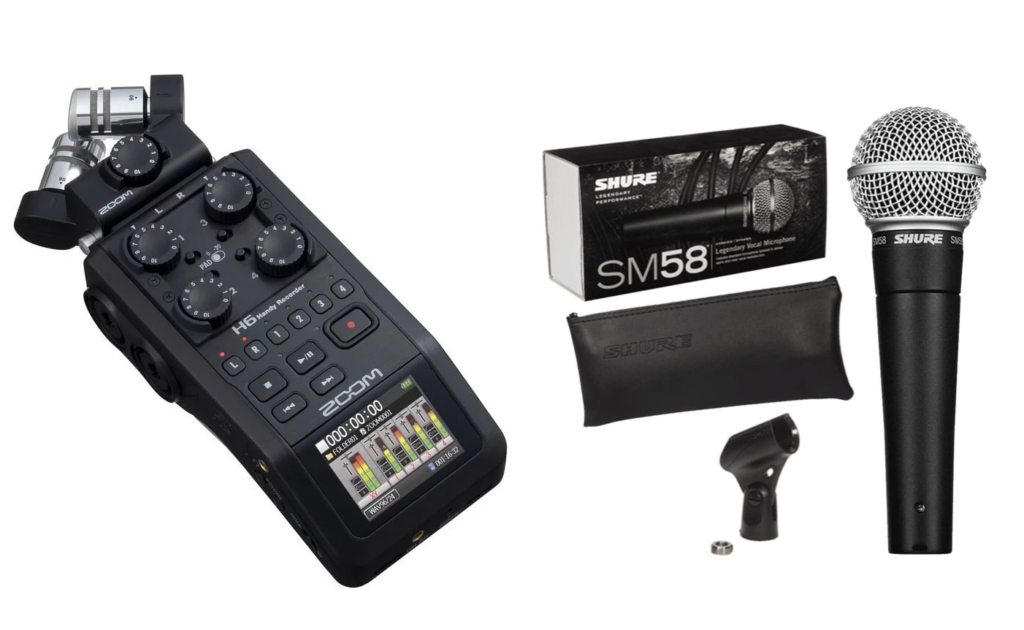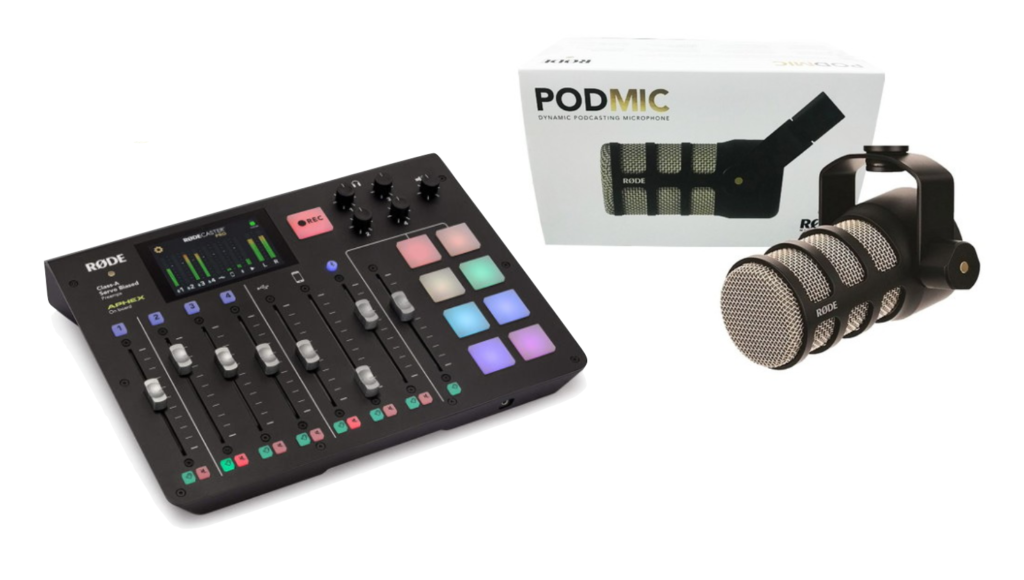 Perfect For: A Group of Podcasters (more than 2 podcast hosts)
Suppose you aren't a solo podcaster and have more than 2 hosts, these recording equipment and microphone may suite you better:
The ZoomH6 recorder is portable, compact, and suitable for both indoor and outdoor recording. The built-in colored-screen interface makes recording very intuitive. This recorder supports 4 external XLR microphones, and you can start recording by simply inserting a MicroSD card.
This recording workstation is an integrated production console designed specifically for podcasting. They offer the all-in-one solution for both beginner and experienced podcasters alike. It supports 4 external XLR microphones and may be connected to via USB or Bluetooth for remote call integration. Simply insert a MicroSD card to start recording.
Cables, Headphones, and Other Equipment
After choosing the best recording device and microphone for your podcast, it's time to get an XLR audio cable. Depending on your available space and recording setup, you may want to choose a cable from 2 to 5 meters long. 
We'd also recommend a microphone stand (desk or otherwise) so you wouldn't need to hold the microphone with your hands. This can lessen the amount of "friction sounds" that may find its way into your audio recording. 
As for headphones, choose a comfortable pair that fits your budget. Some good producers include: Audio Technica, Sony, and Superlux. 
Other Software and Guides for Podcasters
After recording and editing your first few podcast episodes, you'd need to have a podcast cover art ready to upload into a podcast hosting platform. Click the following to see our complete guide on how to start a podcast and our other recommendations and guides:
Looking for a podcast hosting for your new podcast or open to switching hosting sites? Firstory welcomes you to try out Firstory Studio for free.