How many times have I scrolled through Reddit to find A TON of users asking the same question over and over again: "How can I make and start a podcast?" To give aspiring podcasters an easier time figuring this out through a pool of differing answers, we've summarized the process into 5 easy steps to get started:
Planning and Designing Phase
Don't you dare skip this phase!
Theme and Idea. In this step, you will figure out what your podcast is going to be about. It's important to establish this because you've got to be consistent on your podcast theme. Think about your passions, interests, your expertise, what you're good at, and the market demand for these topics- AND look for the INTERSECTION of all of these elements to find the sweet spot. After that, turn your ideas into a podcast plan! 
Sites such as Listen Notes and  Statista have released data on the most popular podcast genres worldwide and in the United States, respectively, based on their study. You can use this as a guide to get an idea of what people are listening to: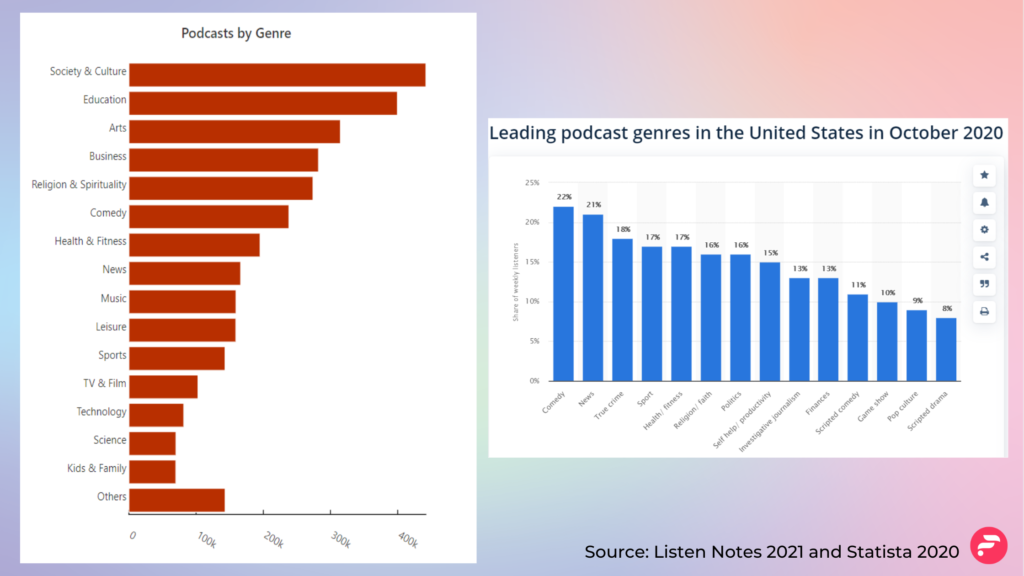 Invested Resources. The time, energy, and money you put into your podcasts are all considered as resources. How much of these are you willing to attribute to your show? Considering your regular job, school, family, social life, etc., how much time are you willing to set aside every week or month for your podcast? Are you willing to invest in equipment such as microphones, recorders, and headphones? Of course, they're NOT needed to start a podcast, but it's necessary for you to think about this early on; since this pretty much relates to your entire podcasting process. 
Episode Length and Schedule. You don't have to establish this right from the start, and you can always adjust it as you go along, but it would be nice to have it planned out, just so you have a nice roadmap or blueprint to follow. How long would you like your podcast to last? Some studies show that most people listen to podcasts while in transit, whether driving in the car or taking the subway. You may want to take that into consideration, depending on the audience you're targeting. 
How often are you going to put out new episodes? Of course, there's nothing wrong with going freestyle and posting whenever you have time; still, it would be great if you could define your posting schedule. Not only will this keep yourself accountable for future episodes, it would also give your audience some assurance and something to look forward to. In some cases, the consistency may benefit your searchability!
Short-term and Long-term Goals. What would you like to accomplish with your podcast? Set achievable but challenging short-term goals. For example, you may hope to have 100 downloads after putting out 8 episodes, reach 10 different countries after 1 month of podcasting, or simply put out 10 episodes within 2 months. Celebrate little milestones and achievements. Keep in mind that you can't have 100 without 1. On the other hand, your long-term goals may be to get featured on Apple Podcasts' charts, have over 100,000 listeners, or perhaps start receiving monetization benefits after 1 or 2 years of podcasting.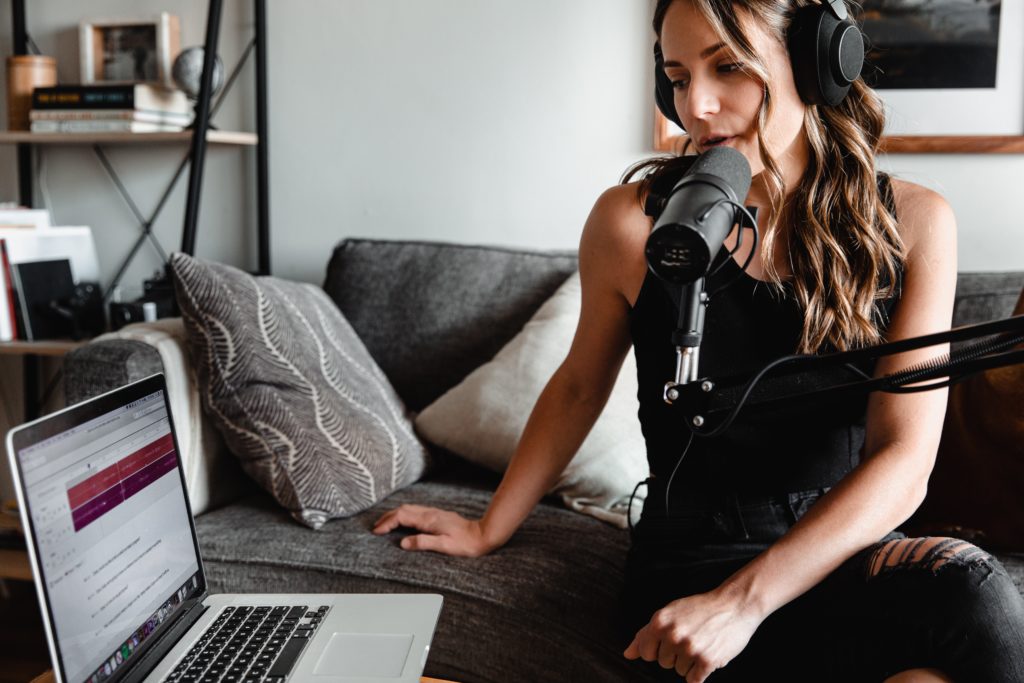 Recording and Post-Production Phase
Venue. Let's get this out of the way: You do NOT need to have a fancy recording studio to make a podcast. Sure, it will improve and facilitate the consistency of your audio recordings; but when you're just starting out, any room would do! In fact, you don't have to designate an entire room just for podcasting: Parks, cars, and coffee shops can make do for a recording venue if you don't have a good space at home!
Software. As much as I'd wish to tell you that you don't need software to start recording, unfortunately, you do. The good news is that there are LOTS of options for you, and many of them are user-friendly and absolutely free! Depending on the type of audio quality and tools you're looking for,  we've listed down our recommendations and review of recording and post-production software which include Garageband, Audacity, and Adobe Audition.
Most mobile devices have built-in recorders that you can use as a starter. You can also use video-conferencing apps to record such as Skype, Zoom, and Zencastr, which are incredibly helpful as well for remote-recording with guests and cross-country collaborators! 
Hardware. Your laptop, tablet, or mobile device actually have built-in microphones that can help you get started. Some headsets or headphones likewise have microphones, and these are enough for any beginner to jump right into their podcasting journey. However, if you feel that you need to invest in any equipment such as microphones, recorders, or cables, we've also got a comprehensive list of equipment recommendations for you, grouped according to the number of podcasters your show has. 

Click on the button below to see our list and reviews of all the podcasting software and equipment you need to kickstart your podcast!

Podcast Cover Art and Logo Design
As you start to construct your show and actually do the recordings, you pretty much get a better feel of your show's mood, style, theme, and content. (Sometimes, the actual stuff don't always align with our visions and ideas).
Make sure you design a podcast cover art or logo that effectively communicates your podcast content and stands out from the other podcast shows on the "shelves." This is important because the podcast cover is the first thing listeners see when browsing for shows, and it's the very thing that will make them want to understand more about your show.
Make use of color and font psychology to direct audiences to your podcast:
Uploading Phase and Podcast Hosting Platforms
Now that you've got everything planned out and recorded your first few episodes, now what? You may be wondering, "How can I get my podcast on Spotify, Apple Podcasts, Google Podcasts, and other podcast sites?" The simplest way to do that is through podcast hosting platforms. Now, what is a podcast hosting platform? They're basically like your podcast's house. It is where you upload, store, organize, and manage your show; and this hosting site will then disseminate your episodes and changes you make to the directories (i.e. Spotify, Apple Podcasts, etc.).
Still in doubt on whether you actually need a podcast hosting site? Here are 5 good reasons why you should consider a good podcast hosting platform.
What is the best podcast hosting site? Check out our top picks and honest reviews:
What are RSS feeds? This question seems to baffle a lot of podcasters, whether aspiring, beginner, or experienced. RSS feeds, simply put, is the data house for your podcast. Every podcast has a unique RSS feed and URL. In fact, this is what sites like Spotify, Apple Podcasts, and Google Podcasts use when scanning for any new updates or episodes you've made through whichever hosting platform you use. Check out this article to read more about the RSS feeds and what happens to them when you switch hosting platforms. 
Setting up and getting started. Every hosting platform has their own steps and process to set podcasters up with their hosting platform. The process for new creators is usually much more straightforward: Set your podcast information, upload an episode, and distribute the show! This video briefly illustrates the process on Firstory Studio, to give you an idea on how it's done:
Promoting Phase and Getting Listeners
As easy and fun as it sounds, this step can be incredibly tedious. If you find yourself not acquiring all that much listeners or receiving one or two bad reviews, don't be discouraged. There's a saying that says, "If you don't like reading, you haven't found the right book." It also works the other way around. Under normal circumstances, assuming you're producing quality content and you can't seem to find out what's wrong with your show, it may simply be because you haven't been able to tap into the niche. 
This brings us back to the very first step: Who are you trying to reach out to with your podcast? Is there a market demand for this type of content? Once you've done your research and brainstorming, you can use a number of tools to reach out to this niche. Leverage social media and use promotion tools to get the word out in a faster, more efficient way. Freshen up your content with new, creative stuff to keep things exciting! Keep up with podcasting trends through newsletters and following key people in the space. Collaborate, and reach out to others! Promoting your show is not an easy task, but you can make it easier by being resourceful and making use of what you have (or what's around you!).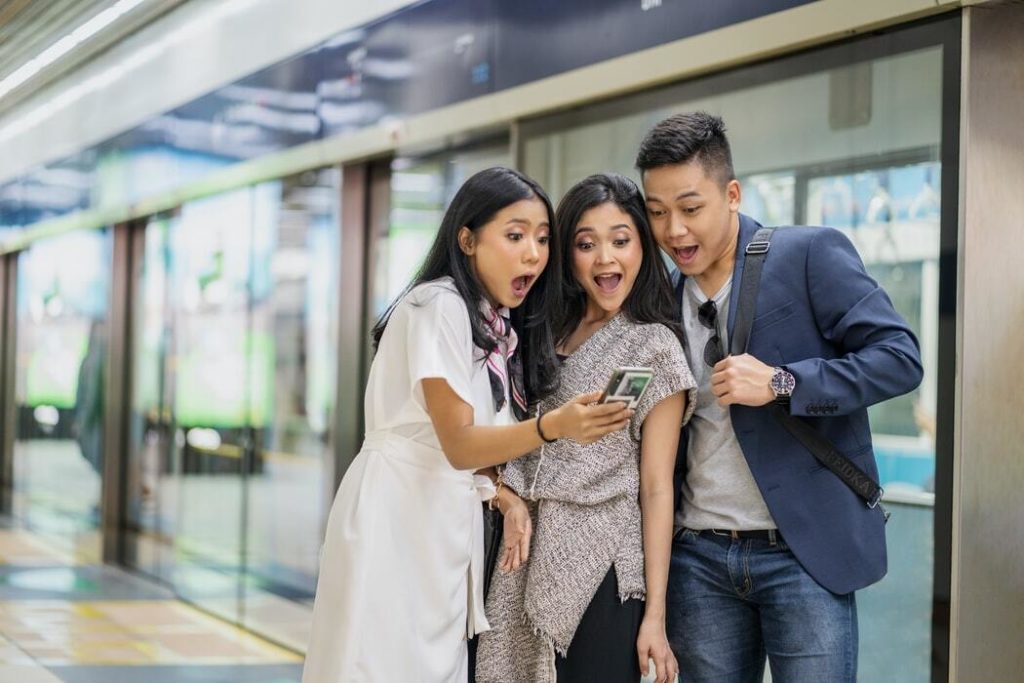 CRM and Track Your Progress!
The best creators often have an extremely strong bond (connection) with their fans. Make sure to listen to your audience, engage with them, include them into the conversation, and let them know that they are valued. People like to feel involved. If you can share the co-creation experience with your listeners, that would strengthen your bond. To top it all off, people are also more willing to support creators with whom they feel closer to. Not to say that you're to engage with listeners in hopes that they would provide monetary support, but it would be a nice bonus on the side, wouldn't it?
Maintain your relationship with fans, and the creation process will be much much more enjoyable. At Firstory, we offer a whole bunch of CRM tools, as well as a hosting platform, to help creators engage with their audience. Some examples include:
FLink

– Promote faster, easier, and in style. An all-in-one kit for existing and new listeners.

Cross-Platform Comment Link

– A place for podcasters to gather feedback and converse with fans.

Voicemail

– Give your audience a voice. Include them into your future episodes!

Apple Podcast Reviews

– View your Apple Podcasts ratings and reviews across different countries right from Firstory Studio.

Donation and Subscription

[

In development

] – A place where listeners can choose to support their favorite podcasters through either one-time donations or a monthly subscription rewards plan. 
Track your progress. Use the stats and data you get from the hosting platforms and directories (e.g. Spotify for Podcasters, Apple Podcasts Connect, etc.) to monitor your podcast performance. Gain insights on listener retention, which episodes and topics appeal most, which days and times gather more downloads, and other useful information including audience demographics. These data can help guide you with the drafting, creation, and posting of your future episodes. 
Start your Podcast with Firstory
If you've read everything and have reached this segment, congratulations! You should already have a pretty good idea of what you need to do in order to start your podcast, and we wish you all the best on your journey. 
Last but not least, we warmly invite and welcome you to try Firstory as your podcast hosting platform and podcast CRM tool. We'd love to have you come on board and grow with us, as we grow with you! 🙂
Still got some doubts and questions? Feel free to reach out anytime via our Firstory Discord Community and have a  chat with us! (No strings attached, you may leave anytime you wish).
Our live customer support team on Firstory Studio and Twitter account are always open as well for any concerns. 
Good luck and happy podcasting!