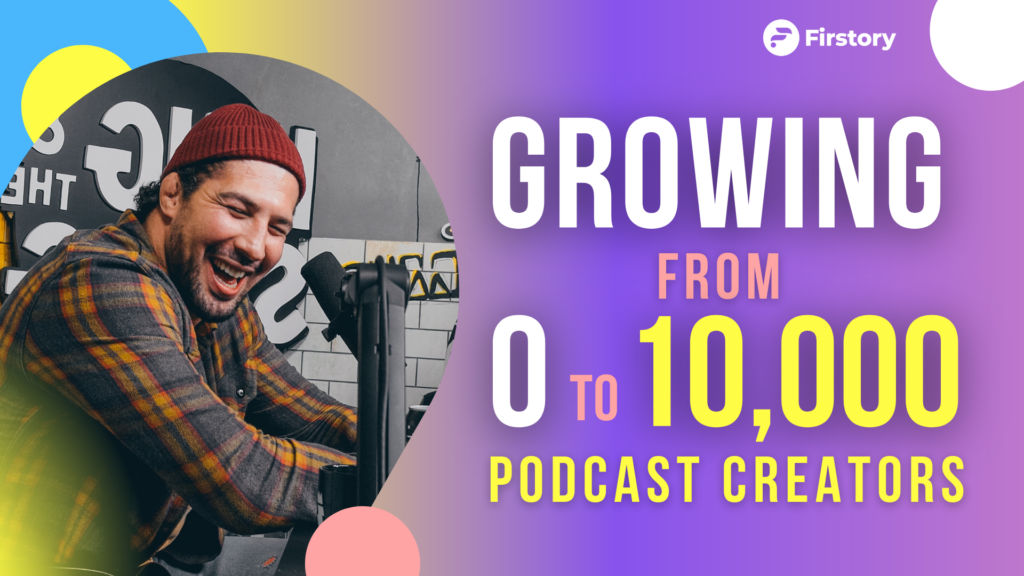 As we approach the middle of 2022, we reflect on how far we've come. Starting from a small startup with only 3 co-founders, Firstory grew into a big family with 10000 podcasts worldwide in just 2 years.
Flashback: We Started Off as Podcasters
After discovering and becoming fanscinated with podcasts, Firstory's 3 co-founders Stanley Yu, Kirk Liu, and Gordon Ueng decided to create their own. Using the leading podcast hosting platform to distribute their show, the trio discovered a number of bugs, errors, and system imperfections which greatly affected their podcasting experience.
As engineers and designers themselves, they found the hole in the market and decided to create a better, more powerful platform. There's a first story for everything; and this is Firstory's.
Introducing Podcasting: The Hole in the Market
We're proud to say that we brought podcasting to Taiwan. The Firstory team took a lot of time introducing podcasts to the people by going around the country holding conferences and workshops.
From there, our family just kept on growing up until today. In 2021, the industry grew by 380% in podcast downloads. With this growth, more creators are given the opportunity to earn viable income from podcasting as listener sponsorships grew by 714% during that year.
Key Reasons Podcasts are Choosing Firstory
1. Creative space is limitless
Most podcast hosting platforms place a limit on the amount of episodes, file size, or downloads a podcast can have behind a paywall. Firstory does not.
We believe in having equal opportunity to unleash our creative selves. That's why our system lets creators have unlimited storage & downloads, all for free.
2. Streamlined processes for your convenience
Applying marketing & sales theory, we know how important it is to have funnels that are precise with driving traffic. FLink users fall in love with this ONE link solution that drives your listeners to all your funnels. Our data shows Firstory users enjoy a whopping 20% conversion rate from FLink.
Your podcast episode description is important for podcast promotion and searchability. Yet, we know that it can be tiresome to repeatedly key in your podcast information, social media, CTA, etc. Fortunately, this repetitive process can become a one time thing through Firstory's description template.
Apart from these, we also have episode scheduling (and auto-publishing), one-click distribution, podcast website, and others.
3. Strong bridges to connect with your listeners
Every long-lasting sustainable creator survive through their strong fanbase. This fanbase is nurtured through interaction, sharing, feedback, and community engagement.
Firstory bridges this podcaster-listener gap through the comments section in the personal website, voice messages function, and subscriber communities.
To further ramp it up, our integration with Apple Podcasts lets you view and manage your Apple Podcasts reviews across all countries right from Firstory Studio.
4. Direct and fast customer tech support
Firstory users enjoy a direct-to-developers approach when raising issues, bugs, and problems with the platform. You can reach us through email, social media, Discord, and the live chat support.
This lessens your wait time, amount of transfers, and provides better solutions.
Since our co-founders are engineers and designers themselves, you can be assured of getting the best possible service and results.
5. Monetization opportunities
Apart from being a good marketing tool, Firstory's dynamic insertion tool gives podcasters the opportunity to earn revenue from podcast ads. Firstory users from select countries may also find the built-in subscription system useful when building exclusive content for supporters.
We also provide an affiliate program where you can earn a 25% commission for every paying user you refer to Firstory.