Podcast software range from recording, editing, hosting, to so much more different types of tools to help your show grow, gain more audience, and even earn monetary support.
For podcast software on recording, editing, and hosting, as well as the steps on how to start a podcast, click the button below for easy, free, step-by-step tips (and recommendations):
In this article, we're going to talk about new, innovative podcast software that will shake the entire podcasting world. This game-changing platform is designed to help podcasters and listeners connect, especially since podcasts are gaining more and more popularity in the creator economy.
You wouldn't want to miss out on this!
Rewind: The Latest Boom in Podcasting
First, let's take a brief detour…
During early 2020, the biggest recent boom in podcasting was caused by Spotify dipping its toes into the podcast distribution industry, thereby adding podcasts to its extensive music collection. 
The company has acquired both studios and hosting platforms to complement this move and has even secured exclusive partnerships with established podcasters. As the company continues to hunt for talents and deals to join its network, the company surpassed long-standing podcast leader, Apple. 
On the supply-side of things, this has allowed podcasts to become more accessible and "normalized" into society and enabled more independent podcasters to create their own shows. 
As one of the largest streaming services worldwide, this move has converted many Spotify music-enthusiasts to become podcast listeners as well, evidenced by Spotify podcasts' continuous year-on-year triple-digit global growth rate. 
This is an indication of the overall increase in podcast demand, and we see more and more people talking about podcasts as this entire ecosystem continues to grow. 
Now: Podcast Supply and Demand Growth
There have been speculations on whether Apple would follow suite or execute new strategies to regain their podcast leadership. Whether or not Apple or other competitors would respond to this recent boom, one thing is for certain: The podcast ecosystem continues to grow. 
With this growing ecosystem, a strong supply-side exists through the various podcast hosting, recording, equipment, and distribution alternatives. Today, there are over 2 million podcasts worldwide, a striking growth contrast from the rough 600 thousand during mid-2018. Apart from Spotify's exponential growth from podcasts, US marketers are expecting annual podcast advertising revenues to surpass $2 billion by 2023. 
CRM??? More than Just Podcast Reviews
With both supply and demand sides growing, what are podcasters and listeners using to link the two sides? Customer relations prove to be an important factor to business success, and the same is true for content creators. 
Customer relationship management (CRM) isn't JUST about customer service or simple reviews. It is understanding customer behavior, needs, and preferences; recommending the right products to the right people; and providing exclusive perks and benefits to the right targets. CRM isn't JUST for big businesses. Small and medium sized enterprises (SMEs) and freelancers can likewise benefit from CRM concepts. As independent content creators, you can as well!
How do non-podcast content creators implement CRM? Apart from monetization, membership platforms and data insights on visits, views, retention, and subscriptions, many content sites have their own comment board. Take YouTube as an example: The lower portion of every video contains a space where viewers and creators can interact with each other under a single, publicly-available area. 
Creators get to easily understand which topics are being discussed by fans, which thoughts are of popular opinion, etc. This, coupled with concrete data analytics, provide both valuable qualitative AND quantitative information on how future content can appeal to more audiences.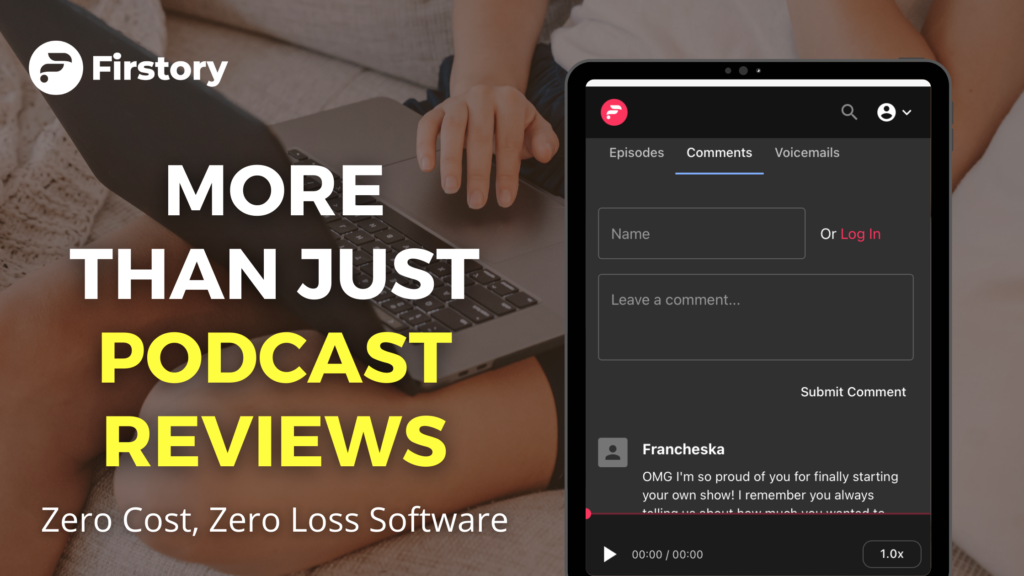 The Missing Link in Podcasting
For most content creators, CRM comes very intuitively and naturally, given the inherent structure of these content platform types. However, unlike most content (which are centralized), podcasts are often dispersed across multiple directories such as Spotify, Apple, Google, Overcast, etc. 
Only a number of these platforms actually provide rating and comments capabilities, with the only major platform being Apple. Despite Apple's reviews feature, accessibility still remains an issue. 
You can only see Apple Podcasts reviews in your own country. That's why tools like My Podcast Reviews exist… but both Firstory (Hosting) and Firstory Beta (This new tool) actually show your Apple Podcast reviews across all countries for free. 
The podcast reviews function was designed for listeners to gauge podcast quality. They were not designed for discussion, conversation, or relationship-building.
There is no strong link that exists to connect podcasters and listeners.
New Podcasting Era: Filling the Missing Link
Why is this link necessary? Today, there are A TON of dormant, stagnant podcasts taking up space in the Internet. Most of the time, it is because they did not meet audience demand or were not able to promote properly. We are NOT saying that this tool will make your podcast instantly grow. 
Not. At. All.
Podcast growth is influenced by a number of other factors such as: Podcast content quality, audio recording quality, podcaster charisma, news and trends, promotion strategies, etc. 
Podcast solutions include: Practice, common sense, research, hard work, determination, grit, connections, collaborations, etc. 
Many of these factors are qualities that cannot be aided by technology, BUT innovators like Firstory come up with new solutions that move towards this direction. When creators are able to gain both quantitative (data analytics) and qualitative (comments, reviews) feedback, they can make better decisions for their show's future development.
But first, listeners should we willing to contribute the data.
Social Media is Not the Solution
We've covered that podcasts are dispersed across multiple platforms; the same goes for social media, which is great for disseminating information, getting word out, and providing updates for avid fans who keep tabs on your show. 
However, despite common belief that social media can somehow magically solve everything, in this case, social media is only a (weak) link, but not THE solution for this missing link. 
According to a study conducted by Briel et al. (2018), digital technology with low specificity (such as social media) are adaptable and less restrictive as it allows users to appropriate, modify, and fit the platform to  various different needs. (For instance, Instagram can be used as a personal photo album, an e-commerce shop, a portfolio, a marketing tool, news source, and so on.)
However, it is because of social media's low specificity that inputs are fragmented, overall efficiency is reduced, and time (resources) required to perform an action is increased (Briel et al., 2018). 
Inclusivity is another factor to consider, as not everybody is on the same social media platform and opening up an account for every single platform would be exhausting on the part of the creator. 
On top of that, are people willing to leave an honest comment using their own personal social media account? 
Our Podcast Software Solution: The Missing Link
We've taken the following main concerns:
Difficulty acquiring podcast feedback
Too much effort for listeners to reach podcasters
Creator – listener disengagement in podcasting
Lack of specificity of social media
Privacy, identity concerns
And turned that into a SOLUTION with the following priorities:
Low-commitment, low-investment, fast, and intuitive
Accessible, inclusive, and available
No switching costs for podcast creators
Room for engagement and creativity
Anonymity option for listeners
Our podcast software solution: The cross-platform comment and voicemail links.
They are virtual community boards and mailboxes for your podcast. Listeners do not need to sign up for an account or download another app. Points for low effort needed!
In fact, they can leave their comments right from whichever platform they're listening from. 
Less than 15 seconds to set up. No need to switch hosting platforms. Particularly ZERO loss for creators.
Here's a 30-second video that briefly explains how it works:
To summarize the video, this is how it works:
Podcaster creates an account with Firstory
Choose "Import your existing podcast" (no switching needed)
Paste your podcast RSS
You're done!
You'll be presented with 2 links: A "comment link" and a "voicemail link."
Paste these into your podcast and episode description or show notes.
These links will be available on all the platforms you are distributed to. 
On many sites like Spotify, these links become clickable.
When you encourage your audience to leave their feedbacks by trying out this new tool, listeners can simply click on the link and immediately leave their comments or voice messages.
You will receive their feedback immediately from Firstory Studio(Beta).
What can I do After Receiving Feedback?
You're able to reply to audience comments, just as you would on any other platform. You can read and address them in succeeding episodes, depending on your podcast genre and style.
You can listen to voice messages, download them, and edit them into next episodes.
You can host fun games, Q&A sessions, contests, and other engaging activities with your audiences.
We provide you with the tool, but what you want to do with it and how creative you are with it are totally in YOUR control.
Step into the new era with the podcast software that will shake the podcasting world! 
Set up in just 15 seconds and start collecting and connecting with your audience right away!
Zero cost, zero loss.