Looking for other podcast hosting alternatives?
Whether you are an aspiring or experienced podcaster, choosing the best podcast hosting is always a critical decision to make. A good hosting platform can help ease the podcast creation process as it houses and distributes all your podcast episodes. Better yet, a hosting platform equipped with extra tools that you can use to promote your show.
Firstory features against Transistor FM- at a glance
Click the button below to get a side-by-side comparison table between Firstory and Transistor.fm features and how they match up against each other. Continue reading on for further details and deeper analysis on select features.
Information Disclaimer : Please take note of this article's date of posting and latest update. We regularly do our rounds to check and ensure the accuracy (and timeliness) of our articles. However, we do not cancel out the possibility of other hosting platforms changing their terms, prices, features, and other details between our regular rounds of checking.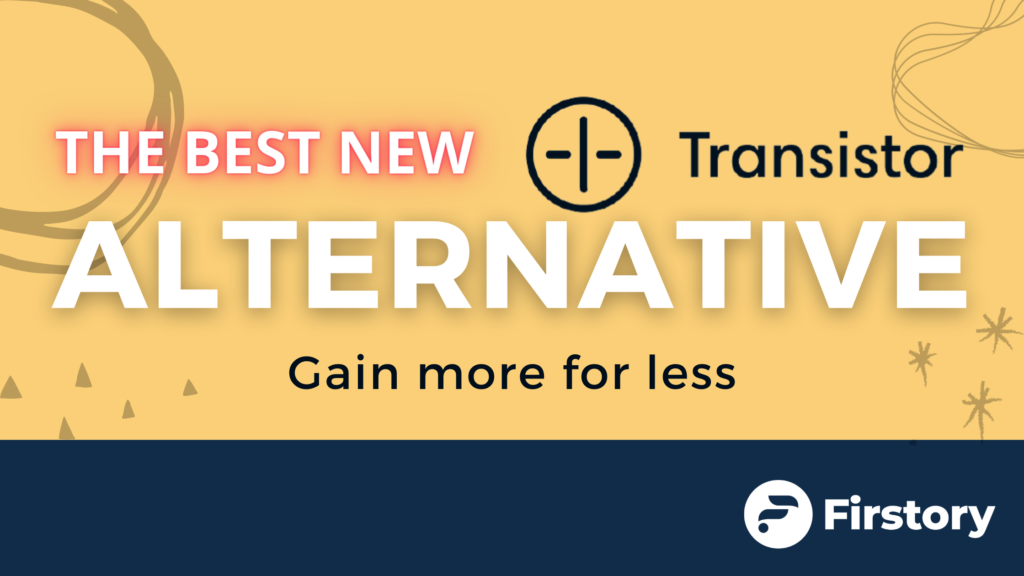 Pricing and Model: Freemium hosting vs Paid platform
Right off the bat, the first and most obvious difference between the 2 platforms is that Firstory is a Freemum hosting service while Transistor FM is an all-paid platform. Each platform has 3 subscription plans. Firstory has the Free Plan, Pro Plan, and Enterprise Plan. On the other hand, Transistor has the Starter Plan, Professional Plan, and Business Plan. When you think about it, both platforms basically segmented 3 plans for the same 3 purposes.
What does Freemium mean? A freemium means that we offer both free and paid subscription options. Is Firstory's Free Plan really free? Yes! Firstory's free plan is free FOREVER. We have this option available because we believe that our hosting services should be made available for every podcaster. We also understand that many aspiring podcasters may not yet be ready to invest in a platform– and that's okay! You can stay on the Free Plan for however long you wish and only upgrade whenever you're ready.
Transistor FM offers a 14-Day Free Trial period for all their subscription plans before users are billed; and the same is true for Firstory's paid plans. See the photo below to get a glimpse of the price differences between the two platforms: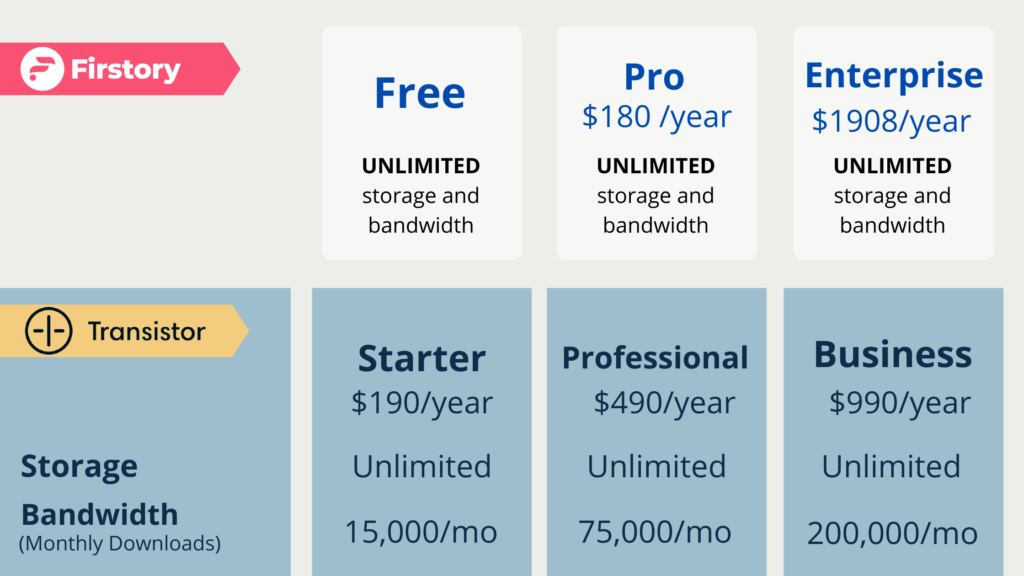 You've probably seen us emphasize these two features over and over, and it's with good reason since both are EXTREMELY critical for podcast growth. Let us explain: STORAGE is basically how much space you're provided. In other words, it's the number of episodes or total storage space (based on file size) you can upload into the hosting platform within a certain timeframe. While some podcast hosting platforms limit the storage capacity, BOTH Firstory and Transistor FM offer UNLIMITED storage for ALL PLANS, including Firstory's free one! That means you can upload and store as many episodes as you like!
What does bandwidth mean then? Bandwidth is basically how many downloads your show can have within a certain timeframe (usually on a per month basis). This also represents how much traffic your show can get. Some hosting platforms measure and charge this by gigabytes, while platforms such as Transistor FM measure using the number of downloads per month. Their Starter, Professional, and Business Plans come with 15,000 downloads, 75,000 downloads, and 200,000 downloads per month respectively. This may not be an issue for podcasts just starting out, but it may possibly be one as your show grows.
Core Features: Firstory vs Transistor FM
We've taken a look at Transistor FM's core features and how we match up against them. As it turns out, we have nearly the same set of core features. When we compare the two, some similarities between Firstory's Free Plan and Transistor FM's Starter Plan include:
Unlimited podcasts
Private podcasts (through FLink on Firstory)
Live customer support
Data and analytics
Built-in podcast website
Embeddable players
When it comes to private podcasts, Firstory provides users with a unique link (through Firstory's FLink) wherein receivers of this link can listen to your unreleased show (in draft or scheduled state) on Firstory. You can then later release this show as you normally would. Simple as that, anyone who has a web browser will be able to listen! On the other hand, Transistor FM's private podcasts require creators to set up a private podcast which is separately distinct from your normal podcast.
Integrations: Firstory vs Transistor FM
Both Firstory and Transistor have one-step distribution functions to major platforms and Spotify integrations. However, at Firstory, we take a step further and provide our users with extra integrations that Transistor FM does not offer in order to enrich your podcasting experiences:
Your Apple Podcast reviews and ratings can be viewed right from Firstory Studio. Better yet, you'll be able to filter them according to country as well. This means you no longer have to enter Apple Podcasts to see what people are saying about your podcast! For non-iOS users, this is an ultimate game-changing feature, especially as Apple Podcasts is still 1 of the top 2 podcast directories to date.
You also gain access to Firstory's Music and Audio Library which contains a number of Royalty-free music creators can download and use in their shows. You don't even have to worry about attribution anymore, since we'll provide you with all the details: Simply copy and paste onto your episode description box! If you're a music composer and would like to contribute to this library, you may upload your original work for other creators to use and credit you for your work.
There is an increasing demand for the mobilization of things. Laptops and notebooks are becoming thinner, products are becoming lighter, and producers are constantly looking for ways to make things more portable. We also understand that in some areas, mobile phones may be the go-to device instead of PCs, which are relatively harder to carry around. Firstory's Studio App allows creators to keep track of their podcast dynamics and interactions while on the go. Available on both Apple Store and Google Play, you no longer have to open your PC for monitoring and sharing activities.
Firstory-Exclusive Features
The following are innovative features that are exclusive to Firstory:
Firstory Voicemail allows creators to open up inboxes and receive audio messages from anyone, with no sign up needed! You can then download these messages and use them in your shows, which will in turn improve audience retention; as it's always nice to be involved. Read this article to learn more about how Firstory Voicemail works. Get a side by side comparison as to how Firstory's Voicemail function differs from Anchor's here.
The Cross-Platform Board is basically a link you can insert in episode descriptions and share on social media, and anyone who has a web browser (which is all your audiences and followers) will be able to easily leave their feedback and comments under your episodes. You'll be able to view these directly from Firstory Studio, where you'll be able to see which episode each one pertains to. To top it all off, you can also reply to these comments directly from Firstory Studio as well! 
As of this writing, Transistor FM currently does not offer any built-in monetization or podcast revenue options. Instead, they encourage users to utilize 3rd party monetization services such as Patreon and link those back to their Transistor FM profiles. Similarly, Firstory allows users to add in external links as well, such as those from Pateron, Ko-Fi, PayPal, and Venmo, to your FLink and Podcast website, so that listeners can support you through these sites. 
Apart from this, Firstory also has a built-in monetization feature where users can choose to give one-time donations, payable through credit card, Google Pay, and Apple Pay, or subscribe to a monthly subscription system in exchange for rewards set by creators. For the later method, subscribers will be charged monthly via credit card. As of this moment, this function is only open to certain regions in Asia; however, we are currently working real hard to make this function available globally. We know how important it is for creators to monetize their content.
Are you gaining the best customer value?
So far, all Firstory features we have discussed in this article are all fully integrated with our FREE Plan. All Transistor FM features mentioned, on the other hand, are at a minimum of $190 per year for their Starter Plan. Firstory Pro Plan, which runs at only $180 per year, includes other cool stuff like customizable podcast theme colors (which is reflected in your promotion tools), customizable link-preview image, two factor authentication, and the liberty to remove Firstory's branding watermark. 
Given these facts and options, are you then really gaining the best customer value? Pick and choose which features you need. You may discover that you've been paying $190 a year for a bunch of features you don't even need or use. Choose the best podcast hosting for you!
Try Firstory, the best Transistor FM alternative in 2022
If you're an aspiring or beginner podcaster, we invite you to view this short video to learn how to get started: 
For experienced podcasters looking to make the switch, we've composed a collection of  step-by-step guides to help you transfer easily. 
Still unsure? Got lost along the way of setting up your account? Don't worry! We're more than happy to help. Come join our Discord community and have a chat with us! (No strings attached, you're welcome to leave anytime). 
You can also reach out through the live customer support channel on Firstory Studio or reach us via our Twitter account.