Firstory's Dynamic Ad Insertion (DAI) successfully passes our test and evidence shows that it is an effective feature for earning ad revenue. This is supported by studies from IAB and PwC, who found that 84% of podcast advertising growth in 2021 is attributable to Dynamic Ad Insertion (DAI) technology.
From our last research, we found that NEARLY HALF of all podcast downloads come from archive episodes, making Firstory's Dynamic Insertion Tool a ground-breaking innovation. With DAI, podcasters are able to easily add, remove, swap, and insert audio files into both old published episodes and new uploads. This includes advertisements, host-read ads, CTAs, etc.
Methodology: How we conducted the experiment
From May 3, 2022 to May 12, 2022, Firstory teamed up with advertising companies to test how well the Dynamic Insertion tool works in helping creators earn passive income from podcast advertising.
Throughout these 10 days of experiment, we closely observed and recorded the performance of each episode every single day. At the end of the experiment, we summed up the total income made for each podcast.
After 10 days, we found that 45% of creators earned a passive income of over $35 USD each. Of these podcasters, 20% earned over $340, the highest-earning podcast amounting to $880 USD in just 10 days. This means that:
The

highest-earning

podcast totaled with

$880 USD

after 10 days
45% of podcasters earned over $35 USD each after 10 days
9% of podcasters earned over $340 USD each after 10 days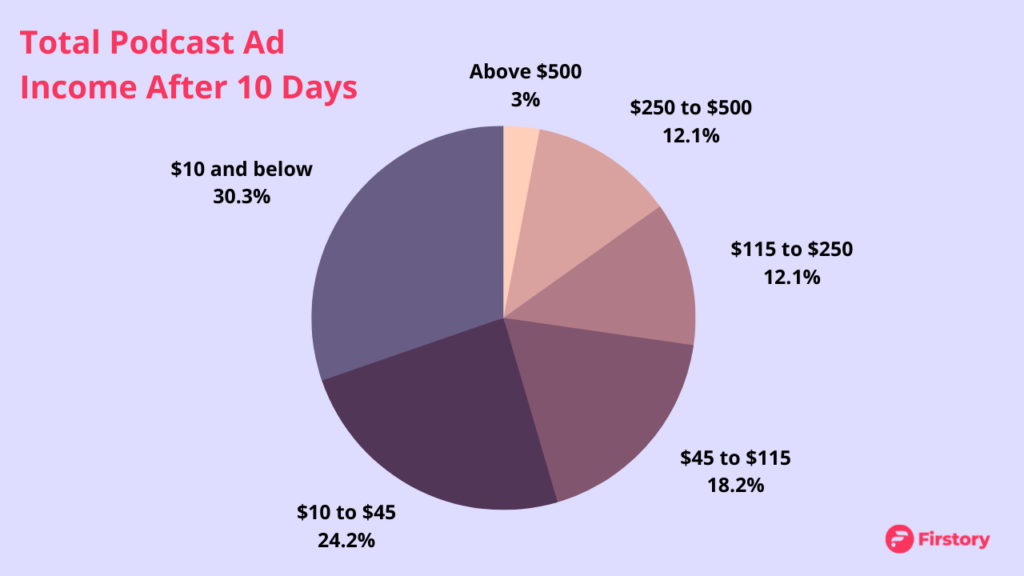 Audience support does not correlate to ad revenue. We also found that podcasts that received high audience support (donations and subscriptions) did not gain the highest ad revenue in this experiment. This means that high audience support does not necessarily mean high ad revenue.
Among the participating podcasts are the top-performing podcasts in audience donations & subscriptions. However, after 10 days, a number totaled below average while most earned a little over the average ad revenue.
This phenomenon proves that audience-support is largely based upon the podcaster-listener bond & relationship rather than the amount of downloads per se. This means that small to medium podcasts can earn substantial income by searching for a niche. On the other hand, podcast advertisements are largely based on podcast downloads and plays.
👉 Read about the top-earning podcasts in terms of audience subscription:
Podcast Advertising Revenue Continues to Increase
Researches by both IAB and PwC predict U.S. podcast ad sales to grow by 47% this year in 2022, amounting to a $2.13 Billion USD industry. Even more, their reports show that the podcast ad industry is expected to grow by over 100% over the next 2 years and reach $4.2 Billion USD by 2024.
In 2021 last year, the industry was at $1.45 Billion USD, which was a 72% growth compared to 2020. This data shows that US podcast advertising revenue grows 2x faster than total internet advertising market.
The report indicates 3 main growth drivers:
Increasing number of listeners and content
Increased ad technology, specifically Dynamic Ad Insertion (DAI)
Increased ad spending on previously-neglected categories
👉
IAB and PwC's report shows that 84% of the growth in 2021 is attributable to Dynamic Ad Insertion (DAI) technology.
Dynamic Ad Insertion (DAI) is Free for every Firstory user. Easily add, remove, swap, switch, and update your archive, published, and unpublished episodes.
Learn how to maximize Firstory's Dynamic Insertion Tool here.