Looking to start a new podcast or to switch out of Buzzsprout?
So you want a cool new Buzzsprout alternative this 2022? Let's face it: The "best" podcast hosting platform really varies per person. Everyone has what they're looking for or trying to achieve. Whether you're thinking of starting a new podcast or thinking of moving out of Buzzsprout, we're here to help you make a well-informed decision by providing an objective comparison as to how we at Firstory match up to Buzzsprout and other hosting sites in the industry
Firstory features against Buzzsprout- at a glance
Click the button below to view a side-by-side comparison between Firstory features and how they match up against Buzzsprout. Further analysis will be made on certain features later.
A company called Higher Pixels owns Buzzsprout; and Buzzsprout is just one of the many software they own. Launched way back in 2009, the number of years they have spent in the industry have steadily built their reputation to what it is today.
Founded by a team of podcasters in 2018, Firstory was initially made as the solution in inspiration of the many pain points they have experienced. Dedicated to making the best podcast hosting platform available to every podcaster and connecting creators with their fans, Firstory receives the team's daily undivided attention and efforts.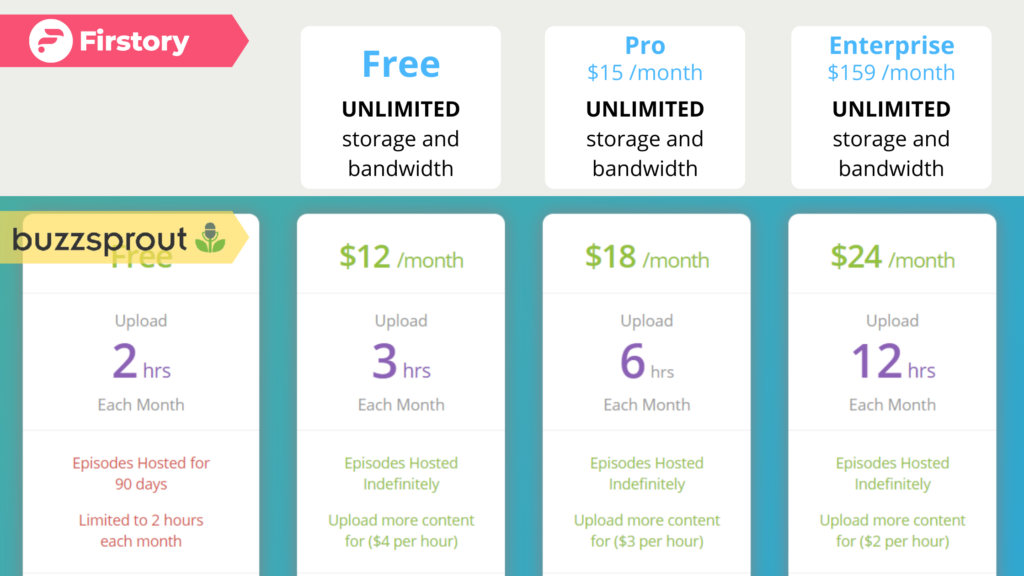 Storage represents how much space you are allowed from uploading podcast episodes and other files onto your podcast hosting platform within a certain amount of time. Buzzsprout's free plan limits podcasters to 2 hours of uploaded content per month. This limit is slightly increased in paid plans, with the option to purchase additional hours. On the other hand, Firstory provides UNLIMITED storage for ALL PLANS, including the free one! That means you can upload and have as many podcast episodes as you want.
Bandwidth is how much traffic your podcast can have within a certain timeframe. Buzzsprout has a 250GB bandwidth limit per month. Once you've reached this limit before the month is up, listeners may no longer be able to download or listen to your show. In contrast to this, Firstory provides UNLIMITED bandwidth for ALL PLANS, including the free one! This means you can drive as much traffic as you want.
Storage and bandwidth are both very critical aspects when it comes to podcasting. Limiting this can limit your show's growth. It's a bit ridiculous to have to worry about having "too many" listeners or uploading "too many" episodes, isn't it? At Firstory, we let our beloved podcasters grow without restrictions.
Fundamental and core podcast hosting features such as:
are all present on both Firstory and Buzzsprout. In our opinion, these are the very features that SHOULD be available on all podcast hosting platforms, along with Distribution platforms (although this isn't always the case!). The execution, display, and look will surely differ from one hosting to another, but having these functionalities are a MUST for any good podcast hosting site.
Distribution Platforms are podcast directories your hosting platform can assist you with. Firstory offers a number of automatic, single-click distribution platforms; a few manual distribution platforms; and a number of aggregators that automatically scan for podcasts from other podcast players. On the other hand, Buzzsprout only supports manual distribution and does not offer automatic distribution for any directory.
Note that since a number of podcast platforms automatically scan for new shows from other players, your podcast may appear on platforms you have not applied for. This also means that the listed directories for all hosting providers are NOT conclusive and absolute.
Firstory's built-in music library is filled with royalty-free music you can use for your episodes. Even the crediting and attribution process is streamlined: All you have to do is click on the copy button, paste it onto the description box, and you're good to go! You can even contribute to this music library by uploading your own original music compositions.
Mobile apps are becoming increasingly important and common through the innovations of digital technology. In an era of increased mobility, it was a huge shock for us to learn that a number of established podcast hosting platforms still DO NOT have a mobile app, Buzzsprout included! Firstory provides Studio apps for both iOS and Android devices so that podcasters can monitor their podcast dynamics and feedback while on the go!
Firstory-Exclusive Features
After going through the core features and integrations, we take a step further to introduce the following Firstory-exclusive features you won't find on Buzzsprout and most other hosting sites.
Firstory's Voicemail allows podcasters to receive voice messages and audio recordings from listeners, and audiences DO NOT even need to create an account to send in their voicemail. What can I do with voice messages? Well, the sky's the limit! This feature is here for you to use in ANY creative way that comes to mind for you!
You can listen to these audio files directly from Firstory Studio or download and save them offline. They can even be inserted into your future podcast episodes to make it more interesting for your listeners. Read this article to know more about maximizing Firstory's Voicemail function.
This feature is so innovative that most hosting providers haven't been able to catch up with it. Since most of them can't afford to provide podcasters with unlimited space to store their episodes free of charge, then it is also UNLIKELY for them to willingly provide the space for these voice messages.
Cross-platform and Apple Podcasts Comments
Can it get any better? YES.
Firstory's cross-platform comment link allows listeners to leave their thoughts, ratings, and feedback just by accessing the link from any podcast site they listen to. Podcasters can then VIEW and REPLY to these message threads directly from Firstory Studio! This is a really easy and efficient way for podcasters to manage all audience feedback. Read more on Firstory's cross-platform comment link here.
Apart from this, Firstory users can also view Apple Podcasts reviews directly from Firstory Studio! However, due to Apple's strict guidelines, creators would have to go to Apple Podcasts in order to respond to these reviews.
Buzzsprout users would have to gather data traditionally through social networking sites; and these comments can sometimes be buried under all the social networking updates. It'll be hard to determine which feedback pertains to which episode, and it can be troublesome to constantly jump from one social media to another.
Episode-Level FLink and Private Episodes
You've never heard of FLink? This is the Firstory-exclusive solution (and upgrade) to regular bio-link tools such as Linktree and Link in bio. Check out this article to get a side by side comparison between FLink and Linktree.
With Firstory's FLink, not only can you share and promote your podcast on a show-level, you can also do so on an episode-level. This means you can direct your audience EXACTLY to whichever episode you wish! You can even share unreleased episodes with your production team, family members, advertising partners, and other internal audiences. This article expounds on this further.
Can Buzzsprout do this too? Not exactly. Buzzsprout can only provide their users with a link that directs audiences to the show and its platforms, but they don't have it on an episode-level. Buzzsprout users are also unable to send private, unreleased episodes.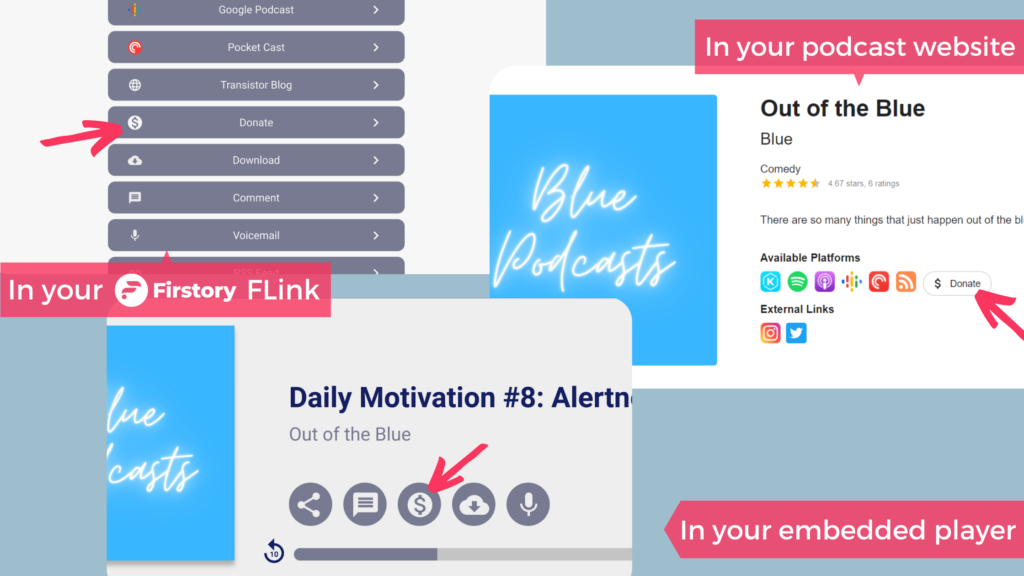 Monetization (Donation) Links
This part can get a little interesting. From a distance, it SEEMS as if both Buzzsprout and Firstory provide monetization and donation links, but they couldn't be farther apart!
What Buzzsprout has is a space where you can paste your "Support the Show" link on your podcast website and embedded player. This means you MUST FIRST have an external (3rd party) monetization system set up (e.g. Ko-Fi and Patreon).
On the contrary, Firstory's Donation Links are INSIDE Firstory Studio. You no longer need to set up another 3rd party donation system like Ko-Fi and Patreon just to be able to get support from your fans! Donations and subscription reward tiers can be managed straight from Firstory Studio. Similarly, your Firstory donation links will be shown on your FLink, embedded player, and podcast website!
Note that you can ALSO add in your 3rd party donation links like Patreon and Ko-Fi on Firstory by adding them in as "external links," which will also show on your FLink and podcast website.
Is Buzzsprout really as good as they say?
Is Buzzsprout worth the buzz?? (no pun intended)
As we mentioned at the beginning of this article, each one of us is searching for different things when it comes to our ideal podcast hosting platform. Now that we have shown you our favorite Firstory features and how they match up to Buzzsprout, do you think Firstory provides more value to customers than Buzzsprout?
Is Buzzsprout worth it? Only YOU can answer that.
We warmly welcome everyone to try out Firstory, whether beginner or experienced- the platform is intuitive enough for aspiring podcasters to explore as well.
Ready to make the switch? We have compiled a simple step-by-step guide to help you with the move from Buzzsprout to Firstory.
Still unsure? Feel free to join our Firstory Discord Community to talk to us and learn more about what we try to achieve at Firstory (no strings attached, leave anytime you wish!).