Voicemail is the Firstory podcast tool that allows you to increase audience engagement and interaction. You can even use these audio messages in your show!
This is perhaps one of the coolest and most useful podcast hosting innovations out there. A simple link your listeners can click on to leave voice messages for their favorite creators. No sign up needed, 90-seconds per recording, segmented inboxes, downloadable, and real-time.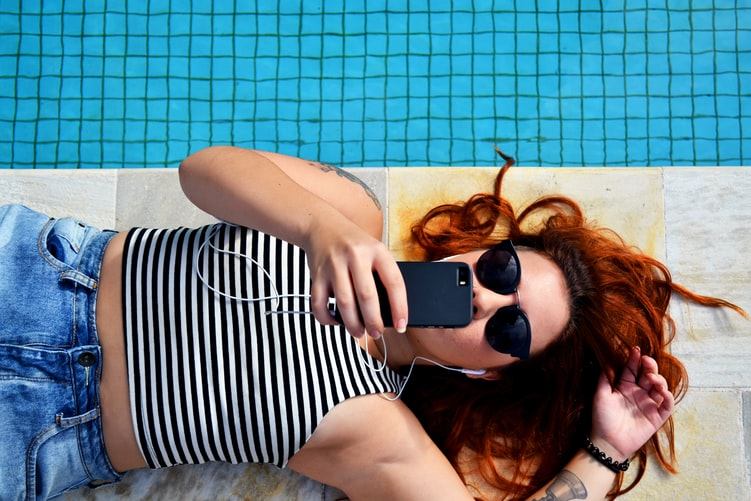 How can Voicemail help grow podcast listeners? What can I use it for?
Increased inclusivity.
A good lot of people prefer to send voice messages rather than type out reviews and comments.
Gather feedback.
Just like our cross-platform comment link, voicemail can be used to collect audience feedback (and you wouldn't need to exhaust yourself from reading hundreds of comments anymore!).
Download them.
You can keep them for memories' sake. The next time you're feeling down and need some cheering up, just play your fans' voice messages!
Use them as content.
Enrich your show by including your listeners' voicemail. People like to feel involved (This would make your episode so much more interesting and increase audience retention).
Unleash your creativity!
Leverage this tool ANY WAY you want!! You can host Q&A sessions or ask your audience to share some of their personal stories. Pop them into your next episode, and you've got yourself a group of guaranteed listeners.
It's (almost) like a conversation.
You can REALLY KNOW your audience. There's just so much about voices that can tell us A LOT vs. just reading their comments.
Gather and manage them all right from Firstory Studio!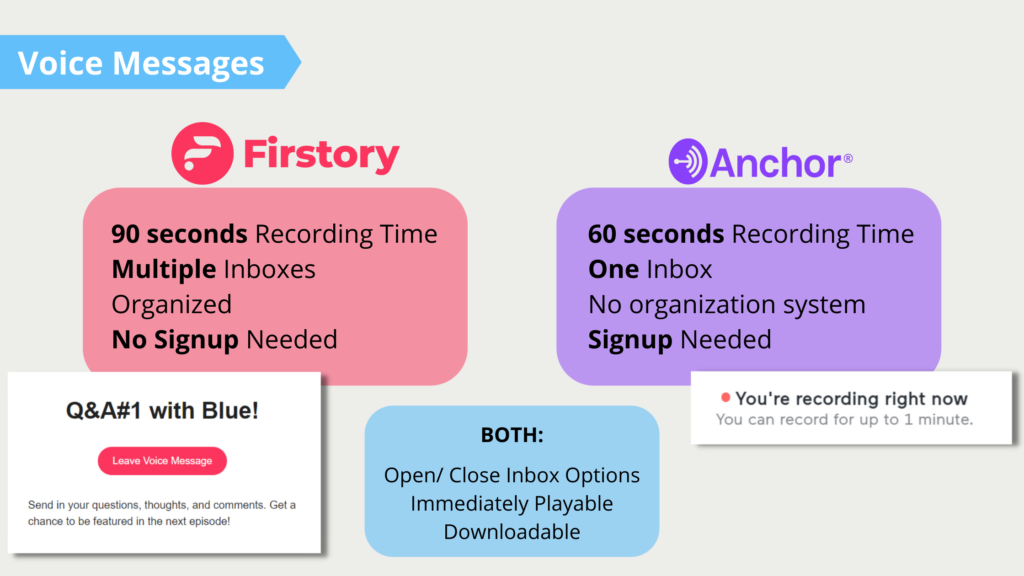 Firstory VS Anchor FM Voice Messages
You might be wondering: "Doesn't Anchor FM also have a voicemail function?" The main differences are as follows:
 No-sign up needed on Firstory. People aren't going to create an account just to send in one single voice message, and that's a big obstruction in Anchor's voice messages function.
90 seconds recording on Firstory. Audiences are only given 60 seconds on Anchor per recording; but we've decided it was too short for most. 90 seconds is just right.
You can send stuff to yourself. Anchor doesn't allow you to send voice messages to yourself; but we recognize that some creators may wish to use this feature as a short voice memo, or something along the lines. 
Organize and Separate them into Different Inboxes. On Anchor, all the voice messages get dumped into one a single pile or "box," and that can be troublesome when you're collecting responses for more than one episode at a time. At Firstory, we allow creators to open up separate inboxes, and fans can send in their voice messages through the appropriate channels.
To get a listener's perspective, we've prepared a SAMPLE Voicemail Inbox for you:
You've really got absolutely nothing to lose from taking advantage of this extremely rare hosting feature. Don't forget to encourage your audience to click on the voicemail link to leave their message! Simple, easy, and convenient.
At Firstory, we aim to draw creators and fans closer to each other.
Happy podcasting!