Anyone who is in the podcasting space or has considered podcasting knows that Anchor is one of well-known podcast hosting platforms available; but did you know of the best Anchor alternative that can provide you with more professional tools while still being suitable for any beginner? And yes, even the FREE plan is better than Anchor. Don't believe us? Continue reading along.
Firstory features against Anchor- at a glance
Click the button below to view a side-by-side comparison between Firstory features and how they match up against Anchor. Further analysis will be made on certain features later.
Compared to most podcast hosting platforms existing and available in the market, Anchor specializes in making podcasting available for beginners, enthusiasts, and hobbyists. It's free and that's great! BUT there are things to look out for and plenty of other options available.
Firstory is a freemium podcast hosting provider which is made fit for both beginners and professional podcasters aiming to build a brand and career out of the craft. There are currently 3 available plans, and the FREE PLAN alone already beats Anchor's entire package. Firstory is the perfect fusion of professional tools in an easy-to-use intuitive environment.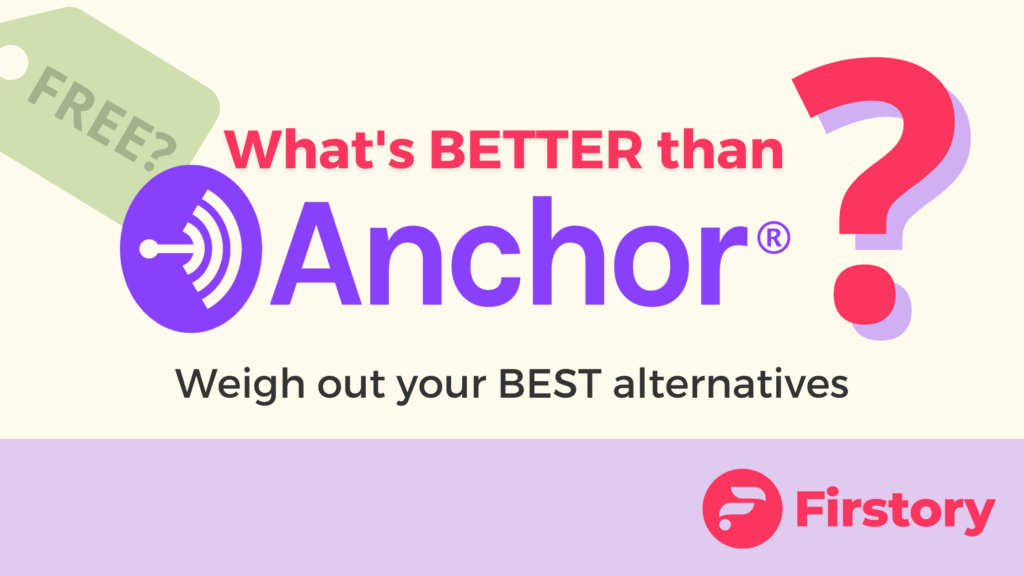 It never hurts to exercise extra caution when it comes to things that are entirely free. Apart from Anchor's SUPER BASIC interface that looks more like a cloud storage service for podcasts rather than a proper hosting platform, they are also known for their advertisement issues. Over the years, there have been plenty of claims of Anchor inserting their ads into podcasts distributed from their platform.
If you're not careful during the setup stage, you may possibly overlook the Anchor logo that's automatically placed on podcast cover artworks. You can manually turn this off, as it is open by default. It has also undergone controversy of deleting podcasts without consent, as evidenced by this article on Podnews.
Apple Podcasts Distribution Controversy
You may choose to manually distribute your show on the different podcast sites. However, as the default call-to-action prompts beginners to let Anchor distribute their show for them, this is most likely the option many beginners will choose. Don't get us wrong- this is really helpful and Firstory also offers automatic one-click distribution platforms; however, there is an issue when it comes to Apple Podcasts Distribution.
In the past, Anchor submitted podcasts on behalf of creators, which gave rise to a number of concerns regarding content ownership. When Anchor submitted these podcasts, they were using Anchor's Apple ID to submit creators' shows. Given this fact, who then owned the podcasts on one the largest platforms: the creators or Anchor? This also meant that creators won't be able to access shows' stats through Apple Podcasts Connect. Read more about this here. Given these controversies, Anchor today places Apple Podcasts under Advanced Manual Distribution.
At Firstory, we let creators submit to Apple Podcasts manually using their own Apple IDs whilst providing a video tutorial and help center article to better guide our users and offer the most convenient and streamlined processes possible. We do this because we recognize the importance of content ownership and data analysis in the creator journey.
Firstory VS Anchor: The Battle of FREE Plans
To provide a fair and objective comparison between the two platforms, we will be using Firstory's FREE Plan as the comparison tool for this segment.
Data analysis is an important tool for creators, especially those who are serious about growing their podcasts show and audience. Having robust data and stats can provide you with information as to the type of content that appeals to your audience, your listeners' demographics, your episodes' performances, your listeners' devices, and much more. Knowing these can help you tailor your content to match these identities and preferences.
True to its mission, Anchor provides the basic podcast stats for podcasters to have a simple idea of their podcast performance. However, in the long run, it would be important to know more detailed information such as your audience listening time, so that you can find the most optimal hour to schedule your episode publication. We have all of Anchor's data tools, plus more!
Benchmarking. As one of our recent updates, Firstory also provides benchmarking metrics that allows podcasters to compare their overall podcast performance with all other podcasts in general and those within the same category. Know whether the data you're getting counts as "good data", taking into consideration market condition.
Multiple podcast hosting is also supported by Firstory, and you can host an unlimited number of podcasts under your single account. However, Anchor only allows users to host one podcast for every account.
Chapters and Timestamps can be important to improve your episode performance and your show's likelihood of ranking in search results (it affects your podcast SEO! Read more about that here).
Firstory has an online chapters function where you can input timestamps in a table which will automatically be applied to supporting platforms. You can also opt to view it in text mode, copy, and paste this into the description box for certain platforms like Spotify that supports clickable timestamps. You no longer need to worry about typing in the wrong format! On the other hand, Anchor does not have this feature that can help users create faultless timestamps.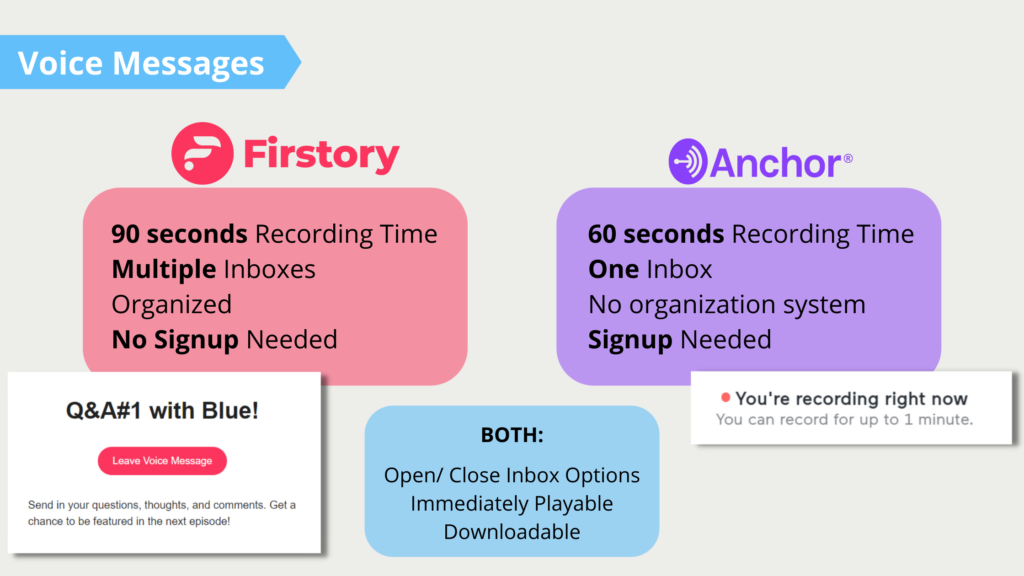 Voice messages can creatively help increase audience engagement and potentially enrich podcast content (depending on how you use them!). Among all the major podcast hosting platforms available, Anchor and Firstory are perhaps the ONLY two with built-in voicemail functions.
Do note, however, that both voice messages function still differ. Anchor limits each voice message with a maximum of 60 seconds (1 minute) recording time. On the other hand, listeners are able to send each voice message with a 90 seconds (1.5 minutes) time length through Firstory Voicemail.
Firstory's Voicemail allows podcasters to receive voice messages and audio recordings from listeners, and audiences DO NOT even need to create an account to send in their voicemail. What can I do with voice messages? Well, the sky's the limit! This feature is here for you to use in ANY creative way that comes to mind for you!
You can listen to these audio files directly from Firstory Studio or download and save them offline. They can even be inserted into your future podcast episodes to make it more interesting for your listeners!
Why choose Firstory over Anchor?
After seeing how Firstory's Free Plan matches against Anchor, we take a step further to introduce the following Firstory-exclusive features you won't find on Anchor and most other hosting sites. Firstory has everything Anchor has, plus more. Check it out:
Cross-Platform and Apple Podcasts Comments
Firstory's cross-platform comment link allows listeners to leave their thoughts, ratings, and feedback just by accessing the link from any podcast site they listen to. Podcasters can then VIEW and REPLY to these message threads directly from Firstory Studio! This is a really easy and efficient way for podcasters to manage all audience feedback. Read more on Firstory's cross-platform comment link here.
Apart from this, Firstory users can also view Apple Podcasts reviews directly from Firstory Studio! However, due to Apple's strict guidelines, creators would have to go to Apple Podcasts in order to respond to these reviews.
Anchor users would have to gather data traditionally through social networking sites; and these comments can sometimes be buried under all the social networking updates. It'll be hard to determine which feedback pertains to which episode, and it can be troublesome to constantly jump from one social media to another.
Episode-Level FLink and Private Episodes
You've never heard of FLink? This is the Firstory-exclusive solution (and upgrade) to regular bio-link tools such as Linktree and Link in bio. Check out this article to get a side by side comparison between FLink and Linktree.
With Firstory's FLink, not only can you share and promote your podcast on a show-level, you can also do so on an episode-level. This means you can direct your audience EXACTLY to whichever episode you wish! You can even share unreleased episodes with your production team, family members, advertising partners, and other internal audiences. This article expounds on this further.
Can Anchor do this too? Not exactly. Anchor can only provide their users with a link that directs audiences to the show and its platforms, but they don't have it on an episode-level. Anchor users are also unable to send private, unreleased episodes.
Anchor spent its early days in 2015 as a social audio application. In 2018, the platform was revamped into a podcast hosting platform. It was subsequently acquired by Spotify in 2019; and thus, is the main reason behind its explosive popularity. As a well-established platform since 2006, Spotify was definitely already well-equipped to provide its new acquisition, Anchor, with the necessary tools, backing, advertising, and funding for it to become what it is today.
Another reason why Anchor has gained popularity very quickly is its full "free" model. Many podcast hosting services do not offer a free plan. In other cases, the freemium available on other hosting sites are lacking and limit podcast growth (not at Firstory though!). It is naturally justifiable that Anchor has gained much attention, given its free nature and Spotify affiliation.
Should I host my podcast on Anchor?
Don't let the anchor weigh you down. Allow your podcasting dreams to set sail. Every creator is searching for different things when it comes to our ideal hosting platform. We hope that you'll be able to make a wise and informed decision now that we have shown you Firstory's Free Plan in comparison to Anchor's features, as well as the other useful Firstory tools. Given that our Free Plan is already soooo gooood, how much more are our Paid Plans?
Is Anchor worth it? Only YOU can answer that.
We warmly welcome everyone to try out Firstory, whether beginner or experienced- the platform is intuitive enough for aspiring podcasters to explore as well.
Ready to make the switch? We have compiled a simple step-by-step guide to help you with the move from Anchor to Firstory.
Still unsure? Feel free to join our Firstory Discord Community to talk to us and learn more about what we try to achieve at Firstory (no strings attached, leave anytime you wish!).