Improve your podcast search ranking and discoverability with Firstory Hosting's podcast website and tags to increase your podcast SEO.
If there is something that every creator across all content-types struggles with, it is getting discovered by their audiences. The same is true for the podcasting space: Beginner podcasters have trouble acquiring their first set of listeners because their podcasts are buried among the thousands on Spotify, Apple Podcasts, and other directories. Meanwhile, experienced podcasters struggle to grow their podcasts, as they slowly reach a plateau of growth.
In both circumstances, improving your podcast SEO can greatly increase your show's discoverability. Search Engine Optimization (SEO), simply put, is the process of improving your podcast's traffic by ranking in search engine search results (such as through Google search bars!). The next time someone asks Google for podcast recommendations, you're more likely to show up among the first few results if you have good podcast SEO! Firstory's podcast website and tags are made exactly for this purpose.
In fact, as we were scrolling through social media, we came across these Tweets of users frustrated with their current hosting platform not having the right tools catered for podcast discovery:
"…nothing much by way of making the podcast discoverable on searches. We need tags back so podcasts can be retrieved on Spotify based on search criteria…"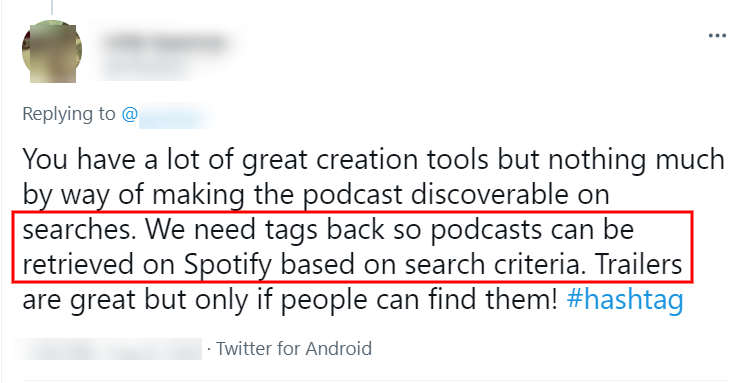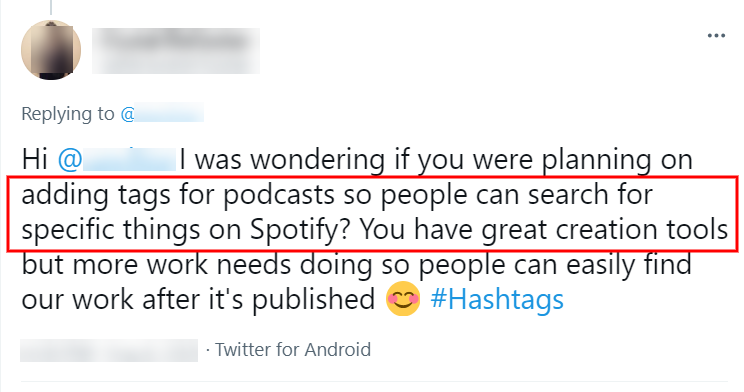 "…adding tags for podcasts so people can search for specific things on Spotify?…so people can easily find our work after it's published."
SEO has always been an ongoing struggle for both creators and established businesses. Institutions are CONSTANTLY finding ways to outrank their competitors or to maintain their current search ranking. Why? Because it affects credibility; and customers are more likely to choose the brand they believe can be trusted. This is why industries in recent years have started to place much importance on digital marketing. At Firstory, we aim to draw podcasters and listeners closer to each other, and improving podcast SEO is just one of our many tools designed for this.
How to Improve Podcast Search Results with Firstory
Firstory helps creators automatically generate personal websites for their podcasts, and this is completely possible without any coding skills! Simply choose your unique URL and enable the website-generation! Each website contains portals users can click on to listen to shows on the various distribution platforms, as well as buttons leading to the podcaster's social media and other external sites.
The website shows the podcast episodes and playlists. Visitors are able to leave their ratings and comments without needing to sign up to Firstory. As a Firstory special feature, creators can also open up their Voicemail so that listeners can send in their voice messages. (You can even use it as content in your next episode!). To top it all, podcasters can manage all these feedbacks right from Firstory Studio!
Learn how to leverage Firstory's Voicemail function here.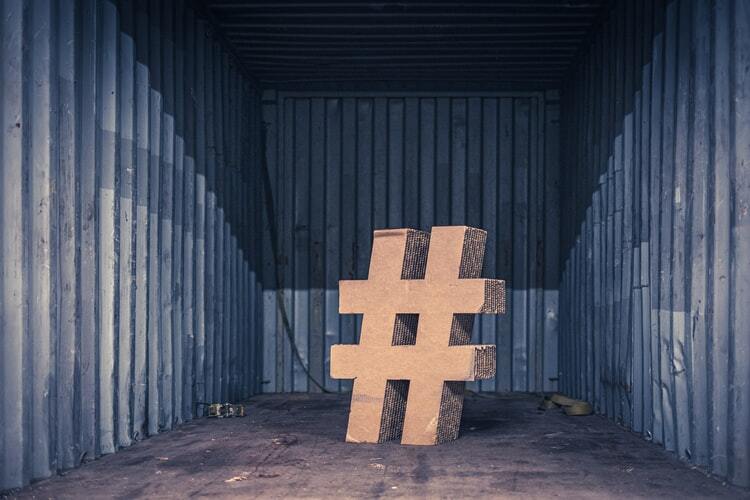 As seen from the podcasters' tweets above, tags are IMPORTANT contributors to podcast discovery. As opposed to that particular hosting platform (*no shade intended*), we DO PROVIDE TAG functionalities at Firstory. We take this mission upon ourselves to give you the services and tools you want and need to become a successful creator. We believe that every podcast has its intended audience, and each deserves to be heard in order to connect with each other.
As an additional function, these tags (or hashtags) are also shown and displayed in your personal websites to further enhance searchability! Watch out, since Firstory may also feature and share shows that have caught our attention on our social media! Get you a hosting platform that listens and cares for you! ❤