Your podcast description and show notes are very important conversion factors. A great podcast description can turn visitors to listeners, and listeners to customers.
Consultants, life coaches, marketing experts, and other types of entrepreneurs usually generate leads from podcasts. However, there is one important detail that everybody seems to forget: The podcast description.
Podcast listeners judge podcast covers and read the podcast description when deciding whether or not to listen to your podcast. Your listeners may also read your episode description while listening to your podcast.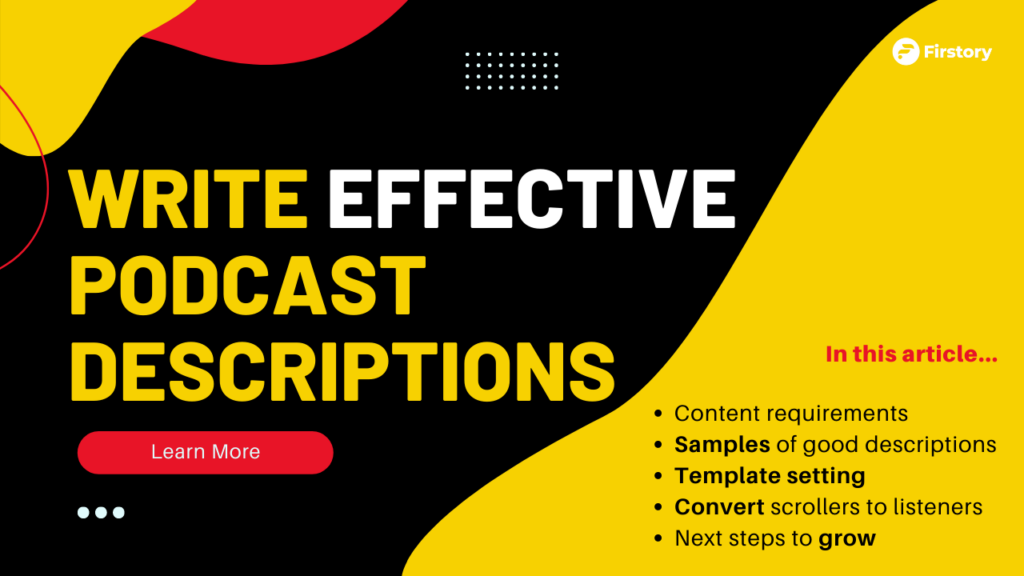 How should I write a podcast description?
Apple Podcasts has a 4,000 character limit for your podcast description. That's roughly about 500-600 words. However, you don't have to maximize all the space, because not all apps/ platforms have the same amount of character limit.
Keep your show summary short, concise, and effective. 
Your podcast description should AT LEAST include details about:
Short summary of what your podcast is about
Upload frequency
Clear call to action
You can also include details on where to follow/ contact you, how to support your show, what to expect from your podcast, and even link to your online business/ websites.
Samples of good podcast descriptions
Sample #1:
"Marketing experts John Smith and Pocahontas covers weekly topics on digital marketing. Explore the power of SEO, SEM, social media marketing, Google ads, and starting your online business with the best online marketing tips. Join our Facebook community @PocoJohnPodcast and subscribe to get the best marketing tips every Wednesday."
Sample #2:
"Welcome to The Resident's Nightmares! Join medical residents Carly, Sam, and Fred as they dig deep into the secrets and incidents that happen behind the scenes of sterile hospital wards. From accidents, near-death experiences, to mysteries and bizzare events, prepare for a mindblowing, eye-opening ride every Tuesday midnight GMT+8. Follow us on Twitter: @ResidentsNightmares "
Setting your description template on Firstory
Log into your Firstory account
Set your podcast description
Save changes
Did you know that you can also set an episode description template on Firstory? Through this innovation, you no longer have to type in your episode summary on every upload.
From Edit Podcast Info (Step #2 above), go to Advanced Information, and set your episode description template. Don't forget to save changes!
What is conversion? How this relates to podcast description
Turn visitors and scrollers to listeners, and turn listeners to customers or supporters.
Apart from being an important part in growing your podcast downloads, conversion is an integral part if you intend to make some income from podcasting. 
Is your podcast a marketing tool for your business? Are you trying to gain more social media following? Do you want to become an influencer or professional podcaster?
If you answered "Yes" in any of the questions above, conversion will be really important for you. Your podcast description says a lot about your podcast, and having an effective well-written description will do wonders for your podcast!
Other free resources to grow your podcast