We are the one-stop-shop for podcasting. Firstory offers the most value for free out of all podcast hosting platforms available in the market. Whether it's about production, storage & hosting, reaching worldwide listeners, promotion, searchability, engagement tools, audience connection, or monetization, Firstory podcasters always win.
In this article…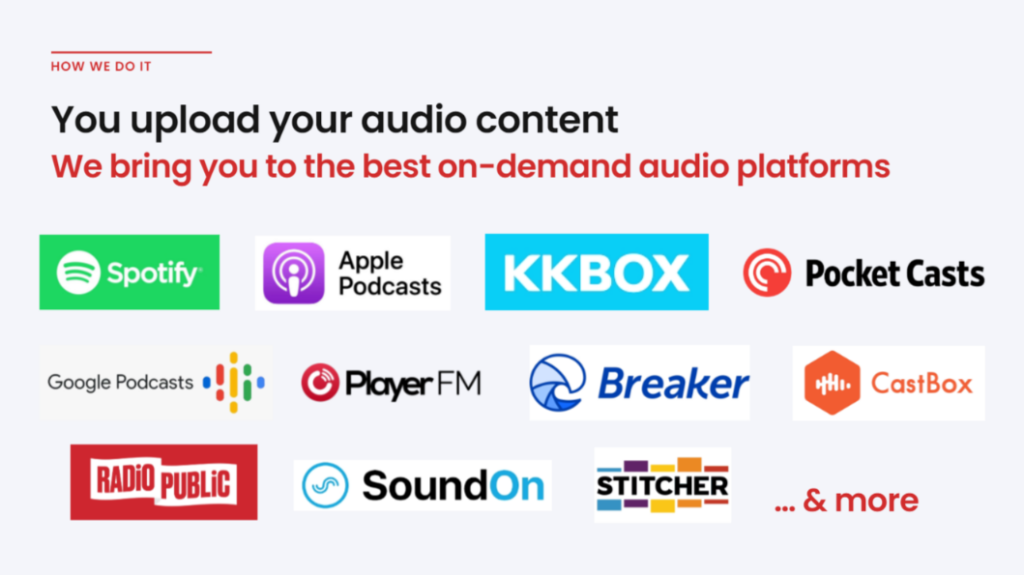 Podcast hosting, production, and editing
Firstory currently supports pre-recorded audio, not live audio recording. However, we provide powerful tools that empower podcasters to quickly and easily piece things together.
Most mobile phones and personal computers nowadays are equipped with built-in microphones and recorders. Recording in short clips is no longer an editing problem with Firstory's Dynamic Ad Insertion tool (DAI). Easily add, remove, swap, replace, and reorder your audio files. Ad revenue is also made easier with DAI.
Even when you've already published your episode, you can still edit its contents if you forgot to record or need to update something. This won't affect your viewership and downloads. Our DAI studies have been featured by Podnews. Read the original cases:
Distribute your podcast to every corner of the world
Firstory distributes to 15+ podcast app and platforms including top players Spotify, Apple Podcasts, and Google Podcasts. Most other podcast hosting platforms do too; but none of them distribute to top platforms in Asia. The Asian podcasting industry is a growing space, but mainstream platforms ignore this fact, causing thousands of podcasters the lost opportunity of tapping into this HUGE market.
KKBOX and SoundOn are top podcast apps and platforms in East Asia + some parts of Southeast Asia. Firstory have partnered up with these companies, so that our users will be able to get their podcast to literally ALL parts of the world. To follow through with this mission, we continue to expand our range of directories to be as inclusive as possible.
Multi-language interface and customer support
Firstory is the podcasting leader in growing economies, spearheading innovation and driving the podcast market in high-growth, high-potential countries. We have successfully done that and are currently the #1 podcast company in Taiwan and East Asia. 
Out of 27 Apple Podcast partners, Firstory is the ONLY podcast hosting that offers Japanese user interface and customer support. We're also 1 of the only 2 platforms offering these services in Chinese. Needless to say, we also have English interface and tech support. Support inclusive podcast with us!
Unlimited, free storage and downloads (bandwidth)
Most podcast hosting platforms place a paywall behind unlimited storage and downloads. Another version of this limitation is the number of uploads or audio length every month. This would have been fine if it wasn't for the reality that this places a paywall behind your podcast growth.
Podbean, for instance,  charges a starting rate of $9/month for unlimited storage and downloads. On the other hand, Buzzsprout limits the upload hours every month, where you have to pay more to upload more episodes. Buzzsprout also charges a starting rate of $12/month for unlimited storage. Otherwise, your episodes are only hosted for 90 days and deleted afterwards.
Firstory provides unlimited storage, downloads, and bandwidth for free. You can upload as much episodes as you wish, regardless of audio length. We want you to be successful and have more downloads, so why would we put this behind a paywall?
Easy podcast marketing and promotion
Firstory podcasters can easily spread the word on their podcasts by using Firstory's exclusive FLink tool. FLink has helped many creators with precision marketing and has gathered a whopping 20% conversion rate. Read about a podcaster who used FLink to get into Apple's Top 10 Charts:
To boost searchability, podcasters also get a free website where listeners can leave their comments and voice messages. 
With these tools, connecting with listeners becomes easy. In fact, our data research shows that users enjoy a 67% engagement rate from these features.
Firstory empowers every creator to earn passive income from podcasting. Most podcast hosting platforms offer monetization solutions that are restricted to the United States. We believe that independent podcasters outside of the US also deserve equal opportunity to earn, which is why we're spearheading this project.
Building a podcast community, emailing list, and accumulating paying subscribers are more convenient with Firstory's built-in monetization system. Listeners can choose to donate or subscribe to your podcast in a single or recurring transaction. One of our highest-earning podcasters earns over $15000 every month through this system for just 10-minutes of podcasting!
Our research also shows that Firstory's Dynamic Ad Insertion is an effective tool for podcasters to earn from both published and future episodes. A recent 10-day experiment shows that nearly 30% of podcasters earned over $250 ad revenue (in 10 days) using DAI.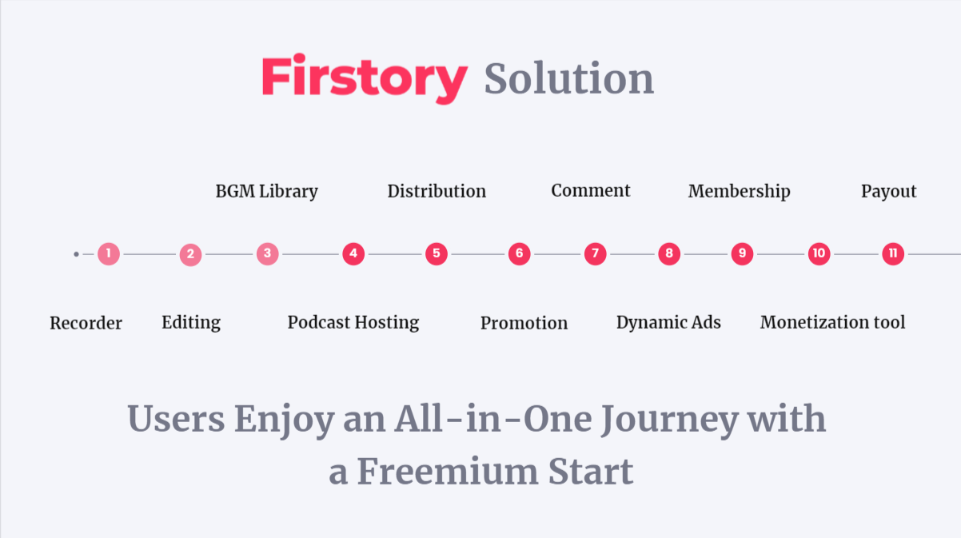 "Firstory always listens to the podcaster community and solves our pain points."
"It's almost like Asia's version of Anchor. Seriously. The company is very useful and willing to help. Also has a audience feedback button."
"I have exceeded 100 paying subscribers in just 6 months."
Perfect for everyone at all stages of podcasting
We have designed great tools and features to satisfy all types of podcasters. From beginners, to professionals, businesses, media companies, and marketing agencies, Firstory has all the podcasting tools you need.
New & Beginner Podcasters:
Easy to use 
All you need to start for free
15+ directory distribution
Robust analytics
Unlimited storage & bandwidth
 Fast tech support
Businesses, Radio Stations, & News Providers:
Single account- Multiple podcast support
Dynamic Ad Insertion
Podcast promotion tools
Monetization capabilities
Customizable plans
Marketing Agency & Business Partners:
Affiliate partnership
Dynamic Ad Insertion
Robust analytics
Free podcast website
Audience engagement tools
Customizable plans
Why is Firstory your best podcasting choice?
Get more for less with Firstory's high value- low price (or free) model. Many Firstory features such as Dynamic Ad Insertion, Unlimited storage and bandwidth, monetization, and promotion tools are paid features on other hosting providers. 

At Firstory, it is our mission to provide inclusive, accessible, and sustainable podcasting to podcasters worldwide. With our flexible and effective development team, Firstory listens to podcaster pain points and develop solutions to make the best possible experience.