(Skip to the end to get your free, downloadable podcast starter kit and checklist)
In 2022, it has never been easier and more affordable to start a podcast. With just a few things that you probably already have lying around at home, you can get your podcast on Spotify, Apple Podcasts, Google, and the rest of the world for free.
Although many professional podcasters invest in fancy equipment, software, and recording studios, you don't need that to start a podcast. In fact, that kind of investment doesn't really make sense if you're still trying things out. 
If you can afford to have that from day 1, great! But if you can't, don't worry. We've got you covered with this checklist that shows you the cheapest and most affordable way you can start a podcast.
All You Need to Start a Podcast (Summary Checklist) :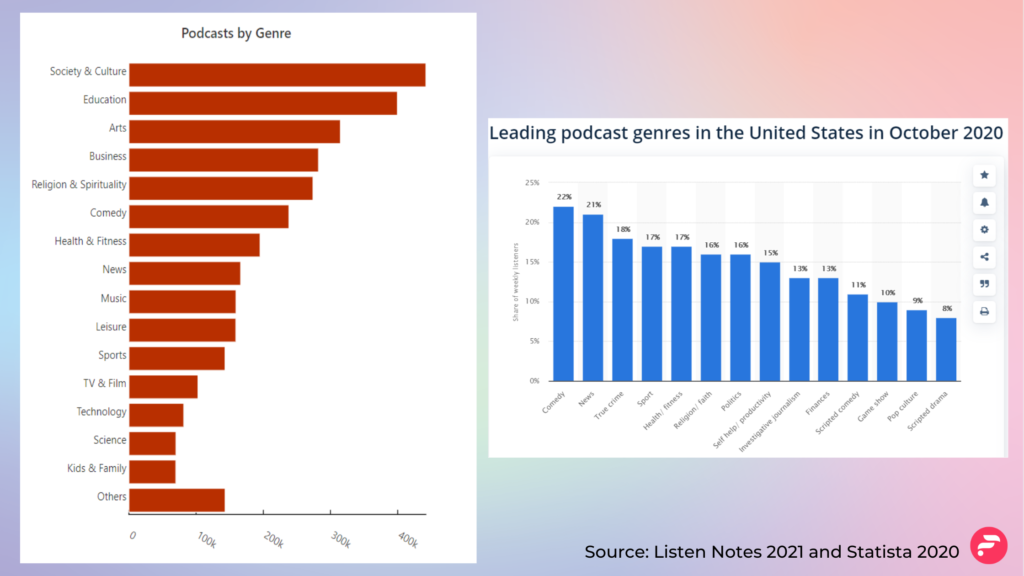 1. Your brilliant podcast idea...plus conditioning your mind
It's shouldn't just be about the money. More often than not, podcasting starts off as a passion project. Let's face it, you probably won't be able to monetize your shows right from day 1. You will, however, have greater chances of growing your show if you'll be able to do it consistently. 
Know what the market wants. As important as it is to find a theme or topic that fits your interest, it would also be super helpful to know the podcast market demand. Knowing what listeners like can give you better chances of gaining a larger audience.
Know what YOU want for your podcast. What do you want to achieve and what are your main drivers? You've got to set realistic and achievable short-term and long-term goals for your podcast. Celebrate small milestones! Know that the chances of you getting 10,000 downloads in just 1 week from starting your podcast isn't a realistic expectation, and setting that kind of goal can bring unnecessary disappointment.
2. Podcast cover art and logo design- make it awesome!
"First impressions last. Start behind the eight ball and you'll never get in front."
Your podcast cover art is the first impression listeners have of your show. Before they get to your podcast description or even start listening to your episodes, the first thing that decides whether or not they would be interested in learning more is your podcast cover.
Whether you like it or not, people do judge the book by its cover. We're not saying it's right; but that's just how things work. The good news is, you can use this to your advantage by designing a frickin' awesome cover art that stands out from the rest.
Here's the good news: Designing a great podcast cover art doesn't have to be hard. Even more, you can make your own podcast cover for free! 
Canva and Adobe Creative Cloud Express (Adobe Spark) are just two of the many free software options you have for designing your podcast cover and logo. 
To make your designs POP! and stand out from the rest, be sure to look into color psychology, color theory, font typology, and your due diligence. You'd want to make sure your podcast cover is good, so that you don't have to change it later on. Here's the complete and ultimate guide for creating a great podcast cover art, with samples and illustrations: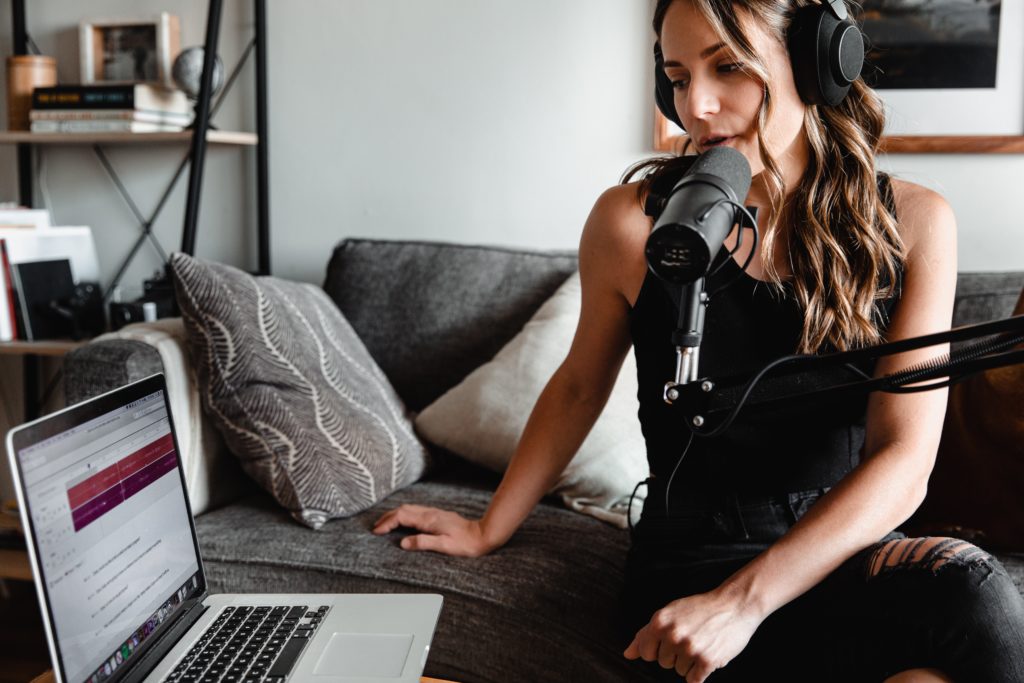 3. A place to record episodes (it doesn't have to be a studio!)
The most obvious place for recording a podcast is right from your home. More often than not, that place would be your bedroom, or anywhere quiet. We've also seen podcasts where creators record from their cars or record on the go. All of that works just fine.
You don't need soundproof walls and a fancy recording studio to get started with your podcast. Whether it's indoors, outdoors, at home, or in the office, for as long as you're comfortable, anywhere would do!
4. Laptop or computer (though your phone is ok too)
You CAN start a podcast from your mobile phone WITHOUT a laptop or computer. But having one can help you get more things done, give you more options, and offer better overall convenience. 
When you have a laptop or computer to work with, you'll have more choices when it comes to podcast hosting platforms as well as audio editing software. With more choices, you'll be able to make the best choices for your show's growth and development.
What kind of laptop do I need for my podcast? Well, since you're just starting out, any functioning laptop that can access the internet should do. Podcasting shouldn't really be heavy on your PC memory, unless you're using some sort of heavy-duty professional editing software. 
Beginner podcasters usually record right from their phone's built-in recorder or through their laptops. If you'd like to work on a free software, Audacity would also be a good choice.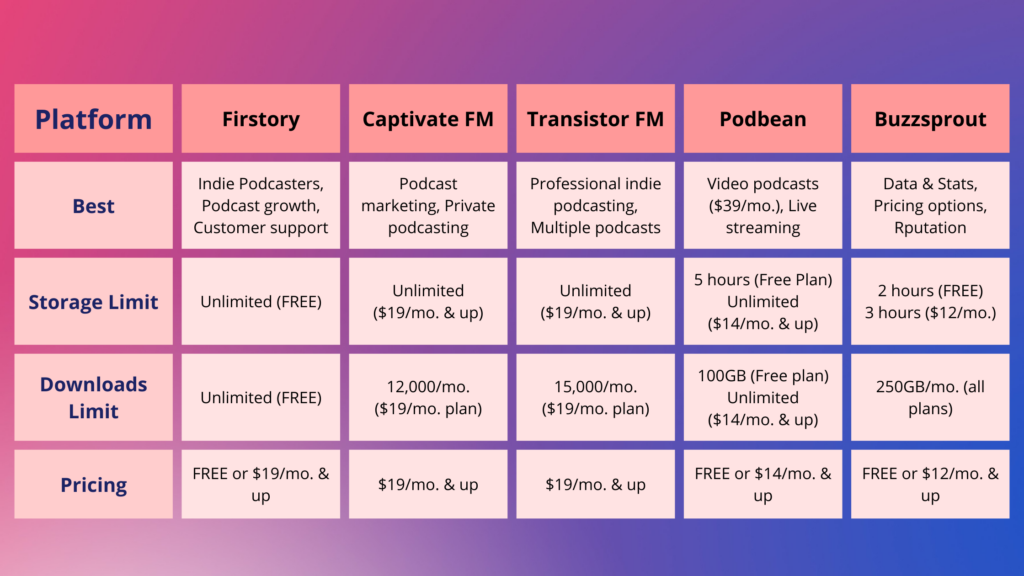 5. Podcast hosting platform (with free options)
For sure, if you've done your research and due diligence on podcasting, you've probably heard about podcast hosting platforms. The reason why you need a podcast hosting platform is because you can't exactly upload your show directly onto Spotify, Apple Podcasts, and the rest of other podcast directories. 
Hosting (storage) and distribution. With podcast hosting platforms, you upload only ONCE (onto the hosting site), and the hosting site does all the work for you in distributing your show to the podcast directories. This also means that whenever you need to make a change (e.g. Change your episode title, description, or cover art), you can always change that from the hosting platform. The changes you make will automatically show on the directories. 
Other things hosting platforms do. Aside from storing your files and distributing them to directories (and downloads), podcast hosting platforms also provide data & analytics for you to understand how your show is performing. Hosting platforms have also evolved to help podcasters with their editing and monetization process with features such as Dynamic Ad Insertion. 
When looking for the best podcast hosting sites, you're probably given expensive alternatives like Buzzsprout, Captivate FM, and Transistor FM. These platforms are fine: They get the job done in hosting, distribution, and more. But as beginner podcasters, we want to have the most affordable, best-value option, am I right?
When it comes to the fees, the main deciding factor usually lies in the number of monthly downloads or amount of storage available. Firstory and Anchor FM both offer free and unlimited podcast hosting and downloads, which are often paid features or limited services on other providers. The problem with other providers limiting these functionalities is that it can seriously hinder and impact your podcast's growth potential. Firstory believes in growing without limits and helping independent creators; that's why we offer it for free.
Promotion and engagement tools. Additionally, Firstory offers exclusive functionalities such as FLink, cross-platform comment link, voicemail, and Apple reviews integration, among other things.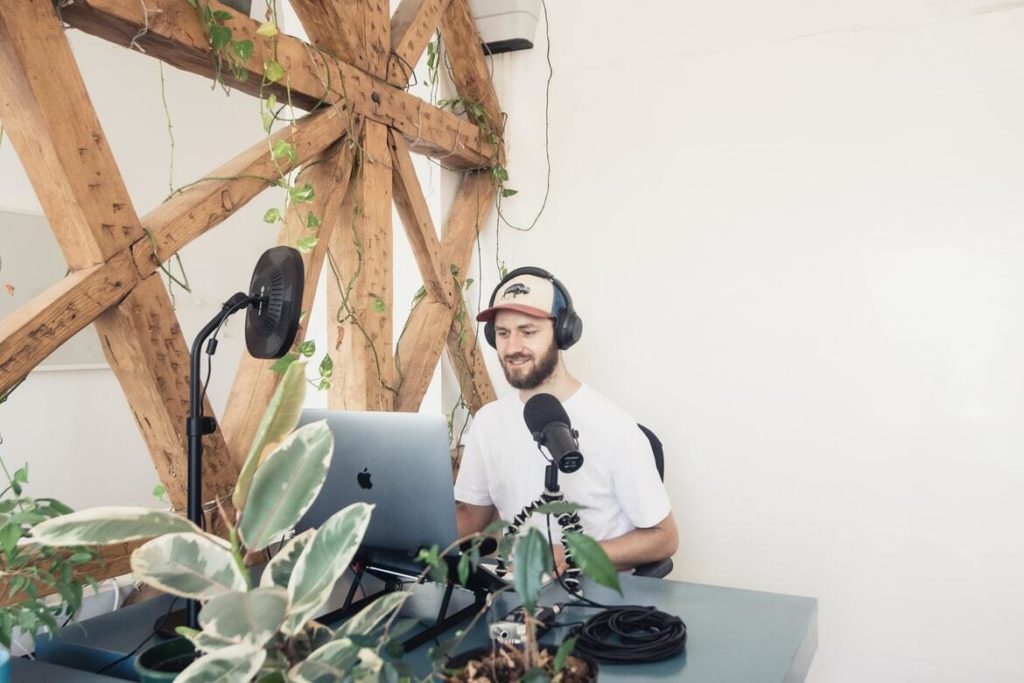 6. Audio files (preferably in MP3 format)
When starting out, it would be a good practice to have some audio files ready, that would usually be your podcast trailer or first few episodes, so that you can smoothly set up your show with your hosting provider. 
Having your first few episodes ready before setting up on a hosting platform also gives you a better understanding of the creation process before you really get into it. Then, you're more likely to continue on with it than quit halfway.
MP3 format is usually a safe, widely-accepted audio file type that most (if not all) hosting platforms support. 
Other file types supported by Firstory podcast hosting include: MP3, MP4, M4A, and AAC. These requirements and support may differ across different hosting providers.
How much time are you willing to spend on your podcast? How much time would you need? Consider your regular job, schoolwork, family, social life, and other prior commitments. You'll need to be able to balance all of these things, if you're not willing to forgo any part of your regular time and effort.
Your available time would likely have a huge impact on your episode length and upload schedule. Will you go for the short-type of podcast episode running for 15 to 30 minutes long? Or will you be making longer types of episodes that go on for over an hour?
Making a daily podcast may be too much of a commitment for beginner podcast enthusiasts. A weekly podcast is appropriate if you've got plenty of time up your sleeves. If not, twice a month is also a good upload frequency. We've also seen users upload by the season or in freestyle (without a schedule); so at the end of the day, go with whatever fits you best!
[Optional] Other software and equipment *
Most podcast starter guides would at least recommend microphones and headphones for hardware equipment to launch a podcast. Although it would definitely improve your audio quality, you don't absolutely HAVE TO buy them to start. If you already have them, use them. If you don't, you can consider buying later on when you become a more serious podcaster.
As for recording and editing software, there are a lot of free options available such as:
You can always upgrade your software and equipment after getting acquainted with the podcasting process. We have a comprehensive list of recommendations if you're ready for the upgrade. 
Free Downloadable PDF Starter Kit + Checklist